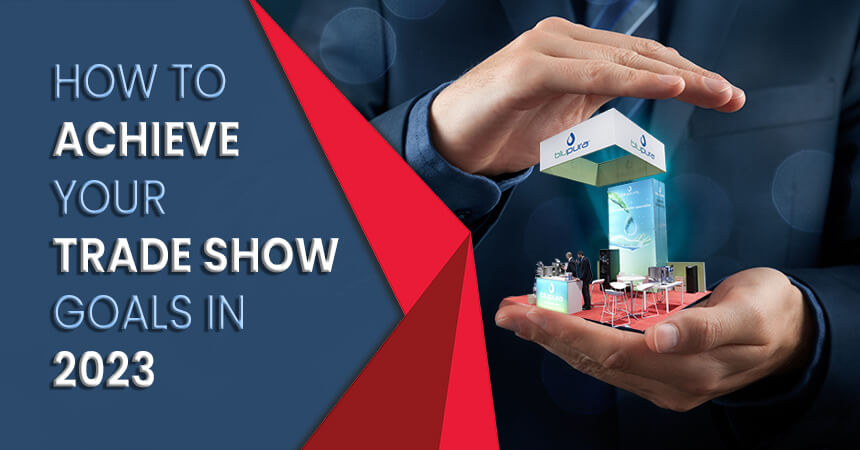 How to Achieve Your Trade Show Goals in 2023
4 Smart Goals for Trade Show and How to Measure Them!
Every year, each trade show brings new prospects and exciting challenges which are waiting to be conquered. 2023 promises to be the same, particularly for companies hoping to expand their operations and get widespread popularity. Trade shows are a valuable platform for many sellers to discover new clients. However, exhibiting at these trade shows with appealing and impactful exhibit booth designs may seem daunting. Thus, if you are new to the industry, yet if you skillfully plan, you may reap fruitful results. Trade shows encourage you to expand your business outreach, create a buzz for your new product, and connect with prospective customers. Systematic planning, assessment and execution of your complete marketing strategy is the key to driving results from your trade show. But for that, your goals need to be laid out clearly. Given below are SMART (Specific, Measurable, Achievable, Relevant and Time based) goals and ways to measure them.
Gather Leads
Gathering leads is one of the most important goals. The objective for any business is to generate more sales. And doing that via trade shows is easy and effective. Ensuring higher footfalls on your booth is one definite way to generate more leads.
How to measure it?
You should set some parameters and keep tabs on your progress to collect maximum leads from your trade show booth displays. Measure leads, opportunities and appointments by using your CRM. You can also try out trade-show-specific software to keep track of new updates and progress.  To get more leads and prospects, you must promote your trade show presence and follow up closely afterward.
Bonus tip
Ensure that a system is in place so that your team can follow up with potential leads. If a follow-up email or a thank you note is sent within the first 24 hours after a trade show, the chances of getting a response is higher.
Building Relations
Trade shows provide you with physical proximity. It is a perfect opportunity to build rapport, understand the prospect's requirements, and build trust. It would be correct to say that, if you are not building relationships at trade shows, you are doing something wrong. The purpose of building qualitative associations at any trade show is to garner potential business leads that will fetch you good returns in future.
How to measure it?
You  can measure and track this relationship progression using appointments, closed sales, an qualitative notes in your CRM.
Even during conversation, your booth staff can gauge how invested a prospect is in your products. Consistent and relevant communication post the show will make the relationship thriving.
Launching new products and services

Visitors and press show up at trade shows to see and cover trending products and new product launches.  It becomes a great platform to launch new products.
Even if you do not have a product to launch, perhaps you can present a unique service aspect or a feature. Although having product launches with trade shows means the noise of the show may affect your launch, it also means that your presence there has a chance to be covered by the press. So, plan your product launches to coincide with your major trade show appearances.
How to measure it?
You can measure if the product launch is successful or not by checking the inquiries for the product and media buzz around it. Besides, you can conduct product demos and note the feedback and comments from the prospective and existing customers.
Brand awareness
The most common goal of any exhibitor is to get noticed at the trade show. There will be tons of trade show booth displays that gained a lot of attention in one way or another. You want yours to be one of them. You can achieve this goal with attractive exhibit booth rental ideas for creating attention-grabbing graphics. The message on your graphics should be precise and easy to read with bigger fonts. Also, you can have a theme for your trade show booth, as it can create a lasting company impression at your next show.
How to measure it?
Brand awareness is a broad term and measuring it during a trade show can be tricky. However, checking the increase in web traffic, social media engagements, press coverage and news mentions can help you track it.
Fill out the form below to speak with someone from our team.