Buy custom modular exhibits and reuse them to save costs
Our modular exhibit systems are designed to be fast to assemble and robust to reuse multiple times. They are engineered to be suitable for a variety of applications. We offer a range of product solutions to cater to varying industry needs. Be it big screens, closed door meeting rooms or innovative product displays our modular trade show booths are tailored to your requirements. Our unique and custom-made designs help your brand to shine out among the rest.
Now you can buy big island booth once and reuse it for small islands and small linear trade show booths for over 10 shows. Besides we provide an option of full service that includes installations, dismantling, logistics and warehousing between shows. This ensures you save cost and time at every step and focus on your core business every time you exhibit, thus making your overall exhibiting experience worthwhile.
Add that cherry on the cake to your exhibit with custom image flooring. At Exponents, we produce beautiful vinyl graphics for your trade show flooring that integrate perfectly with the overall exhibit design. And just like the cinnamon on your coffee, we offer it at no additional printing cost when you buy your exhibits from us.
Custom exhibits
designed and built from
a combination of 11 modules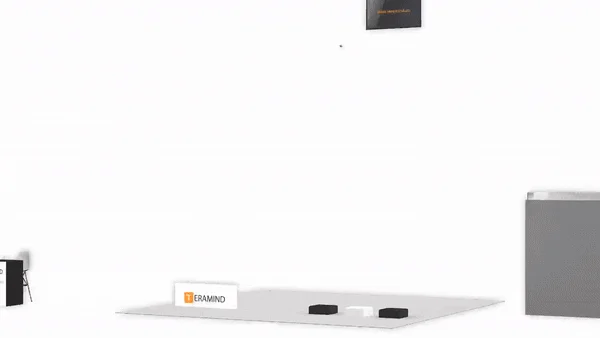 Custom Modular Exhibit Gallery
Explore our catalog of the custom modular booth and see how you can reuse them for different layouts and show formats. Our team of experienced designers has curated these designs that find application in a variety of industries and show formats.
Your custom trade show display can be your asset and adapted to different booth spaces and layouts!

Custom made functional designs
Our creative and experienced designers build stylish looking custom modular exhibits that are tailored as per your requirement to create lasting impressions.

Flexible and reconfigurable
Due to its modular nature of construction, our exhibits can be configured to different layouts so you can reuse the same booth material for multiple shows.

Various applications
Our range of custom modular designs and systems can serve a variety of industry needs. Be it merchandizing for a large machine to displaying food products or even IT service demos.

Large Graphic messaging
Your graphic message helps attract visitors to your booth. Our designs and system enable use of large format graphics to make your exhibit eye catching to your visitors.
Testimonials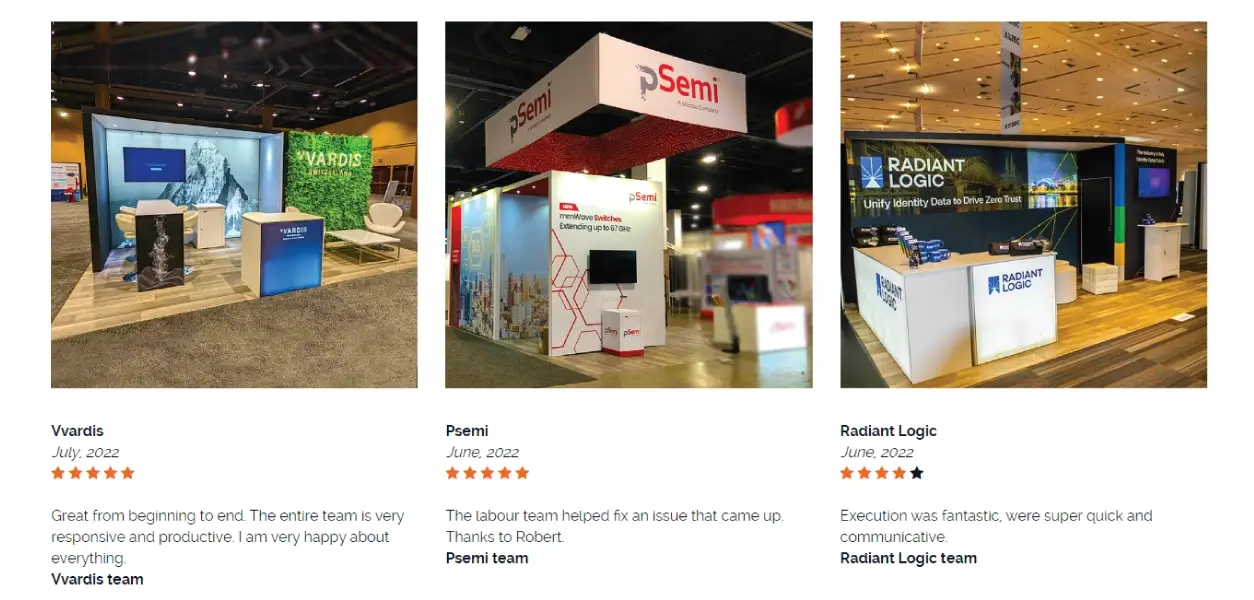 Checkout our reviews

Still unsure if you want to buy a custom modular exhibit? Here's why you should!
Custom trade show exhibits offer plenty of opportunities to influence and pitch your prospects on a practicable scale. A well-designed trade show booth design has the potential to create a remarkable canvas for your brand's story, considering the space it provides. Custom exhibit design comes with a set of accessories that enhances your brand appearance at the event.
A custom trade show booth is ideal for:
Exhibitors who are willing to promote their business and build a strong business network at multiple trade shows.
It is suitable for all companies – right from Major Corporations to SMEs. Modular booth systems come in various sizes and types, thus giving exhibitors the freedom to choose their ideal trade show booth as per their budget.
Start-up companies, who are looking for an elegant custom trade show booth design, but, at a reasonable price.
Exhibitors who are looking for a one-time investment that yields a good return on investment.
Hence, a custom trade show exhibit is a perfect option for all the companies who are looking out to get the best out of their participation. And to make your exhibiting process hassle-free, Exponents is here to offer reliable and durable custom modular exhibits to mark your presence in the industry.
Being a seasoned exhibition booth builder with decades of experience, we understand the core competitive landscape of events and know what it takes to succeed in an event. From working on your trade show design, providing custom trade show flooring to handling the installation, our team of experts is right beside you, working hard to offer nothing less than excellence.
For more information or any other query regarding our custom trade show booth, get in touch with our experts today on 800.639.1174 or write us at info@exponents.com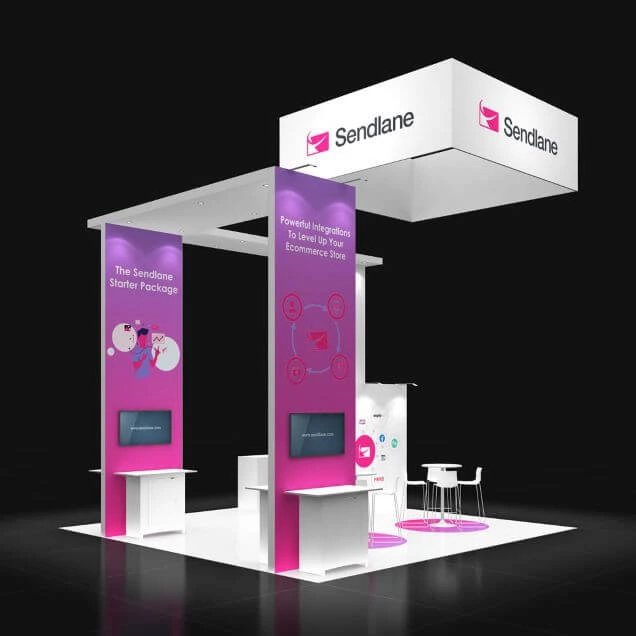 Why should you buy your exhibit?
More flexibility of venues and locations
Reuse and change your layout every season
Exhibit more often
Save cost of labor, drayage and transport
Predictive costs
Why should you buy your exhibit?
More flexibility of venues and locations
Reuse and change your layout every season
Exhibit more often
Save cost of labor, drayage and transport
Predictive costs
Why should you buy your exhibit?
More flexibility of venues and locations
Reuse and change your layout every season
Exhibit more often
Save cost of labor, drayage and transport
Predictive costs

100% Prebuild promise
All our booths are built up 100% with graphics at our warehouse and photos shared with you before dispatch. This ensures total quality control and that you get what you expected.

Project Management
We understand that participation in many shows during the year can be a daunting task for your show manager. We offer complete project management service including ordering and communication with organizer.

Warehousing service
Its perfectly fine if you do not want to store the exhibit material. We offer warehousing service for your trade show booth where storage and maintenance, between shows, is taken care of by us.

Professional trade show installation service
Considering our 40 years of experience of dealing with end to end trade show booth service, we offer professional I&D service incase you don't have staff to build the booth yourself
FAQs
At trade shows, the first impression matters the most, and it is primarily depended upon your trade show booth design. A well-designed trade show booth can do wonders for your brand. And that is why it is essential to get it designed by an experienced and reliable booth manufacturing company. Exponents has a proven track record of successful booth design projects and is well-informed with the leading trends in the industry.
Here are a few things to look for while buying modular trade show exhibits in the USA?
Custom-made functional booth designs
An experienced trade show booth company offers a wide range of trade show booth designs tailored as per your company requirements. It makes your trade show exhibit brand-specific, thus attracting your potential customers.
In-house Manufacturing
The company that offers in-house manufacturing of your exhibit ensures that it is built with the utmost quality and precision using the best raw materials as there is no third-party intervention in the process.
Graphics Production
While buying a modular trade show exhibit, make sure the company also offers graphics production facilities that ensure large format quality graphics to make your trade show exhibit eye-catching to your visitors.
Dry Run
Some companies pre-build your trade show exhibit at their warehouse, thus giving you an overview of how your booth will appear on the show floor. Always check with your exhibit house if they perform a dry run.
Installation Service
Look for companies that offer installation and dismantling services as a whole exhibit package. Also, search for a company that provides training or handovers clear setup instruction if you're choosing DIY, as well as I&D service, for the companies who don't have a special team dedicated to building the trade show exhibit.
After-Sales Support
Usually, a customer-focused trade show booth building company provides after-sales support and maintenance service. The exhibit house understands that your modular trade show exhibit requires maintenance and offers the necessary support even after the sales.
Purchasing a modular trade show exhibit might seem overwhelming but preparing in advance makes it easy. For this, we have a quick checklist prepared to help you buy your modular trade show exhibit.
Number of trade shows you wish to attend and their trade show space (The foremost thing to note while buying modular trade show exhibit)
The size of your trade show exhibit (modular booth is reconfigurable to fit multiple spaces)
Your trade show marketing objectives
Easy-to-do graphics or Interchangeable graphics
Setup instruction/ DIY (Whether the modular trade show exhibit requires experts or can be set up independently)
Trade show accessories such as furniture, lights, etc. are included in the package
Transportation and logistics (Does the company offer transportation facilities, especially if you're exhibiting internationally)
After-sales Support (It is important to note while buying a modular booth whether the company is providing certain services even after you purchase the booth)
We hope that these above points help you in making an informed decision while buying your modular trade show exhibit.
To get a more detailed picture of it, we have also shared a quick read on Comprehensive checklist for trade show exhibitors
A Custom modular exhibit is built specifically for your business. Taking into account the space available, the kind of impact you need to make, and the sort of booth type you hope for, your trade show manufacturer portrays every aspect of your booth with the brand logo so that the audience relate to this experience with your brand. It serves as an ideal option if you're participating in multiple shows in a year as it is presented as a new booth just by changing interchanging the graphics, thus saving the cost for a new booth.
The custom modular exhibit is easily reconfigurable, which makes it reusable for multiple space sizes. They are built for convenience as they can be compressed and packed in compact boxes, which saves your logistics cost. Easy to install and dismantle, custom modular exhibits do not require much manpower either. They are a practical, sustainable, and cost-effective option with enormous design possibilities to choose from. With the right marketing approach, you can make optimum utilization of your trade show exhibit.
Choosing a custom modular exhibit serves as a one-time investment for your brand, thus maximizing your return on investment (ROI).
Just like online shopping, you may simply put your booth requirements on Google and get a list of online booth designers for your booth. However, the process of online search for a reliable exhibit house is tedious and frustrating. The chances of finding a fly-by-night booth designer are high. But we have got you covered here.Exponents have categorized modular trade show exhibits depending on their sizes. Ranging from a small yet operational size of 10×10 to island booths of 50×50. All you have to do is browse through the range and pick the design that suits your brand the best.
Well, the answer is yes! But the catch is you would need to find a trade show booth company that welcomes customization even you are buying a modular trade show booth. The good news is Exponents is an expert in providing custom modular trade show booths.
With the customization we provide, you can –
Change your artwork for your booth graphics
Custom lighting, carpet or flooring, and furniture
Decorate your booth with add-ons like special shelves to showcase your product, booth accessories.
The first question to ask yourself when considering participating in a trade show is whether you are going to rent or buy your booth. If you have planned your marketing budget to participate in several shows, the purchase of your booth will undoubtedly be more profitable than the rental. You must also take into account your choice, the size, and the layout of your booth.
Buying a booth is ideal when…
You are planning to use it multiple times in a year.
You want to benefit from total independence to set up and dismantle your booth, without depending on the service provider who sold it to you.
You are looking for a consistent yet dynamic visual identity, from one show to another.
You want to reduce the cost of participating in each trade show.
You plan to use your trade show booth at multiple events, and not only trade shows.
Custom trade show booth design
Over the years we have developed an extensive range of more than 1000 trade show booth designs, which we can adapt to your brand identity according to your brand's requirements. It doesn't matter whether you want to buy or rent your booth – we have designsperfectly constructed for your brand or industry type. We have a wide range of trade show booth designsthat help you reach your desired target groups at your next shows in the USA. Thanks to our modern high-resolution 3D booth visuals, you can view your booth online from all perspectives even before the trade show unwraps at your venue. We help your sales department deliver experiences that effectively engage your prospects.
Trade show booth logistics
When it comes to logistics, we transport your booth to the site of your event. We ensure that it is suitably packaged and shipped in the best conditions to the venue. Also, with us, you never have to worry about the progress of your shipment as we constantly update you with it.
We do also provide I&D services on request.
Here are a few things that we offer to all our customers:
Neat and safe transport packaging
Avoidance of damage caused by mishandling
Worldwide logistics network
Assurance of long-term use of your trade show booth