Award winning Trade Show Booth Design Service
Welcome to Exponents, your home base for everything and anything related to trade shows. When you work with us, your company is gaining a new partner—one who knows all the industry secrets to designing and bringing the perfect trade show booth to life.
We know that nobody knows your brand better than you, so all of our designs are driven by YOUR ideas and YOUR brief. We want you to tell us your requirements so that we can present to you the best possible designs you can use to have a game-changing trade show.
Call us on  800.639.1174 or write us at info@exponents.com to make your next trade show booth design a stroll stopper!
Trade Show Booth Design Ideas
They're called trade "shows" for a reason: attending a big expo can feel like being in the audience of an interactive, immersive play.
Indeed, you have exciting sets, charming personalities, and immersive worlds waiting to
entice attendees and transport them to another "place."
Your display booth is where your concept comes to life. To ensure you select the right one for your brand, we arrange a wide array of different types of custom trade show booth design ideas that you can choose from.
Browse our expansive selection of booths in every dimension possible. Once you are satisfied with the size, we will then design it to showcase your product or business in the best possible way, with the use of all of the graphics, imagery, and the best in technology that our in-house experts bring to the table.
Your Brief is the Starting Point
Your brief forms the baseline for the design and we never stray away from your brand guidelines. Your mission and image will always be at the epicenter of our designs; essentially, you dream it, and we execute it.
However, if you're hoping for some new ideas, our team has plenty! Our designers works in tandem with your larger campaign idea, and your trade show booth is in complete sync with all your communication collaterals.
Been burned by a rental or design company before? We're sorry to hear that—and we want to prevent that in the future. To avoid any hiccups or nasty surprises, we keep you in the loop every step of the process.
You get a sneak peek into what we have in mind for you through 3D renderings and in-depth drawings. You are part of the process at every
Customized Rental Trade Show Booth Designs
For a successful trade show exhibit, it's crucial to design your display with a target audience in mind.
This is something we take pretty seriously at Exponents! With each design, we take a specific approach to entice the audience that would be most suited for your business, and which you are actively targeting.
We specially customize and design your trade show rental booth with our foreknowledge of the venue of the event, so that it will have the most impact on visitors to that specific location. Believe us—after 30 years in the business, we've seen it all!
Get a free design and quote for your next trade show exhibit
Some of our projects from small linear to large island booth designs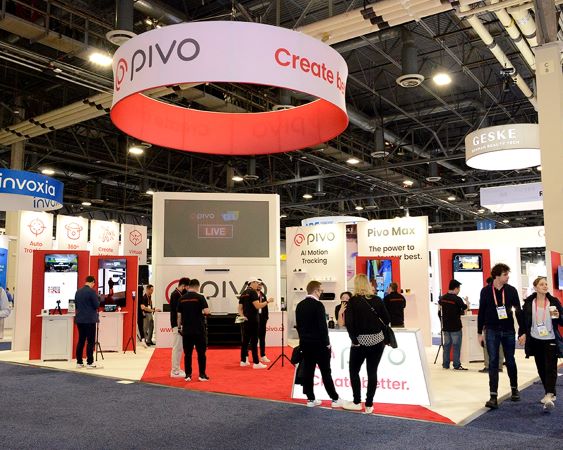 What our customers are saying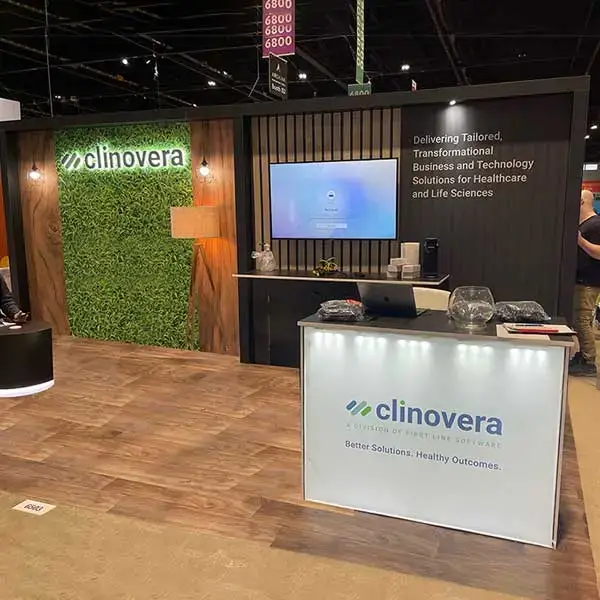 Clinovera @HIMSS 2023, Chicago
April 27, 2023
Much smoother experience this year!
Clinovera Team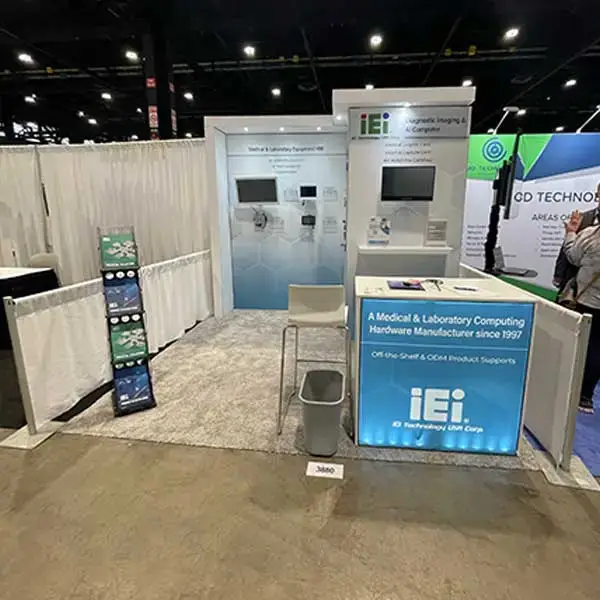 IEI Technologies 2023 @HIMSS, Chicago, IL
April 27, 2023
We truly appreciated Mr. Chris cox and his team's support!
IEI Technologies Team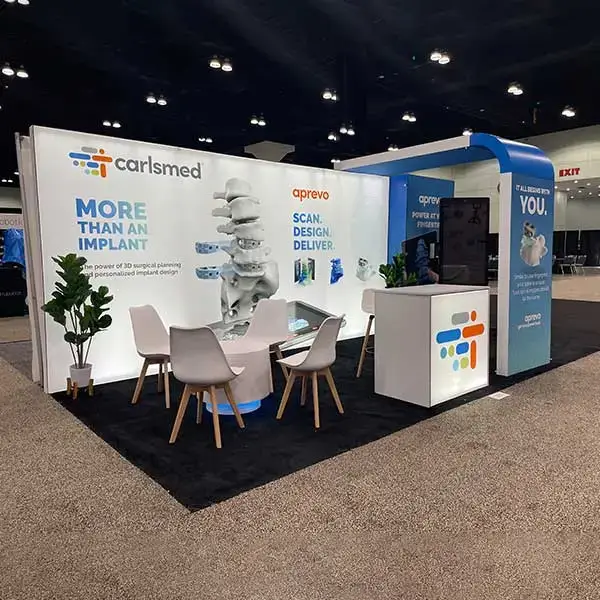 Carlsmed @ AANS 2023, Los Angeles, CA
April 27, 2023
Saskia always communicates well. She helps me in the entire process from start to finish. She's amazing + I enjoy her partnership a lot.
Carlsmed Team
Trade Show Coming Soon?
We've even made booth selection and design easier with our Booth Finder. Choose from pre-designed, customizable booths for every show location and budget.
Future Forward with custom trade show booth design
It's our goal to get you the best value for your investment. We blend time-tested traditional solutions with New Age digital innovations to give you solutions that are cutting edge.
Whether it is large format crisp graphics or interactive content, you can always count on us for attention-grabbing messaging. We are always on the lookout for new trends and technologies in the trade show marketing industry to bring to your display. With us, your trade show booth design will be innovative, exciting, and sure to turn heads.
Our experts are waiting to assist you in creating the perfect trade show booth designs for your exhibit. Come talk to us or share with us your plans and ideas. We can put our heads together and project how we can improve upon that idea further.
Let us put our years of experience in the exhibition industry to the best use. Exponents is here to make your presentation the most phenomenal of your career. Together, we can make that happen!
Searching for an experienced, results-focused team to design your trade show booth? From small businesses to major brands, we've helped hundreds of companies put together highly effective, eye-catching trade show displays. Over 30 years, we've worked with many major brands across the United States. Now, we'd like to work with you!
As specialists in trade show booth design, we can manage everything from initial ideas to the final design of your booth. Our proven, effective process allows us to develop your brief into a customized, ROI-focused trade show booth that produces real results for your business.
With locations in San Diego and Orlando, we work with businesses around the country to design and build highly effective trade show booth.
Below, you can find more information about our trade show booth design process and other trade show services. To request a quote or talk to a member of our team, contact us now via phone or email. From there, we'll have a chat about your upcoming show, your brand, and your marketing needs.
Do you have an existing trade show booth idea you'd like to develop into a construction-ready design? Our experienced team can work from your brief to design the perfect trade show booth for your business.
Your brief forms the baseline or our design process. Our team works efficiently and effectively to bring your vision to life, paying close attention to critical factors such as your brand guidelines and marketing objectives.
From start to finish, you'll have a fantastic view of our entire process through 3D renderings, detailed drawings, and booth concepts. Throughout every step of the process, you'll see what your booth will look like as it transforms from a written brief into a 3D rendering and finished product. We also test all of our booths more than once in a dry-run, so we can ensure that you are happy with the result before the event.
The result is a smooth, stress-free process without any surprises, giving you full confidence that your vision can be turned into a real, working trade show booth.
Generally, high concept trade show displays tend to be the most successful. Can't think of a theme for your trade show booth? No problem. As specialists in trade show booth design and construction, we've helped hundreds of businesses design and build trade show booths that attract attention, generate buzz, and produce measurable results.
If you need help coming up with booth design ideas for your trade show booth, we're here to help. Working from your brief, objectives list or brand guidelines, our team can put together a rich portfolio of ideas for your trade show booth.
We can also put together a wide range of different booth sizes, letting you see how your booth will look like a 10'x10' exhibit or another unit size. Based on your needs, budget, and objectives, we can tailor your booth design to meet your exact criteria and expectations.
From graphics to layouts, imagery, and other relevant factors, we're here to put together the most compelling and effective design possible for your business.
From small businesses to major brands, we've helped businesses of all sizes design and built trade show booths that produce results.
That's why we offer a range of options for turning your booth design into a reality. As a customer of ours, you can choose to turn your design into a complete, customized trade show booth that your business can use for multiple events.
On a tight budget? If you're exhibiting at a trade show for the first time or want to keep your spending within limits, we can also apply your custom booth design to a rental booth, letting you take part in a trade show or other event at a reduced cost.
Whichever option you choose, our goal is always the same: to help you achieve the maximum impact at your event, all at a competitive cost that produces a positive return on investment for your business.