Graphic Production
Anyone who has attended a large trade show or industry exposition is aware of how stimulating they can be. Consumers will be feasting their senses on hundreds of specially curated lighting, sound, and graphic marvels, all designed to capture their attention. It's important for your brand to stand out of the crowd—capturing the attention of your visitors is crucial in those first few moments so that they will come over to your booth and spend quality time.
At Exponents, we have a fantastic team of digital graphics specialists who take pride in their ability to figure out the best way to design the imagery for your brand's stall. Our mission is for all eyes to be on you. They are always custom fit to your specs, so that you can always be sure that your customers will be wowed and your product will be the cynosure.
Bringing your brand to life
It's time to let your brand (and your creative department) shine! A trade show is an exciting opportunity to network, make sales, and show the most unique and exciting aspects of your brand.
We imagine you have a lot of great ideas for your display. We're here to help bring them to life! Let our creativity be the true expression of the value your product is going to bring to the lives of your customers.
Whether it is vibrant colors or a premium finish, we will fabricate your booth with those picture-perfect visuals.
Best in class materials
We know that quality matters. We print out all of the graphics using the top industry standard technology so that your visuals stand out from the crowd. 
As with all of our work, you can expect your graphic production to be installed with the finesse that you would expect from the best. After all, Exponents is at the top of the class!
Are you ready to take the next step in your trade show experience? Get in touch with our team at Exponents today! Graphic production may be one of our services, but it's certainly not the only one: We offer end-to-end help with all of your trade show needs. We offer every service you'll need for your big day, from booth design and construction to project management, on-site supervision, and installation, dismantling, and shipping.
Available in a variety of styles and textures
When it comes to the theme or your booth, the sky's the limit! Every brand and company is unique, and it's important for the graphic production and design in their display to reflect that. These customized graphics will be made available in a variety of textures, ranging from fabrics to vinyl.
No matter what you're hoping to convey, we can make it possible. Believe us, with the right design, passersby will be mesmerized and will step in for a closer look.
But don't just take it from us! Have a look through our portfolio for a taste of some of the work we've produced in the past. As you can see, the variety of industries and brands is vast—we take pride in our versatility!
Get a free design and quote for your next trade show exhibit
Some of our award-winning trade show booth designs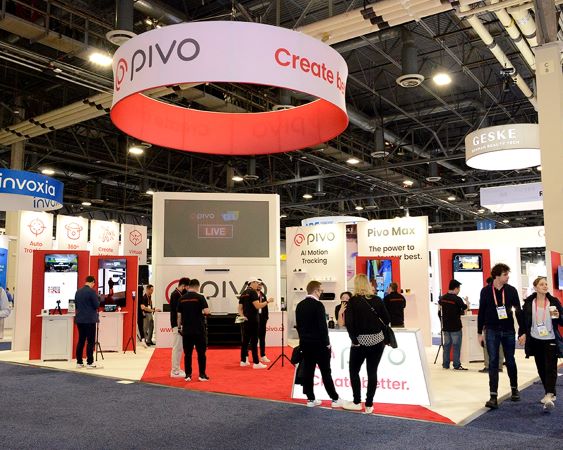 What our customers are saying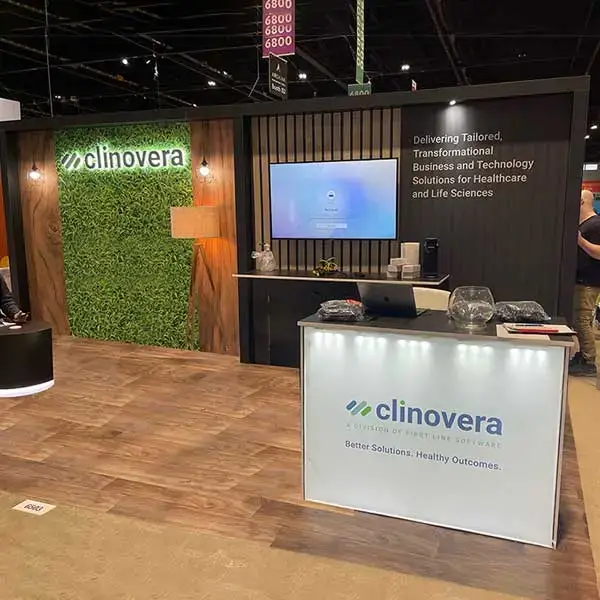 Clinovera @HIMSS 2023, Chicago
April 27, 2023
Much smoother experience this year!
Clinovera Team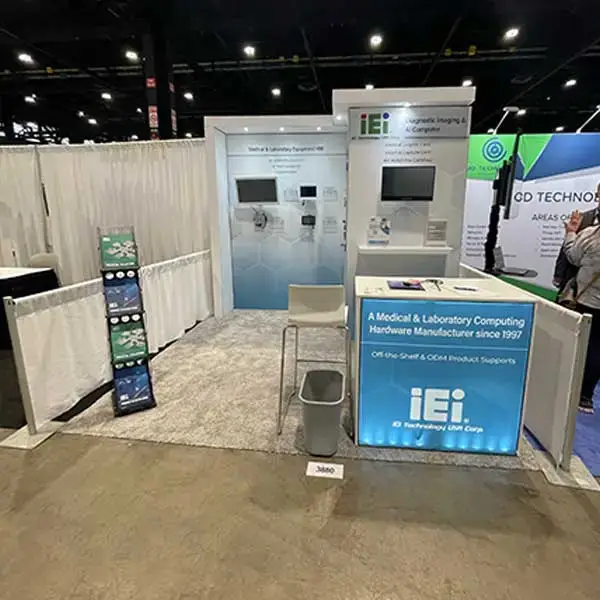 IEI Technologies 2023 @HIMSS, Chicago, IL
April 27, 2023
We truly appreciated Mr. Chris cox and his team's support!
IEI Technologies Team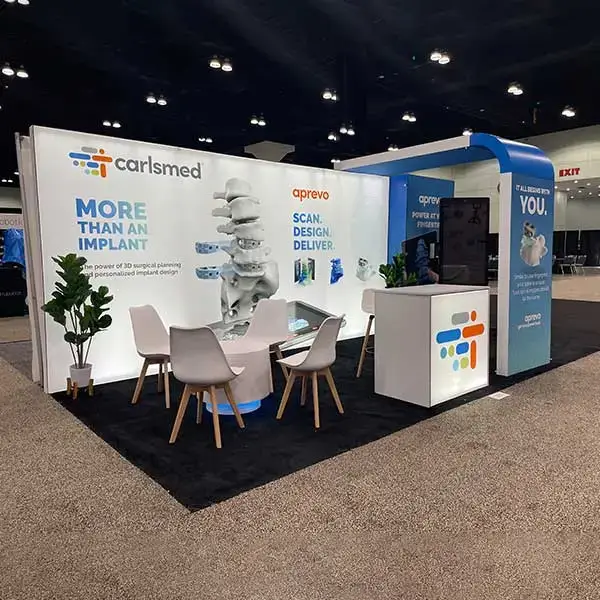 Carlsmed @ AANS 2023, Los Angeles, CA
April 27, 2023
Saskia always communicates well. She helps me in the entire process from start to finish. She's amazing + I enjoy her partnership a lot.
Carlsmed Team
Trade Show Coming Soon?
We've even made booth selection and design easier with our Booth Finder. Choose from pre-designed, customizable booths for every show location and budget.