On Site Supervision
Preparing for a big trade show event often means sleepless nights for a majority of your team, because someone has to keep an eye on how things are going and mind the booth. Right? Wrong!
When it comes to an event as important as a trade show, don't stretch yourself too thin! These days, there are trade show marketing and design professionals who will take care of the little details, so you can focus on the big picture.
At Exponents, our expertise from 30 years of experience informs our everyday. We have created a company that allows brands to sit back and focus on their sales and marketing campaigns while we take care of the details of the trade show display. With our in-house solutions, we offer you on-site supervision and storage for your booth and equipment so that you can remain hassle free and only worry about pulling off an excellent presentation.
Planning & Preparation
We would never send you to the Expo hall unprepared! Before we even move the setup to the actual site, we can give you a dry run at our workshop. That way, you know exactly what your prospects and customers will be seeing at the trade show itself.
If you want to watch the idea shape up at every stage, we can send you visuals of the making and take your input every step of the way. We think of your brand as our new teammate, and we will make sure you're always in the loop, even if you're physically miles away.
On the day of the show, our team will arrive long before yours does! In that time, we will nail every piece in its place before handing over a correctly assembled booth to you.
Whether it is a modular design or custom made, our on-site supervisor will make sure that everything is down pat so that all you need to do is put on a great show! During the event, your team will be around the corner, waiting to help you out and, eventually, disable the display when you're ready to call it a day.
Asset Management
Unless you are going for a disposable stand, you will need a professional storage facility to keep your stand away while not in use. (As it turns out, most offices don't have the space for a big trade show display!)
We don't want you to run around and manage innumerable suppliers for every service. As part of our turnkey solutions, we offer use of our warehouses for safe custody of your booths until the next time you need them. Our warehouses are centrally located, and we'll make sure your booth is looked after well!
We have your best interests at heart
With years of experience in delivering hundreds of trade shows across the world, Exponents is specially positioned to enable you to have a smooth and hassle-free event. Just count on us to find the right solution to whatever issue you may be facing before, during or after the event.
When we opened our business, it was with the intent of removing the hassle and intimidation from participating in trade shows. We understand that it's a crucial part of many brand's business plans, but not everybody knows where to start. That's why we offer end-to-end services, from assembly/dismantling/delivery to design, project management, and booth rental. We know that your brand is unique, and we love to work with you! We curate each client's experience to find the best-suited solution to help them grow their business.
We can't wait to hear what you have in mind.
Get a free design and quote for your next trade show exhibit
Some of our award-winning trade show booth designs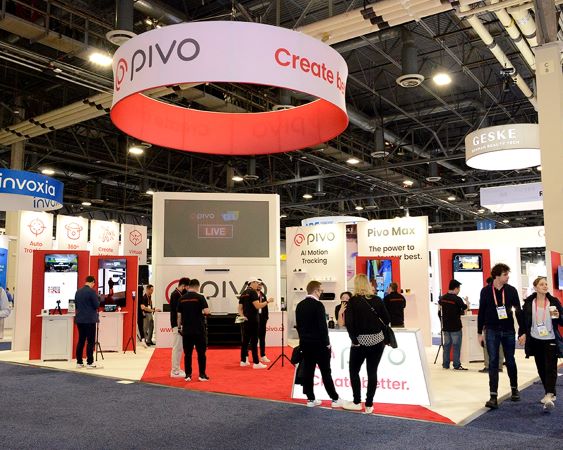 What our customers are saying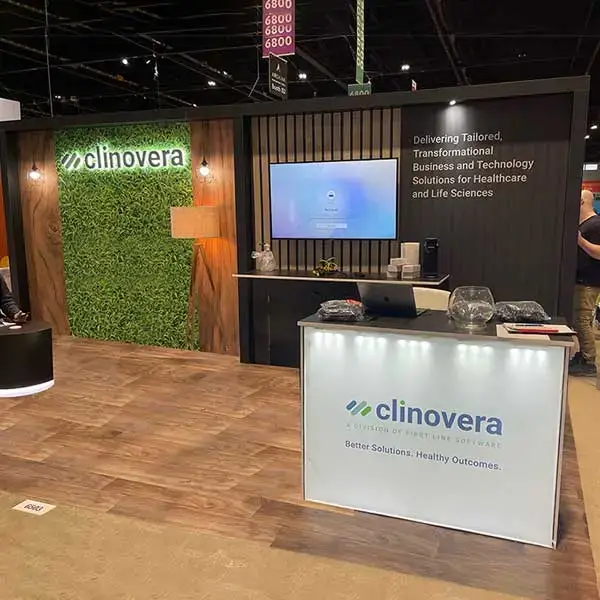 Clinovera @HIMSS 2023, Chicago
April 27, 2023
Much smoother experience this year!
Clinovera Team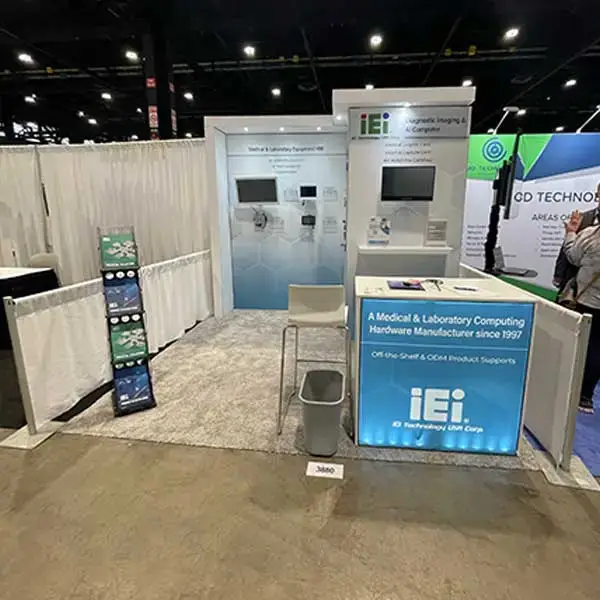 IEI Technologies 2023 @HIMSS, Chicago, IL
April 27, 2023
We truly appreciated Mr. Chris cox and his team's support!
IEI Technologies Team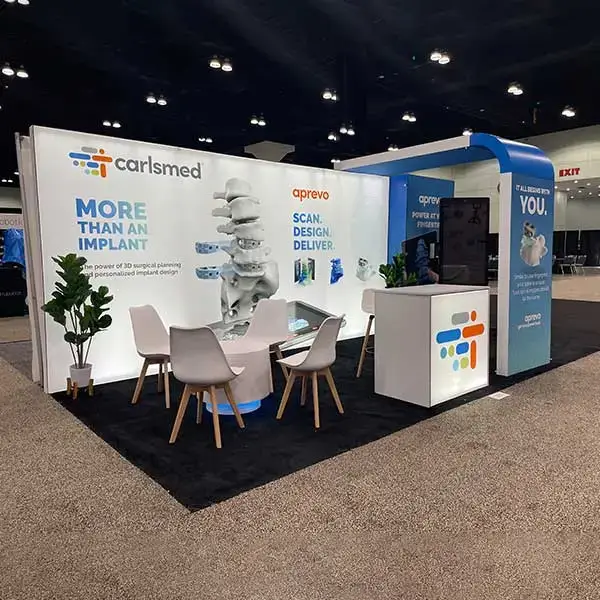 Carlsmed @ AANS 2023, Los Angeles, CA
April 27, 2023
Saskia always communicates well. She helps me in the entire process from start to finish. She's amazing + I enjoy her partnership a lot.
Carlsmed Team
Trade Show Coming Soon?
We've even made booth selection and design easier with our Booth Finder. Choose from pre-designed, customizable booths for every show location and budget.