Install/Dismantle/Shipping
Sure, in an ideal world, you can just appear at your trade show venue and generate a bunch of leads. In the real world, it takes an astounding amount of planning, design skill, and teamwork. Every detail must be considered, from the size and shape to the physical construction of your display. However, many teams envision their booth without thinking of the logistics.
For instance, who will be in charge of shipping your booth? And once it's arrived, who will be installing and dismantling your booth at the show, then shipping it back to where it needs to go? Believe us, after a long day of pitching and making sales, your team is not going to want to disassemble the display themselves!
At Exponents, we know that an event doesn't just start and end at the venue. From setting up your booth to taking it down without any hassles, when you work with us, you can let our dedicated team of professionals take care of the transportation, storage, and assembly of your trade booth at the event. The only thing that you need to do is to focus on your product.
Getting your trade show booth to the venue
Leave the technicalities to us and focus on making sales, generating leads, and increasing your brand awareness. When you work with us, you can expect a smooth experience from start to finish.
Our logistics team will ensure that your trade show booth, as well as the accompanying graphics and equipment, reach the venue well before time. We are equipped with the best in class vehicles and handling know-how so that they will ensure there is no wear or tear of any of the items in your event.
100% pre-test guarantee
We'd never send your display to a trade show without testing it first! Would you serve a dinner you hadn't tasted?
Our team gives your display a dry run before the actual event, so your marketing department can approve everything we've done. If any changes need to be made, we'll take care of them before the big day! On the day of the trade show, we'll be at the expo center bright and early, making sure your booth is exactly as you wanted.
Our experts will ensure that the trade show is set up precisely as visualized in the concept document. All of the materials, graphics, and equipment, as well as furniture for the display, will be set up exactly as promised so that there is never any last minute running around required.
All you need to do is focus on your product and leave the rest to us.
Taking it all down
We know that the trade show doesn't just end with the event. (If only it were that easy!) With a big event like a trade show, there is always dismantling required. This often involves the careful handling of all of the equipment and products used, as per the specifications of the exhibition center. In short, it can be a pretty big job.
Don't worry—our logistics team will expertly manage it all! For us, dismantling a trade show booth is a part of everyday life. Let us do our job, so you can do yours! With us, you can just focus on presenting your business to the world, while we sweat the rest.
If you would like to take a closer look at how we will handle logistics for your event, please contact us. Our team is ready to help you with all of your other trade show needs:  booth design and construction to project management, on-site supervision, and of course, rentals in every size imaginable.
We know your company is unique, so come see what makes us special! Get in touch today!
Get a free design and quote for your next trade show exhibit
Some of our award-winning trade show booth designs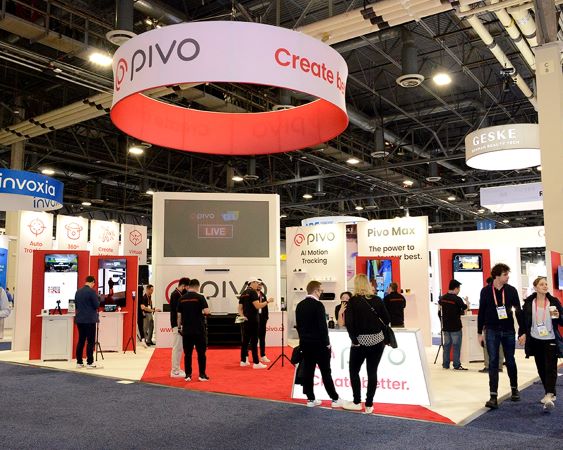 What our customers are saying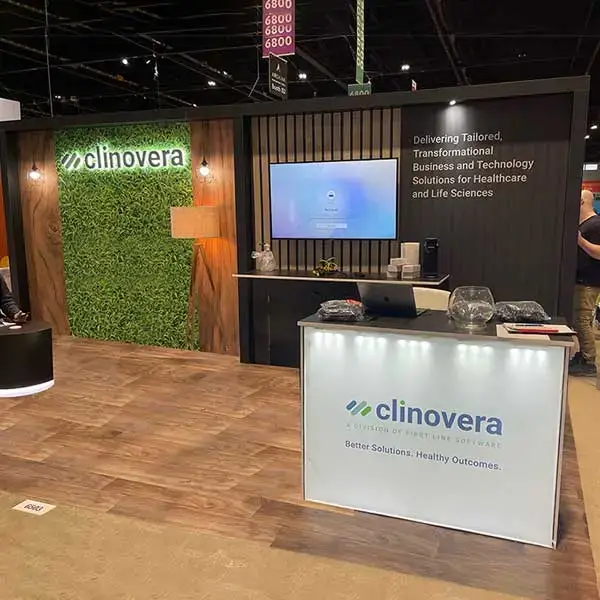 Clinovera @HIMSS 2023, Chicago
April 27, 2023
Much smoother experience this year!
Clinovera Team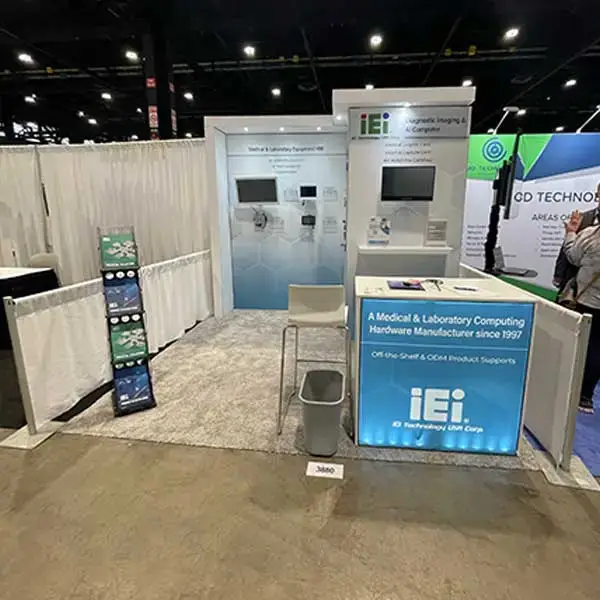 IEI Technologies 2023 @HIMSS, Chicago, IL
April 27, 2023
We truly appreciated Mr. Chris cox and his team's support!
IEI Technologies Team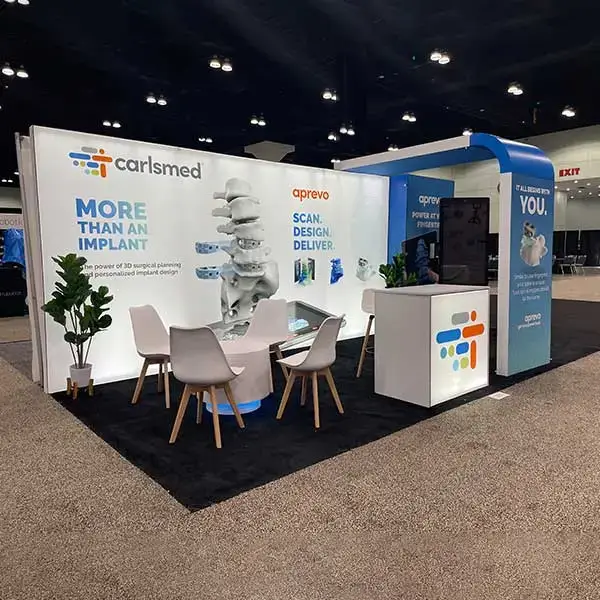 Carlsmed @ AANS 2023, Los Angeles, CA
April 27, 2023
Saskia always communicates well. She helps me in the entire process from start to finish. She's amazing + I enjoy her partnership a lot.
Carlsmed Team
Trade Show Coming Soon?
We've even made booth selection and design easier with our Booth Finder. Choose from pre-designed, customizable booths for every show location and budget.