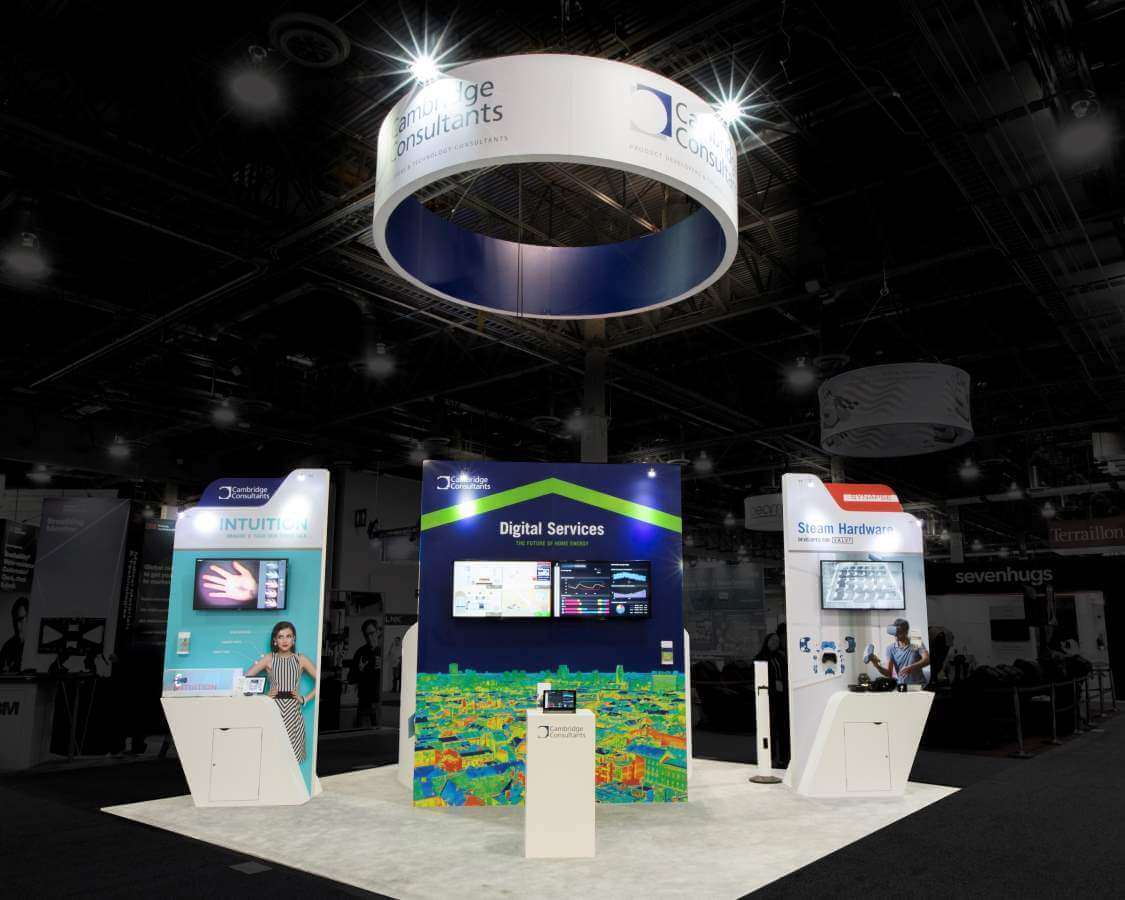 3 Creative Ways to Boost Your 20×20 Booth Design
3 Creative Ways to Boost Your 20×20 Booth Design
If you have an upcoming trade show or exposition, there will be many decisions for you to make in the months to come. From how you choose the branding for your display to the physical size of your booth, every choice you make will matter and reflect upon your business.
When it comes to booth size, many marketing executives and business owners swear by a 20×20 booth design for its sheer versatility. It's true—a medium-sized display boasts the best of both worlds. It is certainly large enough to exhibit a variety of products and services, but still small enough to adhere to most budgets and locations.
If you have already decided on a 20×20 booth design for your next expo or trade show, congratulations! You've made a great choice. However, whether it's your first show or not, you may feel a bit stumped on how to best utilize the space. To help you out, we've compiled a few of our favorite tricks and tips to making the most of your 20×20 booth design in a way that's creative, engaging, and lucrative.
1. Create an Immersive World
To say that a trade show is a busy experience would be putting it lightly. Attending an expo is an intensely sensory ordeal: There are blaring and blinking lights in a rainbow of hues; speakers pumping music, announcements, and demos; corridors of sales teams and endorsers touting various branded giveaways. Every person one speaks with is a member of their own industry, lending a new chance to network and make connections. The entire atmosphere, though sometimes overwhelming, is exhilarating.
For a business owner or marketing team, a large industry event like this can be a game changer. It's an opportunity to boast the best of what your brand has to offer, but it's important to create a display that guests will remember after their long and stimulating visit to the show.
To create a memorable experience for the consumer, many brands have built an immersive world within their display. By doing this, prospective customers and attendees won't feel like they are entering a monetized sales space. Instead, they will be engaging in the unique world of your brand.
To turn your 20×20 booth design into a branded immersive world, it helps to ask yourself a few questions.
What is your company's mission?
Use your space to reflect your values and mission. What does an ideal world look like through the eyes of your brand's vision?
What makes your brand "fun?"
Trade shows may be important, but they aren't exactly somber events. Most successful displays have an element of play or whimsy to them, even if the product itself is a serious one.
What are the senses of your brand?
Here's a quirky brief for your creative team: If your brand had a smell, what would it be? How about taste, or sound? These questions may sound a bit strange, but they will really help you create a cohesive, immersive display that will make sense to the consumer.
2. Let Your Attendees Interact with Your Brand
When it comes to creating a memorable trade show display, it is crucial that prospects and consumers are able to interact with your brand in some way. Depending on your product, of course, this can vary greatly—but no matter what, some sort of engagement is key. After an invigorating day at a trade show, attendees are unlikely to remember a long, boring pitch in a basic, corporate booth. Instead, they'll be thinking about the unique interaction they had with the many technologies, tastes, and experiences they had throughout the day.
Stand out from the crowd by creating an interactive experience for your prospects. You can accomplish this in many ways—we asked around the Exponents office, and here were some of their favorite interactive trade show experiences:
Host a trivia or game show (with prizes!)
Draw in a crowd and allow them to interact with both your brand and each other by putting on a trivia or "game show."
Say #cheese
It's no secret that the world is obsessed with selfies, photo-based social media, and taking pictures on their devices. Lean into this by creating a photo booth station, complete with props, sets, and, of course, a branded hashtag.
Bring an influencer on board
Influencer marketing has absolutely exploded over the past few years, and for good reason. It feels personable, it's incredibly varied, and it's interactive! If your brand has already worked with an influencer, a trade show is a great time to let them do a meet and greet. If you haven't worked with one yet, a big expo is a great time to start.
3. Experiment with Alternate Realities
Technology gets more impressive every day, and there's no better time to utilize it than at a trade show. In recent years, many brands have been bringing virtual and augmented reality to their trade booths. It's a fabulous way to combine the other two tactics we've discussed, as these technologies are both interactive and immersive!
If you're looking for a few ideas on how to incorporate alternate realities into your 20×20 booth design, consider:
Creating a fantasy version of your brand's world with VR
With a virtual reality headset, you can transport your prospects anywhere. Use this to let them experience the best version possible of your brand and mission.
Let your customers become your mascot
Use the same photo filters that Snapchat popularized to transform your visitors into your mascot, or another branded character. Offer incentives for them to post it on social media with a branded hashtag.
Use augmented reality to give your prospects a virtual tour
By using a set of headphones and some touchscreens, your visitors can show themselves around your display. This allows them to feel less pressure, remain in your booth for longer, and learn about your brand at their own pace. It also gives your staff the chance to actually make sales rather than pitch all day.
Nobody knows trade shows like our team at Exponents. With over 30 years' experience, an impressive fleet of rentals, and a constant finger to the pulse of the industry, we are your number one spot in the country for planning your next expo.
Get in touch with our knowledgeable team today, and we can chat about your vision, your brand, and your budget. We'll make sure that you choose the right booth for your business, and are here to help you every step along the way.