7 Important Elements to Include in Your Trade Show Exhibit Design in Chicago
The vibrant and cultured city of Chicago is known for its diversity and tradition. From music-lovers to sports fans and aspiring politicians, everybody will find something to do and enjoy in the bustling Windy City. Given its rich history and culture, it's no surprise that over 50 million people visit Chicago every single year.
The large volume of people to impress, coupled with Chicago's quality event venues has made the city a well-established trade show venue. From large conventions to small conferences, there are over 30 venues in Chicago that are perfect for your next trade show.
Given Chicago's thriving market, the competition at trade shows here has become quite intense. This means that in order to stand out and make a real mark on a visitor, your booth's display should be completely unique and inviting.
In order to create such a booth, you will need to carefully consider your objectives and then come up with a display that will help you meet them. If you aren't sure about what that entails, here's our guide to creating the perfect trade show exhibit design in Chicago.
 What Should Be Included?
Let's start by looking at all the different parts of your display and how you could bring them together.
1. Meaningful Graphics
We've all heard the saying a picture can say a thousand words. With powerful graphics, you have the opportunity to convey everything you want to without saying a single word. A booth without the right graphics would look confusing or incomplete.
The power of your booth's imagery cannot be understated, essentially since they are so versatile they can be printed on materials like canvas, paper, wood and more. If you really want to be creative, you can project moving graphics onto your display – taking your booth to a whole new level.
2. Intuitive Layout
At a trade show, it's important to have visitors enter your booth to learn more about your brand and your offerings. The shape of your stand will form the skeleton of your booth.
For a basic display, you could choose a linear or a corner booth. If you wish to add heavy decorations and wall hangings, canopies and ceilings are the way to go. Whatever you opt to do, make sure that visitors can easily navigate through your booth.
Use arrows and signs to help people find their way. It should be easy for them to learn everything there is to know about your brand without having to talk to your staff. Your booth and graphics should do the job for you.
3. Matching Carpet And Flooring
Match your booth's flooring with the accessories that you're using. They should complement each other. While choosing the right floor material, you could consider carpet, tile, foam, rubber or even printed floors. These are all common flooring options that are preferred by exhibitors in the city.
Whatever you decide to go with, don't forget to think about the long-term maintenance cost and its impact on your budget.
4. Comfortable Furniture And On-Brand Accessories
Picking the right furniture for your booth will balance the overall look of your exhibit and could make it look all the more appealing to attendees.
Remember to choose pieces that fit your brand's color and theme and keep the chairs comfortable.
Visitors who have been walking around for hours will want a place to rest their feet for a while. By picking comfortable furniture, you're sending a message to visitors. You're saying that you understand what they need, and you're ready to give it to them.
5. Proper Lighting
As we're sure you already know, a well-lit booth is absolutely key in getting your exhibit noticed by attendees. If your display is dim and badly-lit, chances are that it will melt into the background.
We aren't saying the booth needs to be lit up like the Rockefeller tree, but the use of creative lighting can help draw attention not just to your booth but also to the products or graphics that you want to highlight.
LED spotlights can be used to pull attention towards certain areas of your booth and draw the eye away from any problem areas you may have in your booth.
6. Appropriate In-Booth Media
To build a dynamic booth that is truly interesting and immersive, it's crucial to carefully think about the kind of media elements you want to incorporate.
Interactive touch-screen displays, video walls that spread across your entire backdrop, or even projectors can help create a fun and interesting booth.
If you'd like to take your booth to another level, you can use augmented reality to get visitors to interact with your display in an innovative way.
7. Storage
This element is often completely ignored, but it shouldn't be. While working on the trade show exhibit design for Chicago trade shows, it's crucial to consider how much storage you might need and how you can conceal it.
You can use display tables with cupboards to organize and store your excess stock. This will make it easy for members of staff to produce items once a sale has been made. The storage space can further be used to put away any personal valuables that you might have on you while you're at the show. Typically, you should only be able to access the storage space with a key.
 What Good Design Can Achieve
A well-designed booth is a perfect tool to help you accomplish all your goals. Let's take a look at why quality design is vital.

1. You Can Define Your Brand
Your booth is the first point of contact that your brand has with all the visitors at the show. What attendees see will immediately influence their opinion of your brand. Your booth and graphics will go a long way in telling customers what your brand stands for and how you can help them.
For example, let's say you run a company that works to recycle waste plastic and create innovative products with it. The easiest way you can show customers this is by using recycled plastic to build your entire booth.
On the other hand, if you work in the automobile industry, you could use a car as a prop or even use old car door handles or mirrors to decorate your display.
2. You Can Communicate Important Brand Information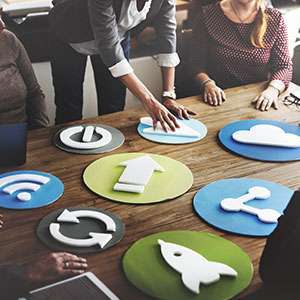 The graphics in your booth serve the sole purpose of communicating your brand's message to everybody walking by. Short lines of copy can help you communicate with ease.
For example, if you're an internet provider and your USP is that you offer the best speed. A simple line of copy like 'We can satiate your need for speed' could help you get the point across effectively.
3. You Can Interact with Your Customers

A well-designed booth will include more than a few interactive elements that are sure to enthrall your audience and keep them engaged.
Through your booth, you can invite customers into your space, ask them to have a look around and give them the time they need to take in all the information available to them.
Your booth may also be designed to host demonstrations or have a photo booth, which could make it all the more engaging.
In fact, if you have space and the funds, you could create a lounge area where visitors can relax for some time, while you play a presentation highlighting your brand's offerings on screens located around your booth.
4. Trade Show Exhibit Design Ideas for Chicago Shows
Now that you know why your booth design is important and what you need to incorporate, you need to find a way to differentiate yourself from the crowd. You can create a unique trade show exhibit design in Chicago by:
5. Experimenting with Textures
Most exhibitors often focus on the visual appeal of their booth, forgetting to engage the rest of a visitor's senses. When you use materials like canvas, silk, wood or recycled paper to build your booth, you're inviting visitors to run their fingers over your display and connect with your booth on another level.
6. Creating a Sense of Mystery
There's nothing that visitors enjoy more than intrigue. By creating an enclosed booth or by keeping part of your booth hidden behind a curtain, you're sure to drive traffic towards your display.
7. Using Unique Props
Recently, exhibitors have started using large and oversized props in their booth as unique attractions.
From large reading glasses to cars, juice bottles and even construction equipment, displaying a prop will definitely get crowds moving towards your booth.
Even if they aren't entirely interested in your brand or your offerings, the prop will serve as a photo opportunity, which could boost your brand's popularity both on the show floor and online.
8. Drawing Attention Upwards
If you have limited booth space, then you need to find a way to use the space intelligently. One way to do this is by using hanging ornaments or logos to draw a visitor's eye upwards.
This will make your booth appear taller and bigger than it actually is. This provides you with a little more space to display your graphics, logo and messaging.
Now that you have all the important information you need and our expert tips, you can enjoy a successful show in Chicago. Good luck!