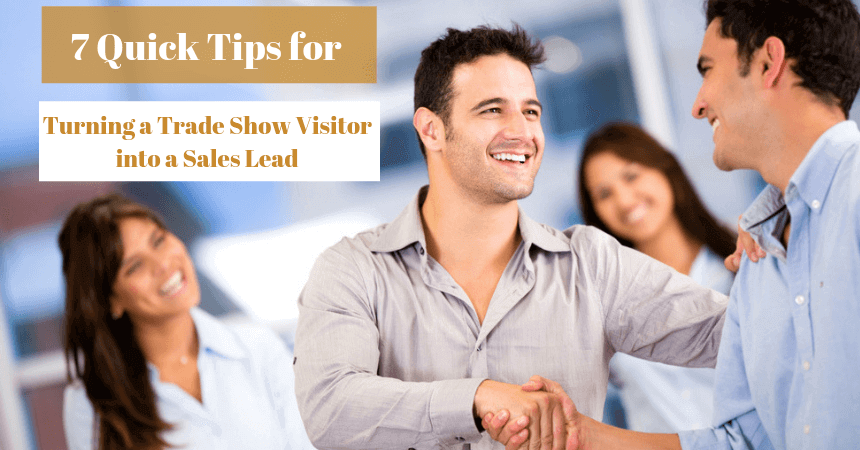 7 Quick Tips for Turning a Trade Show Visitor into a Sales Lead
7 Quick Tips for Turning a Trade Show Visitor into a Sales Lead
Despite all the technology in the world, when it comes to instant connections, there isn't anything like face-to-face interaction. When you're working at a trade show, you interact with an influx of visitors all there for the same reason, but looking for unique solutions to their pain points or problems.
Your team's job is to talk to as many visitors as possible and identify who are good-fit leads. This job can be more difficult than it sounds. Here, we've outlined seven quick tips for turning a trade-show visitor into a sales lead.
Before the Show
1. Plan the Nurture
You want to be ready to follow up with the leads and visitors you meet at your trade show as soon as you leave the floor, so setting up your nurture plan before you even leave the office will ensure no momentum is lost after the lights go out on the show.
Plan your workflow and set up your nurture plan within your CRM. Create different paths for your different personas and the possible products or services they expressed interest in.
2. Plan your booth
Your trade-show booth is the face or your company. While you need to work within your means, be careful of being penny-wise and dollar foolish when it comes to your booth.
Spending the time and money away from the office to head to the trade show is an investment already, so put some planning into what you want your trade show booth to look like, how the experience will feel for your visitors and how your booth will facilitate great conversation.
You know that booth location and setup will impact your success, so choose carefully where you want to be stationed. Design can be difficult and some vendors might leave you out to dry when it comes to offering artistic help. Be sure to consider:
Color schemes
Lighting
Booth size
Flow
3. Strategize conversation
Create playbooks before you leave for the show. These playbooks will be what your strategy is built upon and will help your sales team have better conversations and come away with a greater understanding of if a visitor is truly a sales qualified lead.
Meet with your sales team before the show and go over your goals for the tradeshow. What type of people are you looking to work with, work for, or sell to? Identifying the pyramid of lead importance is the first step. Next, consider how the conversation will flow and discuss what will be indications of a good-fit lead.
Talking about these good-fit indicators will prepare your team to identify a good fit lead, make a note of that person so you can follow up in a more targeted manner after the show.
During the Show
4. Setup Booth
Setting up the booth is a big stressor for teams at trade shows. Your team usually isn't comprised of carpenters, professional movers or even IT teams (depending on the scale of your booth). Either way, what you should be worrying about is the high energy days you'll be putting into the event, not figuring out how to hang your massive sign from the ceiling.
Working with a booth vendor that will help you design AND setup your booth once you get to the trade show is a huge asset. One less thing for you to worry about.
5. Keep the flow natural
Once you arrive, engage with space. Figure out where it will be best to have your salespeople stand to facilitate conversation, hand out your free items, demo a product and still keep the flow of the trade show moving.
While you want traffic to your booth, a booth that is overcrowded or is easy to get stuck in can send people into an anxiety attack pretty quickly. Make sure you scan badges as visitors come by, follow your playbook, maybe exchange business cards and jot down notes on the interaction when needed.
After the Show
6. Get back to the office!
After a trade show is done, the last thing your team wants to do is disassemble your booth, especially if there are cumbersome pieces, props or furniture that you need to get back to disparate vendors. You should be on the way back to your office to enact your nurture workflows and following up with your valued visitors.
A booth vendor that provides everything you need from the very beginning of the process to the very end is necessary to efficiently get back to the office without the strain, stress and time expended that will leave your team feeling exhausted and wanting to second guess the next trade show. In order to make your visitors into sales leads, you need to get back to the office and follow up!
7. Follow up!
I'll say it twice — it's time to follow up! Activate the nurture workflows you created before you left for the show, integrate the lists of leads you talked to over your time at the show and hit send! Reach out personally to the visitors who you noted were extremely interested or you had a positive conversation with.
At trade shows, presentation is everything. Every aspect of your booth, your demeanor and your conversation is up for analysis from your visitors. Following these tips will help you turn more visitors into sales leads, will make your trade shows less stressful, but more profitable overall.