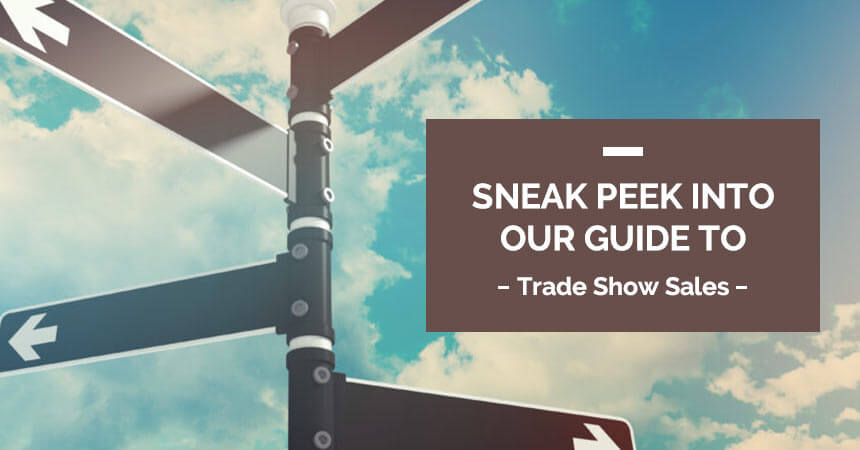 Sneak Peek into Our Guide to Trade Show Sales
Sneak Peek into Our Guide to Trade Show Sales
Trade shows can be hectic, thrilling, disappointing, challenging – it all depends on how you approach them. It's easy to get caught up in the logistics and lose sight of the trade show's ultimate purpose: capturing new leads and driving sales. When that happens, your trade show underperforms from a sales perspective, and you're left frustrated.
Don't go to all the effort of a trade show without the right plan in place. We've compiled expert strategies to help you optimize your trade show for sales in our new guide, The Savvy Sales Guide to Capturing More Trade Show Leads.
Here's a sneak peek:
Getting the results you need
Lead generation takes hard work. Trade shows are a wonderful way to attract new leads, but they're also full of distractions. To win the attention of high-quality prospects, you need to keep your expo focused on lead generation.
We've broken the process down in three key steps:
1. Plan
2. Prepare
3. Follow up
Sounds simple, right? Each step involves several best practices that will ensure your trade show goes off without a hitch and delivers high-quality leads.
Planning for success
Having a solid plan in place means you're able to anticipate any issues and take care of them before the show. It also means your team understands the value of the expo so that they're ready to put in the required work.
It starts with the booth. Thoroughly plan out the design of your booth to engage prospects and make you stand out. You should also consider assembly and transport plans ahead of time.
Next, prep your team. Your sales reps need to know what to expect to that they can do their jobs well in an unfamiliar environment.
You also need to get some buzz going so that any potential prospects will come to the event.
Finally, make sure you have a follow-up plan in place so you're not left scrambling after the show.
If you keep these best practices in mind and make a plan that addresses these factors, you'll be setting your show up for success.
Preparing and running your show
Now we've come to the event itself. You need to be prepared for any distractions that will hinder your lead generation or turn away prospects. Remember, your focus should be lead capture above all.
Make sure your booth gets dealt with first – your sales reps are there to sell, not to build a booth. It's important that your sales reps stay energized throughout the event so that they can engage prospects in a friendly and effective way. Your reps should also engage with prospects proactively, rather than waiting for them to speak first.
Isn't not just about more prospects. Your team should also know how to identify qualified leads, and be able to disengage from less qualified ones.
With the right strategy in place, the show won't feel so overwhelming, and you'll be able to focus on your goals.
Following up the right way
Following up is crucial. Don't waste the hours of hard work you put into generating those leads. Use this stage to convert your new leads into customers. You need to follow up quickly with personalized content to keep your leads engaged.
Ready to learn more?
A successful trade expo can jumpstart your sales. If you're ready to learn how to optimize your trade show, read our full guide below. You'll also get details, step-by-step plans and insider tips for each strategy.
Don't let another trade show go to waste.