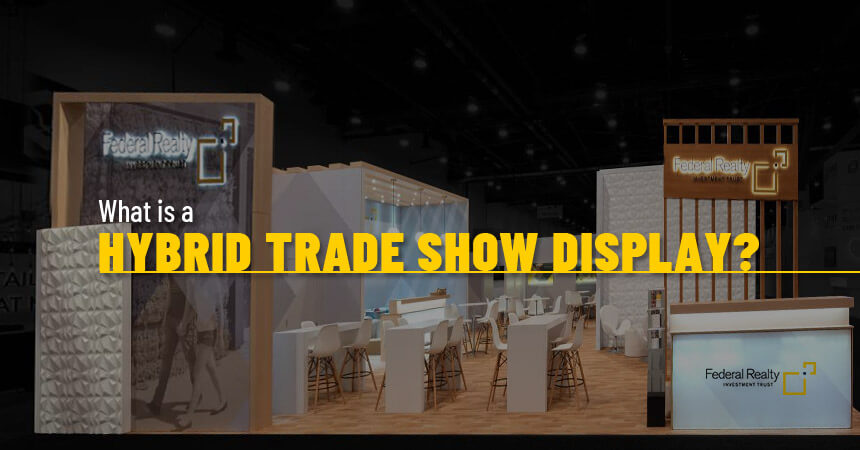 What is a hybrid display, and is it the ideal solution for your trade show program?
What is a hybrid trade show display?
Do a Google search for "trade show booths" or anything similar. Just about every manufacturer will claim that their booth design is a "hybrid." What does that mean, and do they have good reason to claim that? Let's discuss this.
For decades, the exhibition industry has featured two main types of booths:
Portable/modular exhibits: Including pop-ups, modular laminate, and panel displays. These exhibit types have well-defined configurations but have limited design flexibility.
Custom exhibits: These exhibit types are primarily built from wood and feature endless design possibilities. The downside is that they are not portable or modular.
Hybrid exhibits merge these two main exhibit types. Why? Exhibitors demanded solutions – they want displays that look custom-designed, ship light, and are easy to assemble and reconfigure.
To satisfy all of this, hybrid exhibits feature:
Aluminum: A lightweight, durable, and functional material for structure.
Tension fabric: A vibrant, durable, and cost-effective material for graphics.
You might see hybrid exhibits called portable hybrids, custom hybrids, or modular hybrids. All these terms mean about the same thing – the modern style of trade show displays featuring aluminum structure and large format graphics printed on tension fabrics.
Is a hybrid display the ideal solution for you?
For many exhibitors, a hybrid display is a perfect solution for their trade show program. Hybrid displays are light, durable, portable, cost-effective, and allow for design versatility. It seems like they offer the ideal solution for everyone, but when might they not be? It depends on your exhibit goals. A portable exhibit is a long-term investment. If your goals are more in the short-term, perhaps this type of display is not the best solution. Is your brand expected to grow in a big way in the next couple of years? How might this growth affect your need for various sized booths?
One thing to keep in mind about hybrid exhibits is the versatility of graphics. If you have multiple trade shows during the year, perhaps promoting different products or catering to different target audiences, you can have different graphics printed for each show. The versatility allows you to completely customize your booth for every show you attend.
Are you happy with your trade show booth?
Let us know why or why not! And if you have a hybrid exhibit, let us know how it has been beneficial to you as an exhibitor.