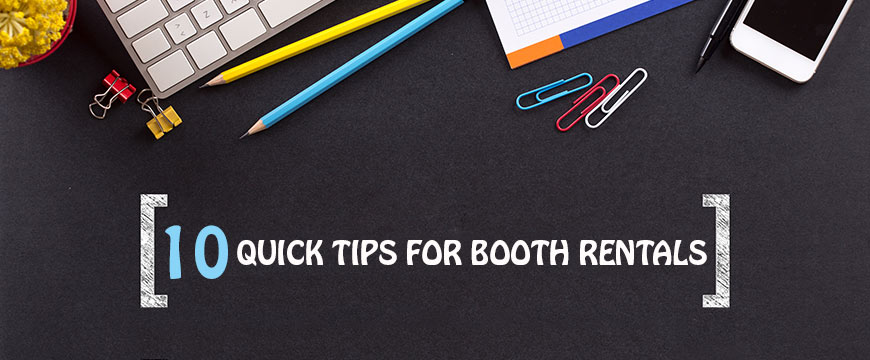 10 Quick Tips for Booth Rentals
10 Quick Tips for Booth Rentals
For many professionals, trade shows are the most exciting events of the year. Who wouldn't want to to get out of the office for a few days, learn the latest innovations in your field, and rub shoulders with your industry peers from around the country?
Attending a trade show can be a brilliant way to build your business, whether that's by making important connections, forging new partnerships, or generating more buzz around your brand.
Most expos feature a dizzying array of elaborate displays to explore. There are talks, forums, masterclasses, and demonstrations as far as the eye can see. Cheerful representatives from every company in the industry hand out impeccably designed, practical freebies and swag to anybody who walks by.
As a consumer, the hubbub is incredibly exciting. For a brand, it can be intimidating. With so many incredible booths displaying their product, how can you stand out? Really, it all comes down to choosing your booth.
After years of providing world-class brands like Google and Mercedes Benz with booth rentals, we think it's fair to say that our team at Exponents certainly knows a thing or two about trade shows. Now, some of our experts are weighing in on with their own top tips for a perfect trade show booth.
1. Save Money by Renting
For years, trade professionals have debated the various merits of buying a display booth rather than renting it. However, unless you are somehow doing trade shows every week, purchasing a booth isn't the best financial decision. Not only is the outright purchase pricier than a rental, it come with quite a few hidden costs, like shipping.
As technical details begin to add up, so does the cost. Where will you be storing the booth when it's not at a show? What will you be paying for upkeep? It's important to keep in mind that, once you own a booth, maintenance and repairs are up to you.
Furthermore, a booth owner might begin to regret their purchase if their company changes any of their branding. Suddenly, their entire booth might need a new paint job and design to be on-brand at their next show. With a rental, this is never something to worry about. In fact, booth rentals allow for a lot of flexibility when it comes to design and branding.
2. Get in Early!
The actual placement of your booth matters a lot. To ensure that you are showing prospects everything you have to offer, it's important to make sure your booth is in the right spot. A visible display in an area with a lot of foot traffic is important!
Make sure you are always keeping your ear to the ground for upcoming industry events. As soon as you hear of any impending expositions or shows, it's time to start planning. Research the exposition and who has attended in previous years. Once you've investigated, it's time to snag the best spot.
Certain areas with more foot traffic tend to go quickly, and many venues have been known to jack up the prices of their spaces as the event approaches.
3. Know Your Space
Before making any decisions about your booth rental, it's important to do your research on the actual exhibit space that will be hosting the show. For instance, how much space do you have? How many companies will be in attendance? Where will your booth be, and what will be surrounding it?
Once you have a good feel for your space, choosing a booth will be a lot simpler! You'll be able to visualize your display and make choices that revolve around the space you're in, whether that means having a bigger booth, more space for browsing, or even a lounge area.
4. Stay on Budget!
It's tempting to go for the flashiest, most exciting booth possible, but what good will that do for your company if it blows your whole budget?
When it comes to creating the budget for your trade show appearance, there are key elements to consider: event space, staffing, transportation/travel, logistics like electronics, and, of course, your booth itself.
Once you've settled your budget and how much you have to spend on the necessities, you can begin to sort out what you can reasonably spend on all the flash and fun.
5. Think About Size
Expo booths come in an enormous variety of sizes, which is a relief for anyone who has ever worked a show. After all, every brand and business is different, and the way they will display their services will vary as well.
When choosing a size for your booth rental, it's wise to consider the way you want customers to browse your products and hear your pitch.
For example, if you intend to have live speakers or demonstrations, you may want more space.
Some insiders actually recommend hiring a few small booths instead of one large one. This creates an impressive presence and can be a great way to utilize space. It also tends to keep potential customers looking at your brand for longer.
6. Consider Which Amenities You'll Need
Will your display requires television monitors? A sound system? Special lighting? Refrigeration? How about things like furniture?
It's important to consider which amenities you will need to make your booth look exactly how you imagine it. Don't leave anything up to chance—do your research. Make a list of everything that you may need to bring your display to life.
When choosing your booth, you can refer to your list of essentials for a smoother decision. Some booth rental companies will include many of the things you are looking for as part of a package.
7. Determine if You Want Furnished or DIY
When creating your trade show booth with Exponents, you have a couple of options. One choice is for you to hire it bare and do all the design yourself—a great option for some. Alternatively, we can design your entire booth for you! Our team takes pride in our talent for turning a client's brief into a magnificent show booth.
8. Comfort is Key
If you've ever attended a trade show, you probably know that it involves a lot of standing and walking, often for hours on end. After all, there's lots to see.
By giving your booth a few homey touches, you are doing both yourself and your customers a favor. Adding a few comfortable chairs, phone chargers, or cold water goes a long way. For the consumer, it's a relief to sit down and recharge. For you, it's a great way to bring prospects to your booth and keep them there for longer, allowing you to build a connection.
9. Get Inspired
Let your vision shine! Research trade show design. When you attend expos, take photos, if it's allowed. Make note of what you liked and what stood out to you. These are things you can include in your brief when you are working on your own booth with a professional.
10. Let the Professionals Help You Out
When creating your dream trade show booth, it's best to let industry experts help you out. The team at Exponents lives and breathes expos and events. With our expertise in booth construction, design, graphic production, and project management, we're here to ensure that your next trade show is your best one yet.
Get in touch with us today for a consultation. We're ready to turn your brief into reality!