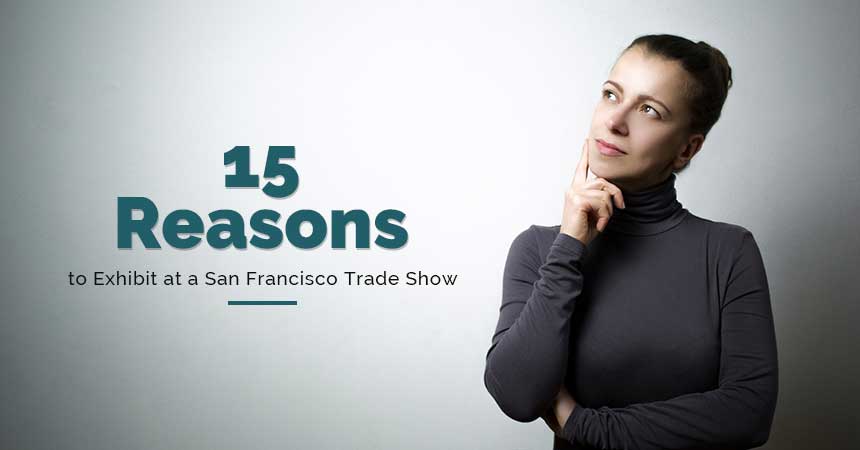 15 Reasons to Exhibit at a San Francisco Trade Show
15 Reasons to Exhibit at a San Francisco Trade Show
The Californian city of San Francisco is most popular for its Bay Area and the iconic Golden Gate Bridge. What a lot of people might not know is that the city is also a well-known trade show hub. Events held here bring together leading professionals and companies from around the world.
Should you choose to participate in a trade show here, you can easily boost your business by launching new products, showcasing all your offerings, and creating lasting bonds with business partners and customers alike.
San Francisco is commonly heralded as a global leader in everything from venture capital to start-ups, making it the ideal location for aspiring trade show attendees to test their booths.
If you're sitting on the fence about whether you should bring your booth to the high-tech city or not, let us put your mind at ease. Here's a look at 15 reasons why exhibiting in San Francisco is a great idea:
1. Your Products Will Launch Themselves

In a city where almost everybody is on the lookout for new and innovative products, launching your latest offering is a piece of cake. New products in the city do especially well since people are actively looking for innovative products that they can get behind.
Couple this with the massive spending power that individuals here have, and you have a foolproof recipe for success.
Of course, to ensure that your product captures the right attention, you will have to make sure that you do a little research and pick the right show for your industry.
2. You Can Grow Your Customer Base
Most companies head to trade shows in an attempt to generate new leads and grow their customer base. In San Francisco, trade shows are very well attended, offering exhibitors a chance to grow their customer base in leaps and bounds.
Quality leads are easy to find in the city, so you can rest assured that your investment will definitely yield high returns.
3. Your Sales Will Receive A Boost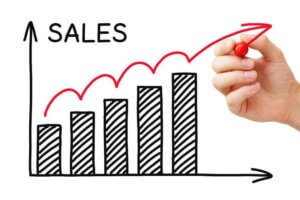 San Francisco hosts a number of well-received trade shows every single year. By simply playing a numbers game, you're sure to enjoy higher sales here than at an obscure exhibition in a smaller town.
More importantly, if you aren't a San Fran native and you're heading here just for the show, your brand might have a unique novelty to it that could impress visitors and further boost your overall sales.
4. You Can Study Your Competitors
As we've mentioned before, many of the biggest trade shows in the country are held in San Francisco. This means that most of your major business competitors will be present at the event.
Can you think of a better opportunity to study your competitors and learn from their strategies? Whenever you get the chance, make sure you take a walk through the venue.
Have a look at what other brands in your industry are doing. Make a note of what is working for them and what isn't. You can then use these findings the next time you have to build exhibit booth rentals in San Francisco.
5. It Is An Excellent Opportunity To Advertise Your Brand
We're sure you want to advertise your brand to the maximum number of people and expand its outreach.
Even if you are targeting a niche market, you need to make sure that your target audience will be present at the event. San Francisco is known for bringing together the most diverse set of consumers from around the country.
You are bound to find the market here highly lucrative regardless of your business type. Plus, it doesn't hurt that this high-tech city has all the necessary technology needed to promote your brand.
6. You Can Expand Your Network
If you're looking to network or form long-term business partnerships, then San Francisco is precisely where you need to be.
The industry-specific shows here serve as the perfect platform for you to meet with potential business partners and spend a little time getting to know them better.
These events also host a number of vendors and product distributors, allowing you to forge relationships that will be extremely profitable in the future.
7. You Can Meet International Customers Face-To-Face
San Francisco is a well-known tourist destination, but that's not the only reason why you should exhibit here. It's a major trade hub and is home to Montgomery Street, which is known as the Wall Street of the West.
This means that the city hosts a number of business heads through the year and they just might happen to be at the same trade show as you.
Wouldn't it be great to head into the trade show venue as a local company and walk out at the end of the day with a few international clients?
8. You Can Boost Your Brand's Visibility
Most organizations opt to participate in a trade show to boost their brand's visibility in the market. By building creative exhibit booth rentals in San Francisco, you're sure to capture all the right attention and boost your visibility amongst your target audience.
If you play your cards right and engage with the right people, you should be able to secure a loyal customer base for yourself. This, of course, will lead to higher sales in the long-run, which will help your company grow.
9. You Can Announce Your Presence In The Market
By participating at a trade show here, you're announcing to the world that you have no intention of stepping back from the game. Major conglomerates convene here along with a number of successful local businesses.
This makes the financial capital of the west coast a great location for you to make a statement.
When you choose to exhibit in this city, you're letting your competitors and customers know that you're ready to do what it takes to take your brand to the next level.
10. You Can Move Your Excess Inventory
Most often, excess inventory is a waste of space and sometimes money. At trade shows, likes the ones in San Francisco, you can bring out some of your excess stock and sell it to the willing buyers who will definitely put your offerings to good use. To really get those products flying off the shelves, offer discounts on the overstocked items.
11. You Can Train Your Staff
It may seem like trial by fire, but a trade show in San Francisco is the perfect place for you to train your staff.
With such a large volume of customers, you can show your team how to efficiently deal with high traffic situations while still impressing visitors with their knowledge about the product.
You can also encourage members of your team to walk around the venue during their time off to see how other brands are engaging with their customers
12. You Can Obtain Feedback From Customers In Real Time
Trade shows provide brands with the unique opportunity to ask their clients for honest feedback face-to-face. If you're worried that individuals won't be honest, you can ask them to fill up feedback surveys anonymously.
This will allow you to take stock of what you're doing right and will also help you identify areas in which you might want to improve.
In San Francisco, you will be dealing with veteran trade show attendees, so you're sure to receive actionable feedback that will help you grow your company.
13. You Can Recruit New Employees
At trade shows in the City by the Bay, you are likely to engage with a number of accomplished and highly-skilled industry professionals.
Some of these people might be looking for an opportunity to jump ship and grow their career with a new employer.
You never know, your next star employee might just be a curious individual who stopped by your booth to check out your latest offering. Always keep an eye out for enthusiastic individuals who could help catapult your business to new heights.
14. You Can Impress Your Existing Clients
Since San Fran has become one of the most popular trade show destinations, when you choose to exhibit here you can seriously impress your existing clients.
You can invite them to the event and show them how you intend on making their lives better with your offerings.
By showing that you're serious about your business, you're sure to increase brand loyalty. Additionally, if you aren't from San Francisco, but have a few customers based here, they will be happy to see you on their turf.
15. You Can Learn More About Your Industry
At large trade shows, like the ones that happen in San Francisco, there are likely to be a few educational sessions by keynote speakers and experts. When you opt to participate in these events, you stand to gain a wealth of knowledge and information from these experts.
These educational sessions will also allow you to stay updated on the latest happenings in your industry and will allow you to formulate stronger plans for your future growth.
Now that we have you convinced, all that's left is for you to create spectacular exhibit booth rentals in San Francisco and wow your audience.