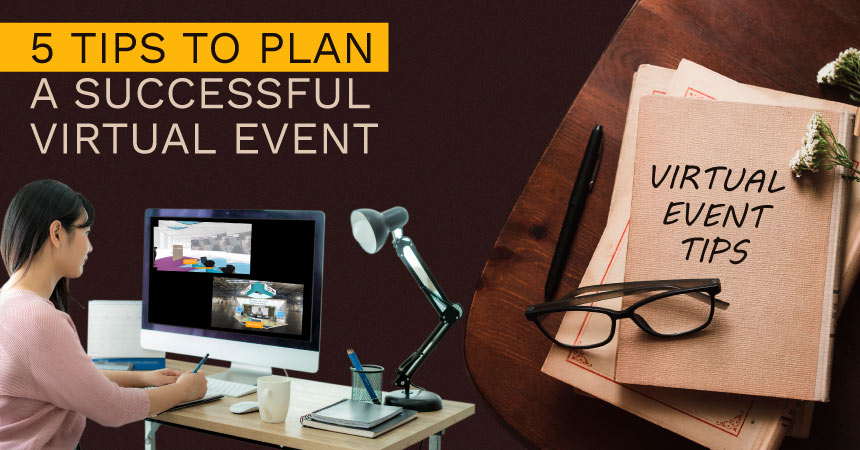 5 Tips to Plan a Successful Virtual Event
Virtual or digital events are currently the only alternative to live events due to the corona pandemic. What is certain is that this is not just a temporary trend. On the contrary: many organizers are considering hybrid events in the future, i.e. live events will be supplemented with digital elements. We have put together five crucial tips for successful digital events for you.
Tip 1: Develop a strategy and concept
Before you decide which digital event tool is right for you, the first layout a strategy and develop a concept. Don't make the mistake of trying to transfer the planned live event 1: 1 into a digital event. This is not going to work.
Questions that you should answer for yourself in advance:
What are your goals from your virtual trade show booth exhibit (e.g. presentation of a new product or service)?
What content would you like to provide (e.g. videos, product information, white papers etc.)?
How do you imagine the interaction with the visitors (e.g. live chat, video chat, live streams, Q&A sessions, etc.)?
What is your event goal (e.g. generation of new leads, customer loyalty, etc.)?
Would you like to use a professional moderator?
How many visitors are you expecting?
Are there enough employees available for live and video chats? (The possibility that visitors can make appointments for live and video chats in advance ensures planning security.)
What is your budget?
Answering the questions will help you to find the right solution for your next virtual event and exhibit.
Tip 2: Target Groups and Suitable Content
Who is your virtual event aimed at? Not everyone in your target group has to be digitally savvy and familiar with the technology. Try to keep the technical hurdles for registration and the event itself as low as possible.
Think in advance about what interests your target group. Which content do you best address your target group?
Visitors are no longer bound by physical or geographical boundaries. This can increase your reach at your conference booth enormously. Due to the internationality of the visitors, it may be necessary to offer registration, event content, and interactions in several languages.
Tip 3: Ensure Interaction
The attention span in humans is relatively small. Allegedly, at 8 seconds, it is shorter than that of a goldfish, which takes 9 seconds. With a virtual conference, the exit is just a click away. Reasons for this are, for example, distractions from colleagues, the phone, the boss who wants something done quickly or simply boredom.
Think carefully beforehand about how you want to keep your visitors happy. Integrate live and/or video chats. Communicate your content in the form of a live stream. This can be, for example, interesting lectures, expert interviews, discussions or Q&A sessions. Consider gamification elements to playfully motivate visitors.
Tip 4: Promote your digital event
The visitor marketing, which is taken over by the organizer for live events, you have to handle alone. The whole effort is free if nobody finds out about your digital event and nobody takes part.
The marketing for this is therefore at least as important as the content offered. Think about how and on which channels you can reach your target group.
Create an informative landing page with a registration form in good time, on which visitors can find out about topics and content. If you use marketing automation software like Hubspot, you can create a workflow with automated e-mails. The registered participants are then automatically reminded of the upcoming event, lectures or live streams by email. This helps limit the no-show rate, which is quite high with digital events.
Possible advertising measures:
Regular posts on social media channels such as Instagram, Facebook, LinkedIn, Xing
Paid advertisements on Google, Bing and the above-mentioned social media channels
Teaser videos on the channels
Newsletter
Note in your email signature
Press releases in (free) press mailing lists
Postcards
Tip 5: Don't forget to follow up
The right follow-up should not be underestimated, even for a digital event.
After the event, thank the visitors for their participation via email. Ask for a brief rating and feedback. What can you do better next time?
Evaluate the questions from the chats and Q&A sessions. There may be open questions to be answered. A good opportunity to keep in touch with visitors.
Use the live stream recordings and make them available to visitors as on-demand videos after the event. You can send the link in another email. In addition, check which event content can possibly be reused on which channel. For example, you can prepare the content in smaller "bites" and reuse them on your social media channels or other platforms in order to extend the life and reach of your event.