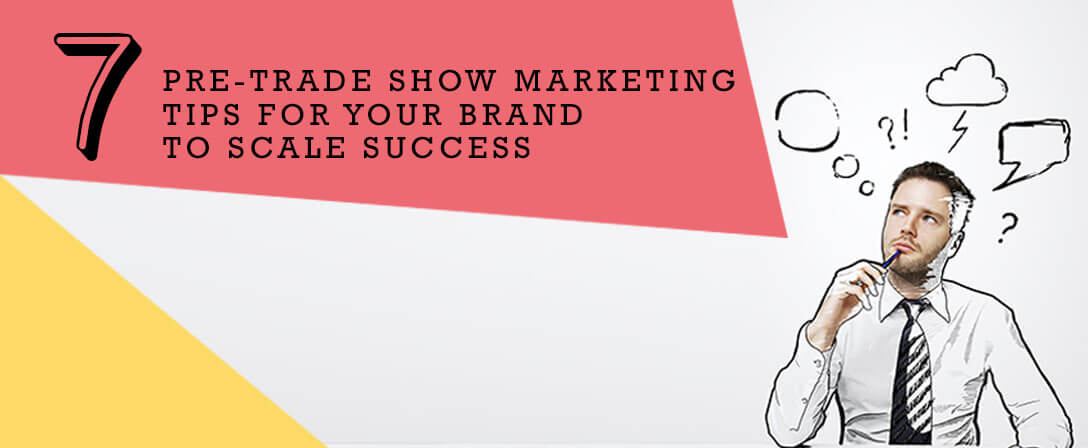 7 Pre-Trade Show Marketing Tips for Your Brand to Scale Success
7 Pre-Trade Show Marketing Tips for Your Brand to Scale Success
As the day of your trade show event nears, expectations mount and the rush hour rigors ahead of the trade show begin to tell on your trade show marketing team.
It takes months to collaborate efforts with those of trade show booth designers that you hire to get amazing exhibit rentals, plan every detail and creates a perfect framework to make your trade show participation a success.
Planning for your trade show is as important as the day of the event to get maximum returns on your investments. Pre-trade show planning in itself is a big task that involves concentrating on many factors in a systematic way.
We have focussed on certain aspects of pre-trade show planning that enables you to scale success at a trade show.
1. Draft a trade show calendar at the beginning of the next financial year
Setting your goals right in the beginning smoothens the entire process of trade show planning very easy. This leads your team in a focused way and lets you avoid getting distracted from your ultimate goal of maximum ROI.
What should be the foremost step of pre-trade show marketing planning? Well, you must start with synchronizing your trade show calendar with your marketing calendar and assign your team the tasks as per the same.
Developing the systems in place avoid the worrying over sorting out the last-minute challenges that usually occur when you forward without a planned schedule.
You must have a clear cut idea about the schedules of your product launches that makes the task of your marketing team quite convenient when they start planning the marketing budget.
Ask yourself continuously while you undertake the planning responsibilities if this is going to make you achieve your desired results of fulfilling your trade promotion objectives.
Make a systematic plan for your outreach programs and garner the maximum attention of your targeted customers. Remember that a thorough marketing planning program in the start goes a long and successful way in the road to choosing your coveted trade show booth rental.
2. Formulate a Trade Show Budget for the Financial Year
The most important aspect of participating in a trade show event is to think through the budget allocations of your trade show exhibits.
In this tough time of competition, everyone's looking for profitable options that can give them higher returns on their investments.
You must take insights on the prices that suits your marketing budget best from expert trade show exhibits booth designers and get an approximate estimate to the actual prices.
Getting a second opinion or for that matter third and fourth opinion always facilitates your financial planning to great lengths.
As you progress towards your budget planning, take advice and share your budgetary concerns well in advance with the finance department of the tradeshow exhibit companies.
It helps you to taper down your budget planning. After all, who doesn't like to cut short the costs to the bare minimum, right?
Your pre-trade show marketing budget must also pass through the scrutiny of your marketing team. Without their advise and go ahead, your advertising planning stays incomplete and inefficient.
Get clinical insights from diverse individuals of your marketing team and collate them all at a single place to reduce the additional and extra costs.
3. Digital Marketing
As you are done with streamlining your targeted marketing goals and the set the budget for the same, you can now set to decide the best tactics that can be used for achievement of your desired goals.
There are a lot of options available for you to utilize for advertising your trade show participation but there are a few that provides the quickest results.
You can start a Pay Per Click (PPC) campaign to drive paid advertisements. The ultimate focus of your campaign would be to reach as much of your targeted audience as possible.
The ultimate aim of this campaign is to affix your brand image in the minds of your targeted customers so that when they come to visit the trade shows, they don't just cross your expo booth, but start looking for solutions with your brand offerings.
A constructive use of your landing pages is also a great medium to encourage your customers to find your booth at the floor of the trade show and offers you to retain your brand image in their memory afresh.
Make sure that your landing page has the correct information regarding the trade show and the corresponding details that enable the visitors to locate your booth rental precisely.
Give them a substantial reason to pay a visit to your booths such as various offers, giveaways, and discounts that pick their interest completely.
4. Automate Processes
Make it easier for your team to reach to the targeted customers and increase the visitor footprint by using tried and tested methods of connecting with your existing customers.
Give them a call and get all the recent information regarding their business requirements. Forward the information of your trade show participation and explain them the viability of visiting your booth rental once again for their trade benefits.
E-mail marketing is another inexpensive method to get in touch with the various resources that make your trade show participation possible.
As the data of all your important contact is saved in your e-mail directory, it just takes minimal efforts to spread the word about your latest updates and lead the targeted customers to reach your exhibit booth easily.
You can also use technology to drive data collection and analysis such as the deployment of sensors, hot spots and CCTV cameras inside the trade show booth to collect and analyze data on visitors that provides you with the correct statistics that make your marketing planning for the next event ultra smooth and easy.
5. Design a Dedicated Project for the Trade Show
You must know that a gigantic task of trade show participation requires the efforts of not just one but many skilled individuals.
Planning and coordination of activities require a team of expert trade show booth staffers, a branding/ marketing manager and sales manager that are well-versed with the nitty-gritty needed to make your pre-trade show marketing planning a huge success.
As numerous queries of the customers are directed towards your team, they must be prompt to sort them out in the smallest nick of time.
All this uniformly generates interest in the minds of the customers and thereby better audience build up at your booth and thus optimal utilization of your custom trade show booths.
You can also use a project management software or professional software platform to create a group consisting of your trade show team and the team of personnel from one of your chosen tradeshow exhibit companies to facilitate real-time communication.
Getting valuable insights from these expert team members to sort out most of your advertising related queries and speed up the process of promoting the information of your next trade show participation swiftly.
6. Share Your Requirements with the Trade Show Booth Designer
Put your organizational skills to act as a recurring project might slow down the advertising business a bit. Keep your team on toes by holding a joint meeting with your team members and the designers involved in building your trade show display ideas for better clarity over the developments.
Inform the trade show booth designers about the smallest of the requirements so that you don't have to spend time later on over sorting any glitches.
Since you have hired rental exhibits designers for a limited time and it is important to direct them with the accurate information to get access to an impeccable booth rental that represents your brand image in a similar manner, you must speed up the process.
So what should be done to speed up the process and simplify it at the same time? You can share your vision through a detailed PPT that is the shortest method to get them to understand your brand requirements in a detailed manner.
You can also ask the trade show booth designer to share their offerings and solutions to your challenges in the next meeting. Further, define deliverables, timelines and resource persons from both the teams and the related the workflow.
7. Plan the Post Show Marketing
Once you are done with the pre-trade show planning activities, analyze the results of your marketing efforts so that you enter the trade show event with the firm knowledge that you are going to get the desired footfall of your targeted audience.
This works in the interest of your marketing team as it boosts up their confidence and they put double efforts to pitch the customers.
As a part of your post-trade show marketing planning, you must perform certain measures to ensure that you get more attendance at your next event.
Send Thank You emails and calls to0 the visitors. Visit client's site to take follow-ups or use the method of cold-calling to make sure that they are well-benefitted with your brand offerings.
You can also send them LinkedIn connection requests to keep your marketing and sales team updated about their recent business developments and offer your services as per the same.