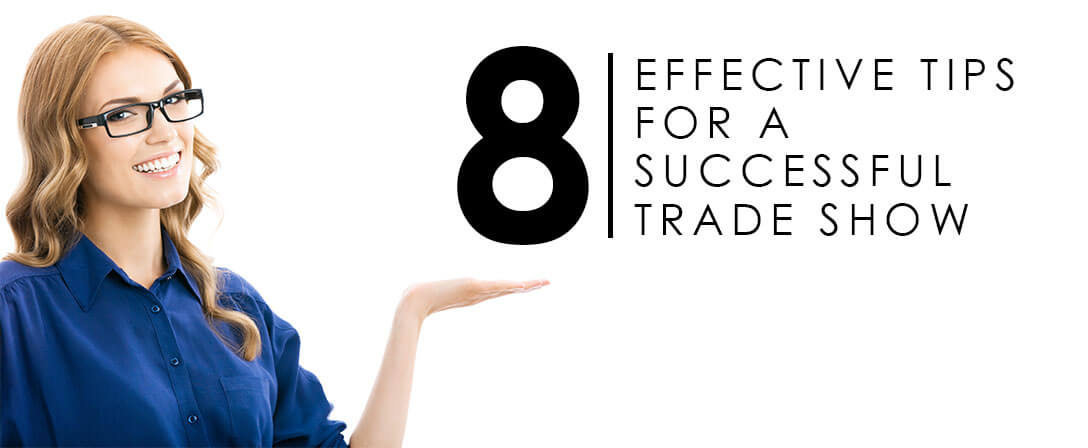 8 EFFECTIVE TIPS FOR A SUCCESSFUL TRADE SHOW
8 EFFECTIVE TIPS FOR A SUCCESSFUL TRADE SHOW
Careful planning and thoughtful research can go a long way in achieving your trade show goals. When a company invests its efforts, time and financial resources, it is only prudent that they shall expect to achieve a return on that investment and look to add value.
Beyond the maths of the trade show yet another factor is the experience of working with trade show exhibit companies for the purpose of incorporating best trade show booth ideas, procuring the best trade show exhibit displays having a smooth sailing to save time and costs against the set trade show goals.
While the greatest marketing executives also may find it difficult to articulate a comprehensive checklist for a great trade show participation, here are just some of the most useful 8 tips that should receive the lion's share of your marketing team's attention:
1. FOCUS ON YOUR MARKET RESEARCH
What is your industry genre? What type of trade show must interest you? And a lot more questions to research upon! You will probably not like to spend unnecessarily beyond your requirements.
For example, if you deal into kitchenware, the tradeshow exhibit companies exclusively trading school stationery will serve no purpose to you.
while on other hands, a good market research along with a well-crafted booth rental can make your way through different industry verticals where you are considered capable in the supply or value chain. Henceforth, a thorough analysis can open your reach of  participation as a part of the trade
A thorough market research will make things finer and targeted.  The focused view of augmenting the on-site sale and forming business alliances can be achieved with a great market research, hence, making things, not just clearer but easier while keeping the target goals intact.
2. ANALYZE YOUR TOTAL OUTLAY
Budget plays the key role in making the complete idea of trade show fall in place. What is the allocated budget? How much should be spending on the various departments in the preparation of booth rentals?
What should be the profit calculations against the money investment? How should your exhibit booths look like? And many more! The finely allocated and distributed budget can create a handle-free trade experience for you.
While it may look like budget allocation may add to the total costing, but the truth is, it eventually bolsters the targets of your brand by keeping the spending's intact.
Having planned a complete data sheet, it is obvious that you will deliver the spending's within reach to keep the complete flow of the expense balanced.
3. BE THOROUGH ABOUT THE PROTOCOL
Are you planning to give out cupcakes to all your visitors? Well! That's a great thought but did you check with the location pantry?
Many new traders often face this issue where they fail to check the rules and regulations and end up paying heavy load of money.
Like in this case, you might just be forced to buy the cupcakes from the pantry, which will eventually triple the numbers in your bill.
Apart from this, there are various other protocols to throw light upon including the security, maintenance, area specifications, are acquisitions, licensing, trading etc. You need to mug up the protocols of putting up an exhibit booth and before you sign in for organizing your trade show.
4. TALK TO IMPRESS
Good orating skill is a bliss, no matter if it is in some research or typically into your business- you can literally talk to impress.
Now, consider the same situation in a trade show where you need to polish your trade show exhibits, polish it with the minute brand details and a lot more.
Talking about money involvement, this can be a waste if you are a start-up or an emerging brand- invest less to profit more. In that case, what you speak is of greatest influence. Now if you may ask, what good does talking do?
Speaking about sports to the sports enthusiastic will draw straight attention, talking about fashion to the fashion freaks gets you diverted attention and the cycle continues.
Hence. Attracting maximum potential leads with less investment and more profit with the skills of orating. Moreover "Pitching is all about talking".
5. ATTEND THE MOST VISITORS YOU CAN
Until and unless you gel up with your potential leads on a ground level, nothing else can work. For the B2B trader, if you don't want to spend a humongous amount into organizing a booth or a trade show exhibits at least attend one.
Rubbing shoulders with the prospect leads and customers found in such trade show can be beneficial in terms of your business.
You need to meet and greet them, attend lunch and dinners with them and prospectively leave no chance to pitch your idea of business to them.
Meet as much visitors as you can (in both the cases, whether you are hosting a trade show or paying a visit), this will help in forming business alliances and maximizing the on-site sale that eventually adds to the endeavor of your business.
It is also advisable to first pay a visit to the local trade shows/ exhibit rentals (if you are attending) while prioritizing the list.
It is ideally in the reach of most of your target audience, it involves less expensive and most importantly it is quite easy to reach.
6. PROMOTION IS THE KEY
How well have you marketed your brand before participating? Well! This formula isn't a free one but works wonder for the participating brand.
The more you socialize is, the more is the reach, and that eventually adds to the on-site sale, lead generation and meeting the target audience under a single roof.
If you may ask about the in-depth of the marketing, social marketing is the most affecting one to accumulate all the potential targets in a single loop. Including Facebook ad campaigns, social boosting etc.
Nearly anything and everything is made known to the audience through the means of promotions and so should be the case for your brand.
How do you expect your target audience to drool over to your booth rental unless they know about it? Invest your time and money into selecting the right promotional platform for your brand and allocate the budget accordingly.
7. LOOK FOR SMARTER WAY TO CUT COST
The cost of participating in a trade show is measured on two bases, the first is obviously the cost of an exhibit and the second one is based on per sq. ft. occupied by your booth.
When it's already too much mugging up on your pocket, would you be likely to spend, what may come your way? If no, you need to pull in smart ways to cut out cost and save on both your pocket and time.
For instance, you can rent your booth rental rather than creating it. Lest take, for example, you rented a booth at USD 3000 in addition to USD 2000 of renovation, the original cost of the booth was USD 3000 which leaves room for a humongous benefit for you. Now, what do you think is a better option?
Second, work on smart customization as it covers all the minute requirements of your brand while keeping the budget intact. Further, you can also choose to opt for a double story booth rental rather than a relatively bigger booth because the costing is done based on sq. ft and not the height (in most of the places).
8. ALWAYS FOLLOW UP
Having put up a relatively interesting exhibit rentals with extraordinary give away might have impressed your target audience quite well, but if you fail to connect the dots- your potential lead is lost a follower; hence, follow-ups are extremely important.
In the very first place, when the crowd is attracted towards your booth rental, make sure to take down details of each one of them, and for companies, you might just take their visiting cards ( don't forget to give yours to them).
Now, these visiting cards and contact information are game changers for your brand. With thorough follow-ups and smart pitching, you can seamlessly achieve the whole idea behind participating or visiting a trade show- augmenting your brand's value proposition.
You might have to keep emailing them for a reply or pay a visit to augment your demonstration- you will have to keep calm and continue with your offering to let your target audience taste the perfection of your brand.
By now you must have thought of a plan to discuss with tradeshow exhibit companies. The point is to not only access a booth rental at a budgeted price but also stay on track for the targeted level of return on investment, selling and non-selling objectives and above all a hassle-free experience of participation.
Remember that while it is difficult to get everything right the first time, the motive is to keep improving with every trade show and move closer to fulfilling all your objectives.