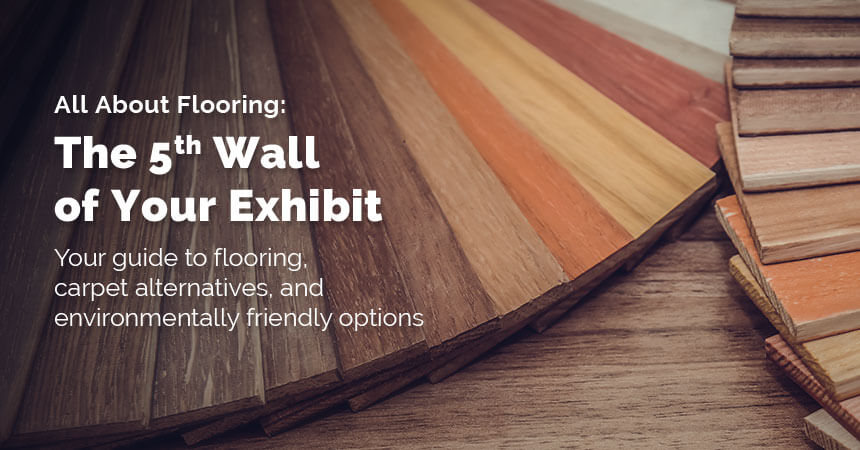 All About Flooring: The 5th Wall of Your Exhibit
All About Flooring: The 5th Wall of Your Exhibit
Your guide to flooring, carpet alternatives, and environmentally friendly options
The 5th Wall
When you look through your booth space rental contract, you might find a clause that states you must carpet your exhibit space. Show managers usually don't care what you use – as long as your space is covered.
Carpet is still the most commonly used material to cover your space, but if you have options, why not explore them? This guide helps you do just that!
Why does the floor need to be covered in the first place? Firstly, electrical and internet wires need to be covered and protected. Secondly, staffers and attendees need a softer surface to stand on.
As you do with all other aspects of your booth, custom design your floor to create impact. Flooring can improve the look, feel, and flow of your space. Utilize text, logos, graphics, and textures to any size, degree, and orientation.
Read on for six different categories of flooring to consider. Each has opportunities for customization to wow attendees at each show to come.
1. Standard Carpet      
There is a reason why carpet is still the most commonly used material to cover floors at trade shows. It is durable, convenient to ship, and easy to clean, store, and install/dismantle. If you don't own your carpet, you can easily rent from the show's General Service Contractor (GSC).
Since its commonly used and known about, we are going to skip detail about it in this guide. If you are curious about carpet density, carpet pads, and protecting carpet post-show, we recommend this article from Exhibitor Magazine.
2. Vinyl Flooring
Vinyl flooring – also called rollable flooring – is very durable, relatively inexpensive, versatile, and easy to maintain, making it a popular alternative to carpet for countless exhibits.
Design options: Detailed graphics and messaging. As vinyl printing technology has advanced, color saturation and image detail as grown considerably. Vinyl printing can make the surface look like wood, grass, stone, or even metal. This allows you to match the style to the rest of your booth design. Vinyl can also be used as an inlay with other mediums to draw attention. More on this in the next section.
How to ship: in a rigid tube (often sold by the manufacturer) or crate.
How to install: vinyl is installed with little to no tools. When laying down the vinyl on your show floor, it is recommended to allow as much time as possible for it to 'relax.' Quickly forcing it to lay flat can damage the vinyl.
How to store: Avoid stacking anything on it. The ideal way to store is to hang it from the ceiling using "S" hooks. If you can't hang it, roll the vinyl around a hard cylinder like a cardboard or PVC pipe. Your vendor should provide the cardboard. A PVC pipe can be purchased at a hardware store.
3. Combinations and Cutouts
Instead of using ALL carpet or ALL vinyl, how about a mix of mediums? This is the flooring option that allows for the most creativity.
Design options: virtually endless. Use combinations of flooring to create transitions – like a walkway to focus attention and guide attendees to an area like a speaker area or hospitality zone. Inlays can be created in nearly any size and complexity, featuring text, logos, and much more. Experiment with inlaying turf or hardwood, if it fits your brand feel.
How to ship: combination pieces and cutouts can be stacked and stored in a crate.
How to install: combination flooring is less do-it-yourself because it will require tools to satisfy the intricateness. What you lose in ease of install, you gain in the presentation.
How to store: see the section on rollable vinyl above. Carpet pieces can be rolled or stacked in a crate.
4. Foam Tiles
Economical, durable, compact, and convenient – the perfect option for do-it-yourselfers. Considered one of the most environmentally-friendly options as tiles are commonly made from recycled rubber.
Design options: as with vinyl, foam tiles can be customized with logos, graphics, patterns, with a wide variety of colors. An acrylic cover is placed over the design for protection. Lift the cover and replace the design to update messaging for future shows easily.
How to ship: tiles (most often in the shape of puzzles pieces) can be stacked and crated or cased for protection and convenient shipping.
How to install: place the tiles on the floor and interlock them. They easily are repositioned or used with intricate inlays. The foam provides more cushioning compared to padded carpet.
How to store: storage can be in the same vessel as you ship in.
5. Wood Flooring
A stylistic carpet alternative that can be used to cover your entire floor space or for inlays. Bamboo is a popular green option. More on this in the next section.
Design options: wood flooring tiles can be made of real wood, composite wood materials, or vinyl to resemble wood. Customize the look by choosing from different grains, colors, and finishes.
How to ship: easily stackable and shipped in a crate.
How to install: relatively easy installation with tiles fitting together with tongue-and-groove fasteners. Other styles are tiles that drop into a metal frame.
How to store: storage can be in the same vessel as you ship in.
6. Green options
Three criteria make something 'Green': it's made from recycled products, recyclable at the end of its life, and its source material is sustainable. Here are three of the most popular options for green flooring.
Cork:
Cork comes from a cork oak tree. The outer bark is removed every 9-10 years without harm to the tree. This outer bark is processed into slabs which are then cut to specific dimensions to make cork flooring tiles.
Pros: Cork is both renewable and sustainable, making it one of the most green options. Installation is easy and you would not have to replace the whole floor if a piece became damaged.
Cons: Cork is heavy and thus will likely increase drayage.
Rubber:
Worn tires are repurposed into rolls of flooring that is surprisingly comfy.
Pros: Rubber flooring contains as much as 91% recycled material and is easy to install.
Cons: Slightly more expensive to buy compared to other Green materials and heavy to ship, likely increasing drayage.
Bamboo:
Bamboo comes in a variety of appearances such as natural or dyed colors. These can provide nice accent to booth's color palette.
Pros: Bamboo is a fast-growing and replenishable resource. Bamboo slats are attached to a backing, rolled up, and shipped in plastic or cardboard tubes.
Cons: shipped from Asia by way of boat – not the Greenest shipping option. Bamboo is an expensive Green flooring option.
Floored by all the flooring options?
Years ago, carpet was the only option. Imagine having no artistic freedom to design your "5th wall". Now there are many options to fully customize your booth's flooring, taking your booth design to a whole new level.
Options include vinyl which can hold detailed graphics and messaging and environmentally friendly options like cork and rubber. Bringing creativity to the next level, you can use a combination of different flooring to create inlays.
We'd love to hear about your experience. Do you use your own carpet or rent it? Have you experimented with carpet alternatives? If so, what impact did they have on attendees?