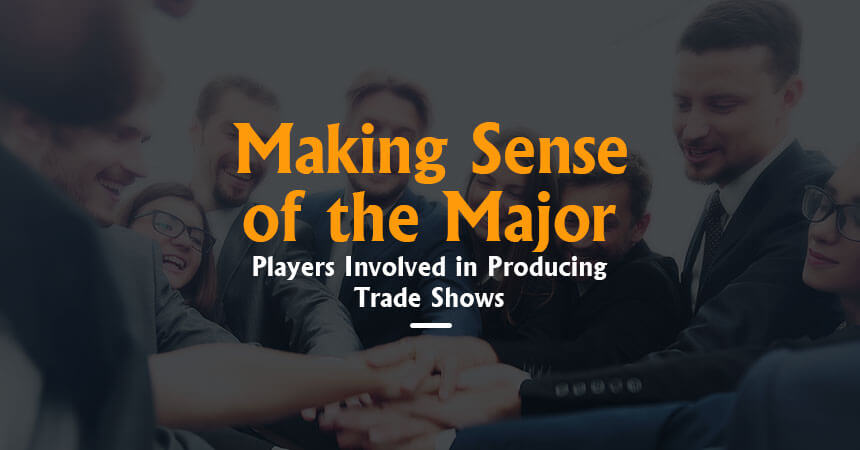 Making Sense of the Major Players Involved in Producing Trade Shows
Making Sense of the Major Players Involved in Producing Trade Shows
Who are the major players that put on a trade show and provide services to exhibitors? Rookie or veteran of the industry, you might have a difficult time naming them all. There are several – often with multiple different names and responsibilities that vary from show to show.
To help you know who's who, we put together this list of major players, their common alternative names, responsibilities, and their relationship to you as an exhibitor. Stick around to the end to find out how we eliminate having to deal with many of these players, simplifying your trade show planning.
Player #1: The Association
Commonly synonymous with: Show Organizer, Show Manager, Show Management
The Association is ultimately responsible for putting on the show. Their main goals are to sell booth space and provide attendees. This starts with identifying and selecting the show venue.
This requires considering the size of the exhibit hall, meeting room space, and the number of hotel rooms available. Their list of responsibilities also includes:
Security
Registration
Food and Beverage (catering)
Transportation shuttles
Informational staff
Electrical
Internet
Janitorial services
Building maintenance
This sounds like a lot – and it is. To make all this manageable, the Association delegates. A common delegation is to a Show Organizer. This entity negotiates contracts with all the contractors that supply products and services to exhibitors during the show.
The Association also might work with convention and visitor bureaus. Many cities have these. They market to Associations and try to lure them to their respective cities.
This relationship results in a contract to provide the trade show facility for a specific period of time, at an agreed-upon price, with the necessary services – many of the services listed above. A budget is derived from this contract. Exhibitor booth space costs are calculated from this budget.
Player #2: The General Contractor
Also known as the General Services Contractor (GSC) or Official General Contractor
The General Contractor is ultimately responsible for the physical setup and teardown of the trade show. GSCs will bid to win the services contract from the Association or Show Organizer.
GSCs offer many services to exhibitors and often compete with other independent contractors. However, the core services that are under contract with the Association and usually exclusive to the GSC are the following:
Floor space layout
Advance and direct freight
Marshaling yard and freight docks
Hiring and managing the labor force
Unloading, loading, and storage (drayage)
Overhead exhibit signs
Booth space partitions
Isle signs and carpet
Event registration
Show/exhibitor kit production
As an exhibitor, it is essential to read the rules outlined in your show kit. It is this fine print that tells you what services must be executed by the GSC – and which services you can seek an independent contractor for.
It is important to note the reason why GSCs often come out looking like the bad guy. The cost of the contract between the Association and the Convention Facility is based on the amount of space and time needed for the show. In other words, the longer the time, the higher the cost.
Shows will have an abbreviated move in and move out to avoid the cost of renting the space for additional days. Since GSCs oversee set up and tear down, they must work within these time crunches. This often leads to them charging overtime hour rates to exhibitors.
Player #3: The Convention Facility
The Convention Facility itself offers many services based on them having the infrastructure to do so. These include:
Electrical
Phone
Internet
Plumbing
Catering
To complicate things a bit, some of these services may be subcontracted out – typically electrical and internet services. This explains why exhibitors will see large fluctuations in the cost of these services. Usually, costs are lower if the facility provides the service and higher if a subcontractor is involved.
It should not be surprising to hear that the Convention Facility is in this to make money. To enhance its revenue stream, it will generate profit-sharing relationships with Exclusive Contractors. These contractors will oversee services that are typically not seen as "exclusive."
These services include audiovisual rentals, floor cleaning, and security. With these services being exclusive, exhibitors are restricted to use the vendor of their choice and costs are hiked. This markup is then shared by the Convention Facility and Exclusive Contractor.
Player #4: Exclusive Contractors
Also known as Official Contractors, Specialty Subcontractors, or simply Subcontractors
Looking through the exhibitor services manual, you will find a list of products and services offered to you as an exhibitor. Exclusive Contractors provide those not provided by the GSC. These commonly include:
Audiovisual (AV) and computer rentals
Plant and floral providers
In-booth security
Furniture rentals
Specialized carriers and shippers
Show registration and badges
Lead retrieval systems
Photography and videography
Travel and other hotel reservations
These contractors place brochures and order forms in your exhibitor service manual. They get to operate an on-site service desk to fulfill orders during the show. They also receive the exhibitor contact list which they can use to market their services to exhibitors further.
Player #5: Exhibitor-Appointed Contractors (EACs)
Also known as Independent Contractors, Nonofficial Contractors, or Indies. At healthcare shows, they are called Exhibitor-Designated Contractors (EDCs)
By definition, an EAC is any subcontractor used by an exhibitor that is not the GSC, Official Contractor or listed in the exhibitor services manual. If a product or service is nonexclusive, you as an exhibitor can choose any vendor you want.
Not surprisingly, there is extra paperwork and additional fees to use an EAC. It is in your best interest to compare rates and ask the EAC if they can absorb the fees as a standard business expense.
They often will do so to keep your business. Also note that the necessary paperwork to use an EAC is often due 30 to 60 days before the show opening. Show Management will rarely give any leeway if deadlines are missed.
It is quite possible that at first glance, EAC services will appear to save you money. In reality, this might not be the case. We recommend looking at the bottom line for all charges.
There is no universal answer for which type of contractor will save you money between EACs and Official Contractors. The answer will vary from show to show and service to service.
How We Simplify Trade Show Planning as Your Most Valuable Player (MVP)
There are many perks to working with Exponents besides the custom-designed booth we will build for you. Unless a show has the following services exclusive to the GSC or other contractors, we offer them to you, cost-effectively:
Installation, dismantle, and shipping
Admin and paperwork
On-site supervision
Furniture and floral rentals
Audiovisual setup
Flooring
Catering
We hope this list of the players involved in producing a trade show was helpful. One thing to keep in mind as an exhibitor: you have a voice so SPEAK UP. Although the Association is in this game to make money, they do have an interest in keeping exhibitors happy, so they sign up for future shows.
If you think costs are higher than usual, labor should be charged on straight time, or the food menus are unsatisfactory, talk to the Association about it. Your input might affect how they plan future events!