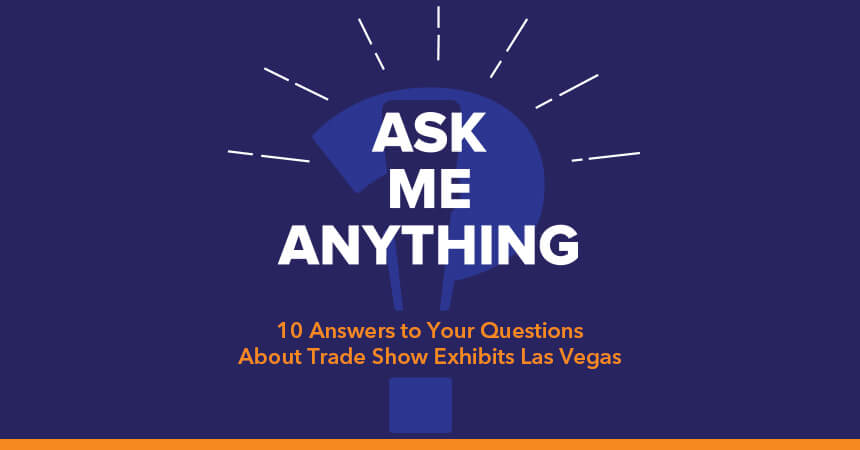 Ask Me Anything: 10 FAQ and Answers About Trade Show Exhibits Las Vegas
10 FAQ and Answers About Trade Show Exhibits Las Vegas
It is once again that time of the year when corporate executives and brand managers are making a beeline to participate in the top Las Vegas trade shows. We bring you tricks and tips to crack the code at these trade shows in Las Vegas this year with this list of frequently asked questions and answers. Take a look:

1. What are the Major Trade Show Centers in Las Vegas?
Las Vegas is rightly referred to as 'the' destination for trade shows and exhibitions. An entire ecosystem is built around this particular sector – with great hotels, amazing flight connectivity, and plenty of event space.
Some of the major action happens at these trade show centers.
 MGM Grand Conference Center
The Grand Center and marquee ballroom are a part of the 850,000 sq. ft of flexible meeting space
Address: 4701 Koval Ln, Las Vegas, NV 89109, USA
Phone: +1 800-929-1112
Aria Meeting & Convention Center
It has over 300,000 square feet of meeting and pre-function space.
Address: 3730 Las Vegas Blvd S (at ARIA Resort & Casino), Las Vegas, NV 89158, USA
Phone: +1 702-590-7111
Mandalay Bay Convention Center
The 1,000,000 sq. ft. venue has plenty of rooms for exhibitions
Address: 3950 Las Vegas Blvd S, Las Vegas, NV 89119, USA
Phone: +1 877-632-7700
Sands Expo & Convention Center
It has over 2.25 million sq. ft. of event space
Address: 201 Sands Ave, Las Vegas, NV 89169-2617
Phone: + 1 702-733-5556
Las Vegas Convention Center
It covers 3.2 million square feet with exhibit space of 2 million square feet, making it one of the largest exhibition centers in the world
Address: 3150 Paradise Rd, Las Vegas, NV 89109, USA
Phone: +1 702-892-0711
So, if you want the world to know about your product, then its best to exhibit at one of these trade show centers.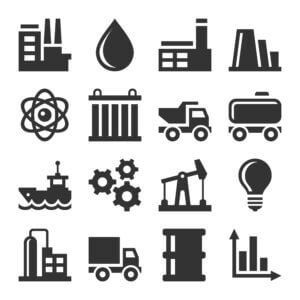 2. Which are the Industry Verticals that Attract the Interest of Las Vegas Trade Shows?
Some of the key industry verticals that exhibit in Las Vegas are as below. Also given below are some exciting exhibitions within that industry vertical
 Tourism
1. IMEX America
10-12 Sep 2019, Sands Expo & Convention Center, Las Vegas
2. The Travel Goods Show
26-28 Mar 2019, Las Vegas Convention Center, Las Vegas
3. Travelers Conference
08-11 Sep 2019. Ballys Las Vegas Hotel & Casino, Las Vegas
 Entertainment and hospitality
1. Hospitality Design Expo
15-17 May 2019, Mandalay Bay Convention Center, Las Vegas
2. International Consumer Electronics Show – CES
07-10 Jan 2020, Las Vegas
 Lifestyle
1. RECon The Global Retail Real Estate Convention
May 2019, Las Vegas Convention Center, Las Vegas
2. Amazing Comic Con Las Vegas
14-16 Jun 2019, Las Vegas Convention Center, Las Vegas,
 BFSI
1. Predictive Analytics World Financial
16-20 Jun 2019, Caesars Palace, Las Vegas
2. Southwest Bankruptcy Conference
05-07 Sep 2019, Four Seasons Hotel Las Vegas, Las Vegas
3. Las Vegas Tax Forums & Expo
24-25 Sep 2019, Planet Hollywood Resort & Casino, Las Vegas
 Food & beverage
1. Great American Pie Festival
08-11 Sep 2019, Las Vegas Convention Center, Las Vegas
2. Global Food & Beverage Expo
08-10 Oct 2019, Mandalay Bay Convention Center, Las Vegas
3. World Tea Expo
11-13 Jun 2019, Las Vegas Convention Center, Las Vegas
 Luxury
1. Las Vegas Antique Jewelry & Watch Show
30-May – 03-Jun 2019, Las Vegas Convention Center, Las Vegas
2. International Esthetics Cosmetics & Spa Conference
15-17 Jun 2019, Las Vegas Convention Center, Las Vegas
3. JCK Las Vegas
31 May-03 Jun 2019, Sands Expo & Convention Center, Las Vegas

3. How Should One Plan for a Las Vegas Trade Show?
There are many steps to ensure that you end up with successful participation at a Las Vegas Trade Show. First off, you need to check which shows will be apt for your industry or your line of business, So if you are into mobile development it won't make sense to display innovative mobile products at an unrelated show like the Las Vegas Tax Forums & Expo. Hence do your research and plan early to avoid disappointment.
Also check on the electrical, fire and safety norms along with labor union laws to ensure that you comply with them at all times.  Lastly, make sure to book hotels and flights well in advance to avoid last minute price surges.

4. How to Choose the Best Design for Trade Show Exhibits for Las Vegas?
Inquire with the designer and builder of your trade show exhibits in Las Vegas. Their phenomenal experience in designing and deploying innovative trade show booths. They can provide ideas on different types of layout like island, peninsula, linear, or wall perimeter-based trade show booths.
If they go beyond off-the-shelf solutions then they can be a great fit. They should be able to deliver modular booths with integrated add-on features, and fully customized designs of trade show rental exhibits. Before actual creation, they can do a mockup through 3D visualization and get your team's approval for the booth that best matches your corporate personality.
Days before the event, it's important to check on the work done by the trade show rental exhibit expert. Schedule a demo to check if the layout, appearance and placement are exactly what you had envisioned.

5. How Does One Demonstrate the Brand Value Proposition Through Trade Show Exhibits?
You need to be absolutely certain that the eventual booth deployment will seamlessly integrate with your corporate philosophy and preference of your target audience. You can ensure this in a few ways –
Ask for a demonstration of brand graphics, lighting and visual merchandising inside the trade show rental booth. The interplay and impact these elements have will help you determine if the trade show rental exhibit is indeed a good choice or if some tweaks are needed.
You can check out the different angles of viewing including top, lateral, and front
You can also check their portfolio of past work in trade show exhibits in Las Vegas from previous events
Inquire with the booth provider on their ideas to use colors, shades, design, and textures to complement the overall marketing objectives and target visitor persona.
A good expert for trade show exhibits in Las Vegas will also have ideas on how to use immersive technologies within the booth premises to improve footfalls and boost visitor engagement.
6. What Kind of Interior Designing of Trade Show Rental Booths Should One Opt for?
There are a lot of options to display various furniture and dedicated spaces for the smallest 10 x 10 trade show booth. Ask the expert in trade show exhibit Las Vegas for the following compartments:
Front desk – This is the first thing that a visitor notices in your booth. The desk should be attractively built with a welcoming outlook. The signage and content needs to quickly portray your USP to hook visitor attention
Demonstration area – Careful attention is needed to build this area. Right from how the hero product will be prominently displayed, to ho the visitors can touch, look, and feel the product for better engagement.
Discussion area – A small area with marketing collaterals, a comfortable chair and table can be a great meeting area. Here the visitor can inquire about the product for the sales team and ensure that he/ she goes deeper into the sales funnel
Meeting area – this is a secluded area that allows one on one meeting to ensure better transparency on the terms of the projects, costing and negotiations. This space needs to be a bit away from the hustle and bustle of the crowd.
The focus would be on the clear demarcation of every area based on the customer journey from casual browsing and engaging talks, to eventual conversion.

7. How to Reduce Performance Risks at Las Vegas Trade Shows?
Every element, right from the lighting and furniture to colors, signage, and graphics need to come together beautifully to help you meet the trade show exhibition goals successfully. You would not want to take a risk of seeing your trade show exhibit for the first time on the event day and venue.
It's better to ask for a demonstration of the trade show exhibits Las Vegas at your site before the event to check everything. You can take a walk around the staged demo to see if all is as per expectations.

8. How to Reduce Financial Risks at Las Vegas Trade Shows?
It is imperative to select a designer and builder of trade show exhibits Las Vegas that offers open prices (pre-committed prices) with no risks of add-on billing and hidden costs. This is crucial to ensure that every dollar of the marketing budget is utilized in the right way without the risks of a loss due to last minute invoicing surprises.

9. Should a Brand Buy or Rent Las Vegas Trade Show Exhibits?
Renting is more economical, saves depreciation costs, allows custom features and devoid of maintenance costs and responsibilities. Moreover, it can be used across multiple exhibitions and events.
A good provider of trade show exhibits in Las Vegas will also carry out updates to retain the freshness factor of the booth across different trade shows.

10. How to Improve Visitor Engagement at Las Vegas Trade Shows?
Here are 5 exciting ways to attract and retain visitor attention for the success of your trade show marketing campaign
1 – Use immersive technologies
VR and AR are proving to be a game changer in hooking visitor attention. Deploying an AR/VR setup not only improves the level of interaction your visitor has on your product, but the innovative way of interaction can leave a lasting impression on their minds.
2 – Use SMS marketing
In an increasingly mobile world, you can create an impact before, during, and after the show with personalized SMS campaigns. Such campaigns will help your target audience to know about exciting deals, offers, and contests that they can join and win rewards/ benefits. At the front desk a tablet can be set up to allow visitors to enter their number and also their specific area of interest. This facilitates better outcome from targeted marketing.
3 – Use of chatbots
A visitor may be simply looking around and not yet ready to talk with a sales staff member. For such visitors, a chatbot is essential to interact with him/ her and arouse interest in the brand or product
4 – Create a press & PR corner for photography
You can have a dedicated corner set up to capture your discussion with an industry influencer or a celebrity. This can then power up your post-event PR campaign and improve brand visibility
5 – Better focus
Imagine if your staff has to run around keeping the booth organized as well as engage with visitors. To avoid this dilemma its best to get a dedicated concierge team with the help of an expert in trade show exhibits in Las Vegas. They will take care of the transportation of booth to venue, its installation, supervision during the show, and post-show dismantling.