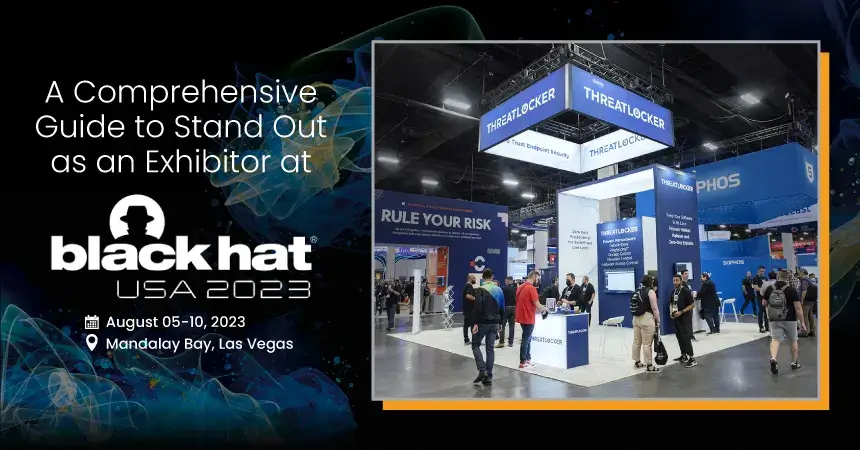 A Comprehensive Guide to Stand Out as an Exhibitor at Black Hat USA 2023
Black Hat is an acclaimed global conference in cybersecurity, renowned for its cutting-edge briefings, training sessions, and networking opportunities. The event is scheduled to be held at Mandalay Bay Convention Center in Las Vegas between August 5th and 10th in 2023. As Black Hat 2023 nears, it's crucial to prepare thoroughly to maximize your participation in this significant event. To assist you, we've tailored a guide specifically for Black Hat 2023 that offers practical suggestions and tips to distinguish yourself. Get ready to gain valuable insights and establish crucial connections at Black Hat 2023.
Before Black Hat USA2023
Master the Black Hat Landscape: Black Hat USA conference is a unique space dedicated to unveiling new cyber security measures. In the face of ever-evolving threats in the tech world, it's crucial to always be prepared with innovative solutions, products, or services that can address these potential cybersecurity issues. Don't be caught off-guard as technology continues to advance at lightning speed; stay informed and stay ahead of the curve by exhibiting at Black Hat.
Capture the Black Hat Spirit: This event has earned a reputation for showcasing high levels of technical expertise in the cybersecurity space. To make the most of the event and create a rewarding experience for everyone, it's important that your messaging, presentations, and demonstrations embody technical rigor that the show demonstrates.
Collaborate with trusted booth builders: You'll need a trusted booth builder in Las Vegas to maximize your impact at Black Hat USA. Booth builders understand the intricacies of the event and can help tailor your booth to resonate with the audience that attends Black Hat, which includes expert security practitioners and innovative solution providers.
Bonus Tip 1: Communication is key when collaborating with booth builders. Keep them informed about your goals and the message you want to convey through your booth. This will enable them to design a booth that aligns with your brand and attracts the right audience.
Bonus Tip 2: Don't forget to discuss logistics with your booth builders, such as installation and dismantling schedules, to ensure a smooth operation during the event. Ensuring these details are planned ahead of time can prevent last-minute hiccups and make your participation in the event more successful.
Market Your Presence: To make sure you get the most exposure and marketing benefits at the Black Hat event, consider leveraging their `Sponsor Resources` package. This package includes a wide range of tools such as customizable banners, logos, and event descriptions. Taking advantage of these tools can help optimize your brand's impact and capture potential customers' attention. Make sure you make the most of your presence at this event!
Bonus Tip: Black Hat Briefings' 'Call for Papers' can be an opportunity to present your research or methodology. Consider applying for it.
Elevate, engage, and excel: Rent your Black Hat booth now!
During Black Hat 2023
Engage with Technical Depth: If you're planning to showcase your product or service at Black Hat USA, keep in mind that attendees are highly interested in in-depth and technical information. They want to be in-the-know about the latest tools and techniques. So, in order to engage your visitors effectively, offer live demos, in-depth discussions, or Q&A sessions related to your product. This will help to build interest in your brand among the tech-savvy crowd, and may increase the chances of potential partnerships, collaborations, and sales.
Utilize Black Hat Features: Maximize the impact of your rental booth by leveraging features like 'Business Hall', 'Arsenal', and 'Innovation City'. A thorough understanding of your booth's location will allow you to guide and attract potential visitors more effectively. With interactive displays and informative presentations, you can provide visitors with an immersive and unforgettable experience. Don't miss out on this opportunity to showcase your brand and engage with potential customers!
Participate in Networking Events: Black Hat USA gatherings are full of opportunities to network and make valuable connections with security experts from all over the world. Their series of networking events, such as the 'Welcome Reception' and 'Business Hall Pub Crawl', provide informal settings for attendees to interact and forge long-lasting relationships. Don't miss out on the chance to engage with peers and thought leaders within the cybersecurity industry at Black Hat USA !
Bonus Tip: Keep track of the Black Hat NOC (Network Operations Center). They usually share real-time threats at the conference – a good discussion starter!

30'X30′ TRADE SHOW BOOTH RENTAL AT BLACK HAT, LAS VEGAS, NV
After Black Hat 2023
Follow Up: When reaching out to potential clients, it's important to convey the technical depth that Black Hat USA is renowned for. Let them know that not only do you understand their needs, but you also have the expertise and knowledge to provide solutions that truly stand out. By doing so, you can establish a level of trust and credibility that sets the foundation for a successful partnership. Remember, communication that demonstrates a mastery of the technical details is often what sets apart the best from the rest.
Reflect and Analyze: After attending an event or engagement, it's important to take some time and analyze the connections and leads that you've gained. Analyze how your participation contributed to the overall goals that you've set, and reflect on the value that your attendance provided. Taking a few moments to thoroughly consider the outcomes of your participation will help you to develop new strategies and refine your approach for future events.
Stay Connected: Discover exclusive advertising and sponsorship opportunities with Black Hat USA that extend beyond the event itself. By engaging with the vibrant Black Hat community during the conference and nurturing relationships throughout the year, you can seize the opportunity to stay connected and broaden your network. Ensure you don't overlook this chance to expand your horizons and forge lasting connections through Black Hat USA .
Bonus Tip: Consider submitting a 'Post-Event Summary' on the Black Hat USA website. This can increase your brand's visibility among attendees.
To Conclude
Black Hat USA 2023 is not just another trade show – it's an arena to exchange the latest insights and innovations in cybersecurity. In this digital sea teeming with industry leaders, standing out is crucial, and the first step is having an impactful presence on the show floor. Finding the perfect trade show booth to represent your brand, however, can be a daunting task. That's where Exponents comes in. Our wealth of experience and imaginative spirit allows us to create bespoke booth rentals that impeccably encapsulate your brand's unique identity. Through our smooth rental process, you can create a trade show booth for Black Hat 2023 with ease. Our dedicated team understands that renting and designing a booth can be an overwhelming process, which is why we strive to make it effortless and exciting for you. At Exponents, we eliminate the stress from trade show booth rentals, allowing you to focus on attracting attention and making valuable connections.