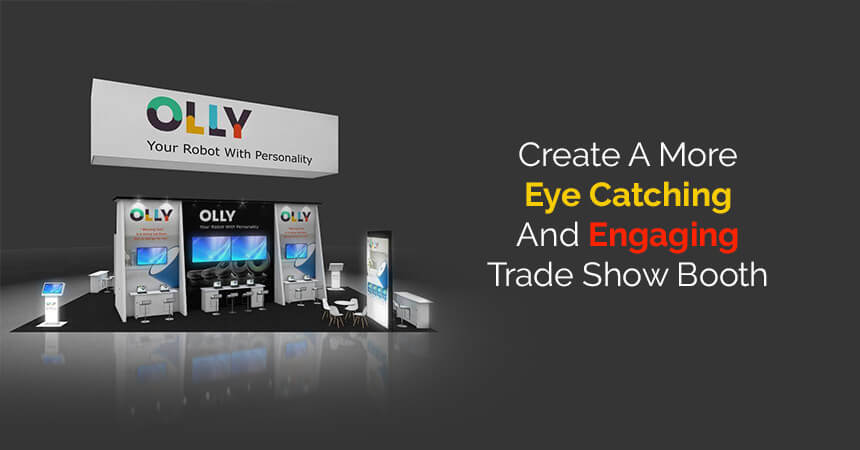 Create A More Eye Catching And Engaging Trade Show Booth
Create A More Eye Catching And Engaging Trade Show Booth
In the business world, trade shows are one of the most effective marketing activities to get involved in. Taking part in these events can help you showcase the latest products and offerings that your company has, and build a larger customer base.
Getting trade shows on the calendar and reserving a space at each one is just the starting point. The most important part is engaging people at the trade shows. Higher engagement will lead to people truly finding out what your business is all about.
There are many different strategies that can be deployed to build a better trade show booth, and it is vital to stay on the cutting edge of these strategies. Being more innovative and creative will help your business stand out and engage with more people.
 Promote Your Brand With Interactive Game
When you clearly define your brand as a company, it helps to build recognition. A brand also helps to convey to customers what the overall value and mission of your company are.
Using interactive games at trade show booths is a great strategy for building your brand.
When people are walking through a trade show, they need something to pull them toward your display. Displaying a series of digital devices is a good attention-getting tactic.
When people walk up toward the devices, your logo, slogan and anything else that helps to highlight your brand should be displayed on the screen. From there, it is up to the potential customers to engage with the device.
One of the biggest benefits of setting up this fishbowl type activity is that it is a great way to capture new leads. The digital devices can be offering up some prizes that will motivate people to answer a few simple questions. This information is then stored digitally and a potential customer database can be built.
Another great piece to add to this type of interactive display is a live poll, word cloud or a trivia question. The results of any of these types of questions could then be displayed in real time on a monitor or screen at your booth. People love to compete and see their results compared to other people.
Email addresses are also typically captured with this type of setup, and those can be utilized directly from your booth during the show. Once a number of people have filled out the form, then you can send an email directly from your booth to follow up on their initial visit.
It is also very meaningful to take a look at how many leads were generated with this interactive game, and which times during the trade show were most popular. This type of data can really help to make future determinations about how to best use your time.
 Get More Traffic With Virtual Prize Wheel
A virtual prize wheel can really help your trade show booth stand out. When people see the available prizes on the wheel and can see which ones haven't been claimed for the day, they are going to be more likely to stop by. The prize wheel can contain a few simple questions that can be another way to capture leads.
These questions can be as simple as signing up for a newsletter or setting up a follow-up meeting with someone from the sales team.
These prize wheels can also be set up in a way where everyone that spins gets to win something which can generate a good amount of buzz among the trade show displays.
Traditional prize wheels have been used at trade shows for quite some time. So what makes a digital prize wheel so much better? The management of the prize inventory is the first benefit with the digital version. As you run out of prizes throughout the day, the wheel can be changed to reflect that.
This is a good alternative to people thinking they have won a prize that you no longer have. Virtual prize wheels can also be activated with a variety of devices like tablets or smartphones. This can add some versatility to the wheel and allow for the maximum number of people to engage with the activity.
The virtual prize wheel can also highlight the grand prize in a much more effective way. On a regular prize wheel, the grand prize section looks pretty much the same as the rest. With the digital wheel, you can add different text, photos, and colors to make that section really stand out.
The chance at winning the grand prize could be just the thing that captures the attention of potential customers as they walk through the various displays.
A final benefit to consider with a digital prize wheel is the connection that can be made to your brand. Every item at your trade show booth is either going to help people connect with your brand, or it is going to muddy the waters. A digital prize wheel can be customized so that each piece of it matches your brand and helps to promote that image with people at the show.
 Challenge Trivia Games
Who doesn't love an opportunity to play a challenging game, win a prize and get their name on a giant leaderboard for all to see? This is another great strategy for drawing people toward your trade show booth and giving them something fun and interactive to do.
Tablets can be set up with a variety of challenge trivia games in a place that potential customers can play at their own pace.
Each game can have a few introductory questions that will generate leads and help to build your database. Each game can also be set up to display the results on a digital leaderboard that is projected on a large screen.
These trivia games will also be able to generate leads and give people information about your business even when the trade show staff are extremely busy.
One of the more popular trivia games to play has a three strikes style to it. The more questions a person can answer, the more points each successive question is worth. Once they get three wrong, the game is over. Along the way, questions can be set up to gather valuable customer information, and communicate information about your business.
The nature of this style of game is highly enjoyable for those that play, and it can be run even if your staff people are not available. When you have a group of people gathering at the same time, you can offer up a game show style trivia game.
Each person would answer the same question, and each question is worth a set amount of points. Again, the questions can be customized to focus on whatever aspect of your business you would like to.
A beat the clock style game that would be similar to what many people have played at a bar is another great option. As the timer counts down for each question, the point value decreases so there is a premium placed on getting the correct answer as quickly as possible.
Regardless of the style, you choose, having a trivia game that incorporates a leaderboard will drive more traffic to your trade show booth. When people see their name on the leaderboard, they tend to come back again and bring other people with them. The competitive nature of people is what makes this type of game such a successful strategy.
 What Prizes Should I Give Away With These Games?
This might seem like something that doesn't really need a lot of time or attention, but having a strategy for the prizes you are going to give away can really help to maximize the contact you'll have with potential customers.
Each person that comes by at a trade show represents a potential business, so every aspect of the interactive game strategies should be considered. The first, and maybe the most obvious, is to give away a big prize. It doesn't matter that logically most people know they won't win that big prize, they still will take the chance to play the game.
This means that you are engaging with them in a positive way, and you are capturing some valuable information that can be used later. Once the big prize is established, it is good to offer varying levels of remaining prizes. You can think about having a low, middle and high level of prizes.
The high level should only be about five to ten percent of the prizes. These will capture the attention of people at the trade show, but you won't want to give away too many. The middle-level prizes could be in the thirty to forty percent range of what you give away. These should be quality prizes that people will feel good about winning.
The low-level prizes will make up the bulk of what you give away. These should be prizes people will enjoy but have a lower overall cost. Gift cards are a good example of a low-level prize.
Something else to consider when getting your prizes ready is to include things that are trendy, and put your logo and/or company name on everything you give away. Think about items that are popular, but that people might not spend their hard earned money on.
Putting the logo and branding on everything given away helps to build that connection with customers and your company. Whether it is a t-shirt, phone charger, mug or water bottle your logo and brand will be on display wherever that item goes.
 Have A Complete Plan For Buyers
Interactive games are a great way to bring people to your trade show booth. They offer an entertaining and competitive way for people to interact with your company and learn about what you have to offer.
These games should be used, but there are a few other aspects to the trade show experience that need to be in place to offer a complete experience for buyers. In addition to the different interactive games, having a large group presentation ready is critical.
This is a presentation that would be intended for groups of ten people or so. Within the presentation, the potential customers can take a deeper dive into what your company has to offer in terms of products or services. This offers potential customers a chance to ask questions and engage more with a member of your sales team.
Another great addition to the trade show area is a product demonstration space. When people are ready for more than just general product information, this is a must have to move closer to making sales.
The trade show is a great time to capitalize on interest in a product, and there isn't a much better way to close a sale than showing how the product works. If there is space, a small meeting area can be another great addition to the booth area.
There are some customers that want to have more of a one on one conversation with a member of the sales team so the small meeting space can serve that purpose. There is a great deal of planning and financial investment that goes into preparing for a trade show.
To get the most out of that time and money, it is necessary to have a complete plan in place for the display area. Using interactive games is a great way to engage with customers and build a database of leads.
The interactive games are also wonderful tools to use to build the brand of your company and share your mission and values. There are many aspects of these games that can be customized to match the message and information that you want potential customers to receive.
There are times at the trade shows when people are looking for something beyond the interactive games. This is where additional displays, presentations, and product demonstrations should be ready to go.
When potential customers show a great deal of interest, you need to make sure to capitalize on that opportunity by taking a deeper dive into what your company is all about.