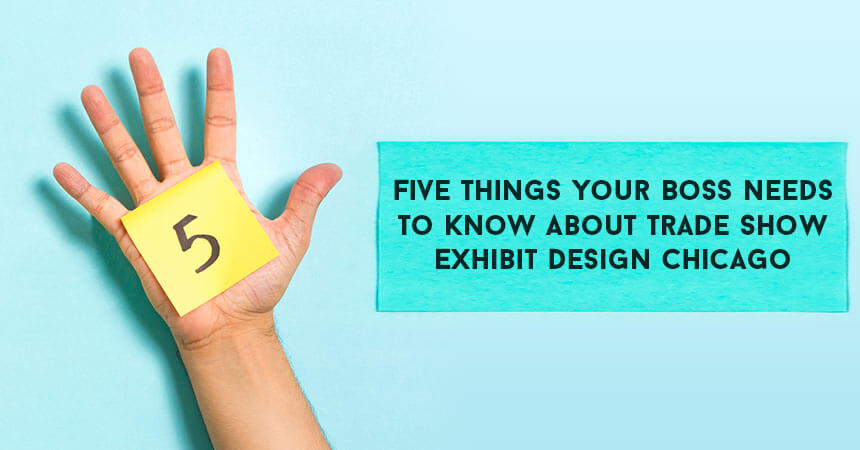 Five Things Your Boss Needs To Know About Trade Show Exhibit Design Chicago
Five Things Your Boss Needs To Know About Trade Show Exhibit Design Chicago
Chicago's trade show market is flourishing like never before. This populous city provides exhibitors with a plethora of lucrative opportunities. According to a recent census, approximately 10 million people live here. Just imagine the wide customer base in Chicago that is waiting to be captured.
Here, money flows like the water in the Mississippi River. If you want to be a part of this glorious stream, then you'll have to be extremely competitive. For this to happen, it's essential that your trade show booth bedazzles the audience and draws their attention towards your brand.
If you manage to play your cards right, then you will find yourself soaring as high as the Chicago skyscrapers.
Many exhibitors from different industries flock here to take advantage of one of the most diverse global markets. Chicago is the real deal, even if you're looking to target a niche market as the local customers have various needs.
Additionally, their pockets are also quite deep and they don't mind spending big on quality offerings. So, if manage to book a spot here, then you should make a meal of this opportunity. Past exhibitors would tell you that there are certain things you need to know about booth designing before deciding to participate in a Chicago trade show.
Here are some display designing tips for you to consider.
LED Walls
Thanks to technology, we are able to view things with more clarity than before. Picture quality has increased exponentially in the past few years. No matter what your offerings are, you would want to present them in the best possible manner.
This is why the role of LED walls in trade shows is becoming more significant with each passing day. They will help you create stunning displays in a variety of shapes and sizes that will make your exhibit incredibly colorful and very pleasing to look at.
Recent tech updates have made it possible to accommodate more applications like curved walls, overhead displays and higher resolutions. The icing on the cake is that the configurations and content of LED displays can be modified to fit the show's environment. Additionally, such walls have exceptional brightness, which will make your brand highly visible across the trade show floor. Even the brightness of indoor panels can exceed 1,000 Nits, making it approximately three times brighter than modern LCD televisions.
If you choose to set up LED walls, you can rest assured of the best image quality, crisp pictures and monopoly over the full color spectrum. This will help you create a high-impact display that will deliver your brand's message clearly to the audience.
To make the most of your tech, it's crucial that you employ only skilled and experienced technicians while installing LED walls.
Special Lighting
Since most trade show venues are indoors, there is hardly any natural light inside the hall. This is precisely why artificial lighting plays an important role in determining the attractiveness of your exhibit.
You don't just want a place in the limelight, but want an opportunity to showcase your brand and its offerings in the best way possible. Unfortunately, it has to be admitted that most manufactured lights don't leave much room for creativity in the aisles.
But, that doesn't mean you don't have any scope to play around with your display's lighting!
The artful use of lighting can drastically change almost any mood. A performance light is designed to highlight your flagship products through a brightly focused beam. Few examples of this include fluorescent, halogen and incandescent spotlights.
It's important to note that LED and fluorescent lighting are long-lasting but not the most energy efficient. Halogen lights, on the other hand, consume less electricity. You could also use back-lit fabric displays to create a calm and enticing ambiance in your booth.
Enticing Flooring
Many exhibitors make the mistake of assuming that trade show visitors won't pay much attention to their booth's floor. Customers would be looking down from time-to-time to check their phones – and in doing so – will notice the background.
Believe it or not, your booth's flooring could be the difference between victory and defeat during the event. Don't you want to roll out the metaphorical red carpet for your guests and make them feel like celebrities? Of course, you do! You want to be as welcoming as possible and have meaningful conversations with potential clients.
The floor designs of your booth are as essential as your furniture, walls and graphics. There are a plethora of flooring options to select from. If you are looking for a flexible solution, then tiles are the best. They allow you to manipulate the shape and size of your stand.
Thus, you can optimize space and design the available space to your liking. Depending on the kind of look you're going for and your budget constraints, you might pick carpet tiles, foam tiles, rubber tiles or even plastic tiles.
If you really want to take things to another level, you might want to customize your flooring. On the other hand, if you want to show attendees that you're committed to saving the environment, you can use rollable bamboo flooring instead.
Touch Screens and Graphics
Thanks to technology, we are now able to push the boundaries of innovation. Cutting-edge tech will help you embellish your trade show booth like never before. It's also your best friend when it comes to capturing the audience's attention.
You could consider setting up gigantic tablets with touch screen features. Such devices would also allow your sales team to take a breather while they're juggling multiple responsibilities. Make sure to provide a great user-experience to those individuals visiting your stand.
Always remember that visitors are bombarded with vibrant visuals as they stroll through the venue. This can be overwhelming at times and hence engaging other senses like touch becomes vital. While visuals are no doubt important, setting yourself apart from your competitors is of paramount importance.
This is exactly what touch screen technology will allow you to do effortlessly. It has to be noted that the influence of tablets at trade shows is rapidly rising with each passing day.
What's most important, however, is finding the perfect balance between tech and graphics. For the perfect visuals, you will need to carefully consider the kind of colors you will use, the height of the artwork, the font of your typed message (if any) and the material on which these graphics will be displayed. You can choose to experiments with different colors and fabrics to achieve interesting looks and a unique ambiance for your booth.
Augmented and Virtual Reality
Many philosophers have pondered over the question, "What is reality?" Well, we can safely conclude that it's either augmented or virtual (technologically speaking). These exciting new technologies are making their mark in the trade show domain.
Virtual reality is the perfect solution for exhibitors who cannot showcase their products due to restricted booth space. It can create an atmosphere of excitement around your offerings by facilitating an immersive experience for the attendees.
Virtual reality product demos are intriguing and enticing. These computer-generated 3D simulations can be used to the maximum effect. Make sure to present your brand in such a way that it connects well with the audience. Pair this with your in-person demonstrations and you have yourself a perfect solution.
While many brands and attendees are familiar with the concept of VR, not many are aware of augmented reality. AR is used to enhance regular objects in the real-world through an interactive device like a cell phone or even AR glasses.
The popular mobile game Pokémon Go is the perfect example of augmented reality. You can combine both AR and VR for your product demos.
This will make things much more interesting for the audience. You can also generate leads by utilizing information capturing devices like badge scanners.
Coming up with a flawless trade show exhibit design in Chicago may seem like a Herculean task, but it is definitely achievable. With these smart tips, you will be able to build a booth that is as functional as it is aesthetically pleasing, and this is sure to increase traffic to your display on the day of the show.
Whenever you're making a decision for your booth, always ask yourself if it will further your brand's overall goal and if it will interest participants. If the answer to both questions is yes – you've got a winning booth on your hands.