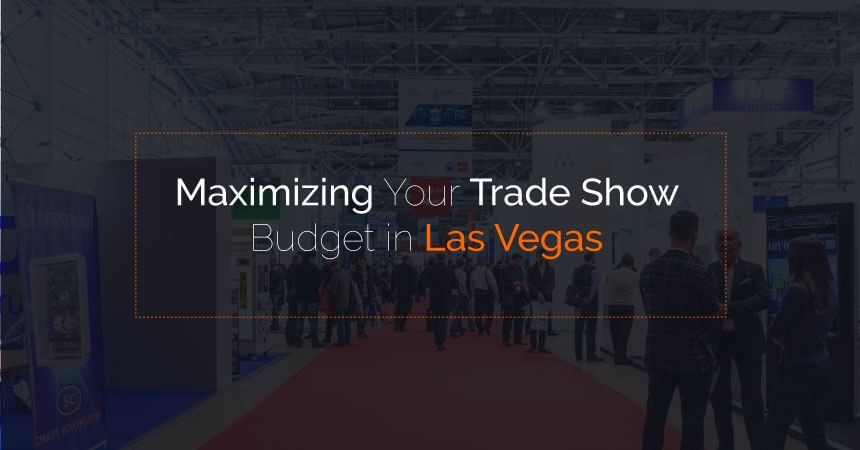 Maximizing Your Trade Show Budget in Las Vegas
Maximizing Your Trade Show Budget in Las Vegas
Participating in a trade show in Las Vegas is equal parts exciting and terrifying. It's exciting when you think about the kind of exposure you will get. But, it's also terrifying when you think about the kind of money you will have to shell out to ensure that your booth is on par with seasoned exhibitors.
If you're hoping to optimize the returns on your investment in Las Vegas, we've come up with a helpful guide that will show you how to prepare for the show, while also cutting costs as much as possible.
We promise that once you're done with our guide, you'll be able to enjoy a successful event in Sin City, without breaking the bank.
Set Your Budget
To make the most of your budget, it's vital that you have complete control over the money that you can spend on your exhibit. Before you decide how much you should allocate to the trade show experience, it's important to make a list of all the costs you're likely to incur.
This will include things such as the cost of the booth, including designing, building, shipping and installing it, the cost of travel and accommodation for you and your staff and the cost of promotions.
It's also a good idea to budget for a contingency fund in case any last-minute expenses crop up. This way, you're sure to manage the entire trade show within your stipulated budget.
Do a Little Research
If you haven't participated in a trade show before, you may not understand just how much of your budget needs to be spent on different things. A good rule of thumb is to allocate roughly 30% of your budget to the booth space alone.
If you have a fairly large budget, you may be able to afford a larger booth space, which will typically be in a visible area near the front of the hall. On the other hand, if your budget doesn't quite stretch to a 50×50 booth, you could opt for a regular, 10×10 in-line booth.
However, to get the best returns on your investment, book your place early and try to snag a corner booth. It will still be the same size, so you won't have to pay any extra, but you'll be able to engage with visitors more freely since you'll have two open sides.
Decide Whether You Want to Purchase or Rent Your Booth
Designing and building a booth is no easy feat. Most companies will design a booth once, and then simply reuse the same display at all their trade shows for the next few years.
While this is a great way to get the maximum return on your investment, there is another pocket-friendly way to go around the trade show circuit.
Instead of purchasing your booth, you can choose to rent it. Rentals are roughly 1/3rd the cost of a purchased booth, so they will greatly alleviate any stress on your budget.
Additionally, Las Vegas convention booth rentals are convenient since the rental company will help you design the booth, install it on the show floor, and even look after the storage and maintenance of the booth when you're not using it.
If you're still trying to figure out your company's trade show rhythm, rentals offer you a cheap and affordable way to experiment with different designs and ideas before you zero in on the kind of booth you would like to purchase.
Design Your Booth to Perfection
Your booth's design is quite literally at the center of your entire marketing campaign. Generally, you should spend about 10% of your budget on creating a masterpiece that will set you apart on the floor.
Of course, it's crucial to strike a balance between doing what is good and affordable and spending too much money. To ensure you're getting the best value for your money, list down all the important elements that you would like to have in your booth.
Once you have a fair understanding of what you'd like to have in your booth, you can ask trade show booth designers in Las Vegas to give you a cost for each feature. This is where things get a little tricky. You will need to prioritize what you want based on how important it is to your booth experience and marketing campaign and how expensive it is.
Do away with those elements that are unimportant and expensive. In the end, you should be left with only the most important elements.
Apart from bringing down your cost, this exercise will also help you ensure that your booth isn't too crowded or cluttered. With a clear idea of what you want, you can design the booth of your dreams within your budget.
Budget for Shipping and Installation
Many small businesses make the rookie mistake of leaving the shipping and installation costs out of their initial budget. Remember, your booth can be quite heavy and might have a number of elements.
You'll need almost 10% of your budget to pay for the shipping of your booth from the warehouse to the venue. You will then have to pay something known as a drayage cost, which refers to the amount you will need to spend to move your booth from the venue's loading bay to your actual location on the show floor.
Additionally, you'll have to hire professionals to help you install the booth and ensure that everything is in working order before the start of the show.
While all these costs may amount to a pretty penny, if you've chosen to get a trade show rental, the rental company should look after all these aspects for you. This will allow you to save big on your budget.
Find Staff Who Matter
Generally, a large portion of your booth's budget will be poured into finding hosts and hostesses to walk around your display and engage with the guests.
Unfortunately, what many businesses forget to factor in is the cost of training the staff to ensure that they're up to date with your company's offerings and values.
Thankfully, we've found a way around this. Instead of hiring hosts from outside, first ask your own employees if any of them would like to volunteer their time at the trade show. This serves two purposes.
Firstly, you'll save a large amount on hiring staff, even if you provide cash incentives to employees who volunteer.
Secondly, you'll have a highly-motivated team working at your booth, since only those individuals who really want to be at the event will be there.
Additionally, your employees will already have a wealth of knowledge about your products and services, so you won't have to spend any money on training new staff.
Plan Your Travel, Accommodation & Entertainment
The easiest way for you to maximize your trade show budget is by planning in advance. Ideally, you should chalk out which trade shows you'd like to attend a year in advance.
This will allow you to plan your flights and hotels in advance when the prices are quite affordable. If you're based outside Las Vegas and need to fly in, we'd recommend booking your tickets on a Tuesday afternoon at least 6 weeks before the event – you're most likely to snag a good deal at this time.
While looking for hotels, it's vital to find a good place that's close to the exhibition venue but isn't too pricey. As far as possible, avoid moving away from the venue for a cheaper hotel, as you could end up spending quite a bit on traveling to and from the venue, which could eventually cost you more.
Most Las Vegas shows last for 2-6 days. You and your staff members will likely have the evenings free to check out the city and enjoy the nightlife. However, heading out in and around the exhibition center could end up being quite expensive.
When you're booking your hotel room, ask the concierge if they could help you arrange a tour or two for all of your staff on a free evening – you'll get to see everything worth seeing without it pinching your pocket.
Pick Your Promotional Activities
With the advent of social media, promotional activities have become free and easy. To create some buzz around your participation in the show, you can publish engaging content on your social media pages for free.
You could also create behind the scenes videos in the days leading up to the event to give your customers a sneak preview of what awaits them at the trade show.
To reach out to a wider audience, make sure you use the trade show's official hashtag with each of your posts. Once you make the most of the free marketing avenues available to you, you'll have a little money left over to pour into your giveaways and other marketing materials such as brochures.
Ideally, only 5% of your budget should be spent on promotions and marketing, so it's important to use this money wisely. Instead of boring old pens as gifts, consider customizing items like hand sanitizers, Bluetooth speakers or mobile phone covers. Whatever you choose, ensure that your brand logo is tastefully placed, but still easily visible.
A trade show is a labor of love, so it's important that you plan for the event properly. To make the most of your budget – irrespective of stringent you think it may be – start the planning process as early as possible. This will offer you every opportunity to snag the best deals and get the most bang for your buck.