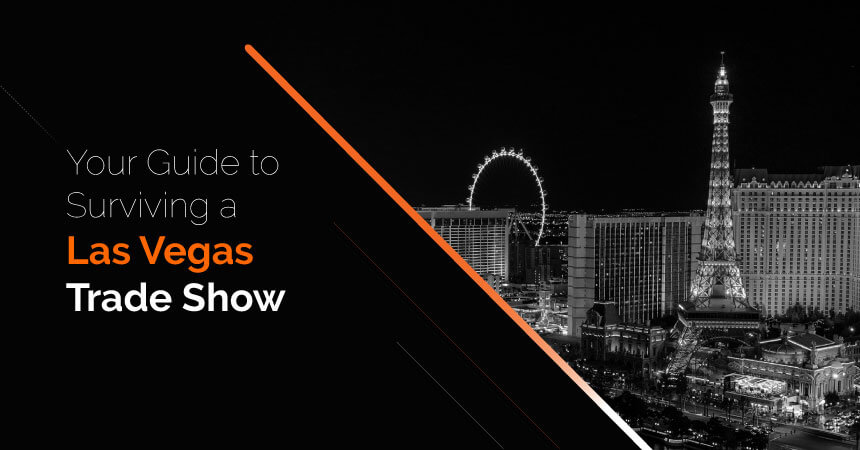 Your Guide to Surviving a Las Vegas Trade Show
Your Guide to Surviving a Las Vegas Trade Show
For most of us, Las Vegas begins and ends on its famous 'Strip'. Along this road, you'll find casinos, hotels and the best entertainment shows that America has to offer. What many people don't know is that Las Vegas has been named America's number one trade show destination by Trade Show News Network (TSNN) for 24 consecutive years.
For the uninitiated, Vegas is home to several thousand square feet of exhibition space, has seemingly unlimited hotel rooms and amenities that are fit for kings and queens. Given this, it's no surprise that every trade show worth attending is currently taking place in Sin City.
The attendees at these events are trade show veterans and expect the absolute best from all the participants. Sadly, if this is your first rodeo in the desert, you're going to need a little help to survive the show while accomplishing your goals and enjoying your surroundings.
Thankfully, you've come to the right place. Here's a look at our guide to successfully making it through your Las Vegas trade show.
Before The Show
The key to a good trade show, irrespective of the location, is ensuring that you're adequately prepared. Here, we'll take a look at all the things you need to do in the months leading up to the show:
1. Start Your Planning 6 Months in Advance

It may seem excessive, but you need to get everything done before you land in Vegas. Remember, once you're here, you won't have time to figure out how to fix your booth design or hire hosts and hostesses to work in your booth.
But, before you get into the nitty-gritty, it's vital to outline your main trade show goal.
Decide whether you're participating in the show to launch a new product or service, forge new business connections, or gather new leads.
Once you know what you're hoping to achieve, you will be able to outline the rest of your plan.
2. Find the Right Team to Support You
A trade show isn't something that you can organize and execute single-handedly. You will need to surround yourself with a team of go-getters who are completely on board with your ideas and will help you see them to fruition.
Your team should include managers, designers, and employees who are willing to head to Vegas with the sole purpose of making your trade show booth a resounding success.
Remember, Vegas is full of temptations, and you don't want to take along those individuals who are simply looking to explore the city and have a good story to tell.
3. Think About Design
Your trade show booth design is possibly the most crucial element of your entire trade show. Your booth's façade will decide whether or not attendees will engage with you. Remember, the first impression you make could also be the last impression you ever make, so you need to go all out for your Las Vegas trade show stand design.
The best way to ensure your booth is both visually stunning and functional is by focusing on one or two elements around which you can center the rest of the design. These elements will depend on the kind of business you do as well as your trade show goals.
For example, if you're a brewery hoping to launch a new kind of beer, then you can transform your entire booth into a bar and serve people, delicious tasters.
On the other hand, if you're hoping to have a personal conversation with potential clients and sign a few contracts right at the booth, you will want to consider creating a quiet space for intimate meetings.
Once you have an idea of what the main purpose of your booth is, you'll be able to come up with a truly outstanding Las Vegas trade show stand design. If you're traveling from out of town for the show, remember to keep your booth elements light – this will considerably lower your shipping costs, allowing you to funnel more money into creating stellar graphics for your booth.
4. Invite Your Clients
E-mail blasts may have worked in the past for local trade shows, but it isn't going to make a mark in Vegas. In the weeks leading up to the show, you can send personalized invites to all your clients and potential customers to let them know you're participating in a trade show.
If you have some clients who aren't in Vegas, send them the invite anyway. If they truly value their business relationship with you, they might make the effort to travel for the show.
If you can, attach a map of the trade show with your invite and clearly mark out where your booth will be.
This small gesture can go a long way in increasing the footfall in and around your space.
5. Use Social Media to Your Advantage
To keep people interested in your booth and the upcoming event, it's a good idea to post engaging content on your social media pages.
You could create puzzles, asking people to guess what your booth will look like, or post-behind-the-scenes videos showing the kind of work that is going into creating your booth.
Ensure that your posts encourage people to leave comments or ask questions.
You can even host a competition and promise a cool giveaway to the winner.
Arriving In Vegas
For a seamless trade show experience, it's important that you spend a little time planning out your life in Vegas before you touch down at the McCarran International Airport.
1. Plan Your Airport Commute in Advance
No matter when you arrive in Las Vegas, you're bound to find a long taxi queue at the airport.
To avoid wasting hours of your precious time in this line, check with your hotel if they offer hotel shuttles.
If they don't, arrange a car for yourself and your staff.
2. Choose Your Hotel Wisely
If you're booking your own hotel room, don't be tempted by the lower rates at far-off hotels. You'll end up spending a lot of commuting up and down to the convention center every day.
Instead, find yourself a place that's a short walk away from the center. This way, you're always close by to the event.
3. Check Out the Sights & Sounds (But Don't Overdo It)
If you've arrived in Vegas a few days before the show, you might have some free time to check out the sights and sounds that the city is famous for.
Ideally, book yourself a tour, so that you make the most of the little time you have.
If you have a free evening or two, you can spend some time playing the tables and watching lounge shows, but don't forget that you have to wake up early and look presentable in time for the show in the morning.
ON The Day OF The Show
It's finally here. After months of preparation, you're ready to head to the convention center and blow all the attendees away with your stunning booth and spectacular presentation.
Here are some important tips that will help you make it through the day without getting too tired.
1. Start with a Good Breakfast
You'll need enough fuel to get you through till late afternoon, so load up on a delicious and hearty breakfast before you leave for the show.
It's important that you eat proteins to keep your energy levels up all through the day.
2. Stay Hydrated
Las Vegas is in the middle of a desert, which makes the air here quite dry. If you aren't used to this, the weather could get the best of you and you'll be battling dehydration for the rest of your trip.
Don't forget to stay hydrated all through the day. If you must, set a silent alarm to remind you to knock back a glass of water every hour.
3. Pace Yourself
A trade show is more like a marathon than a sprint. You need to remember that the event could be 2-6 days long, and you want to look and feel your best until the end of the last day.
This will only be possible if you remember to take breaks when you need them to ensure you don't burn out.
Most importantly, don't forget to enjoy the entire experience and learn from it.
Walk around the show floor and have a look at the kind of booths that other businesses have put up.
Make mental notes about what you might be able to adapt to your own booth at your next show.