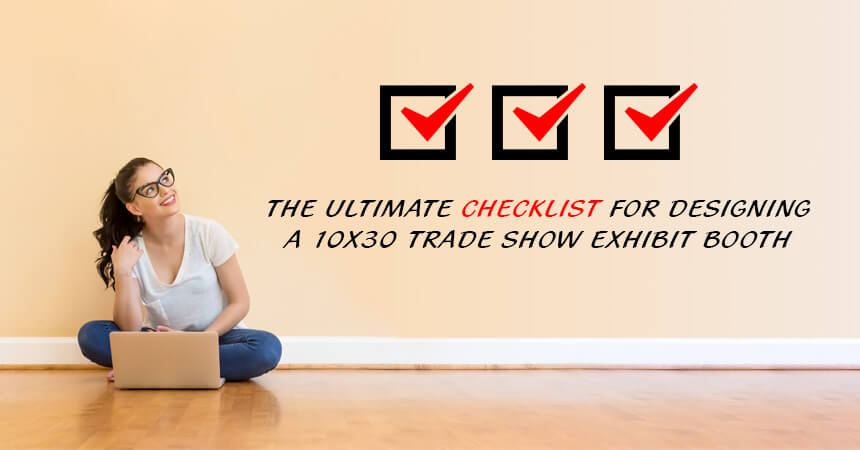 The Ultimate Checklist for Designing A 10×30 Trade Show Exhibit Booth
The Ultimate Checklist for Designing A 10×30 Trade Show Exhibit Booth
Leveraging the power of an outstanding, excellent, and impressive trade show exhibit is crucial for your venture. Trade show exhibits can go a long way in captivating leads thus drawing their attention towards your business.
Whether you plan to offer services or introduce new products, a remarkable, unique, and innovative 10X30 Trade Show exhibits can be the perfect aid.
Let your target audience spot your venture and get enthusiastic about your offerings. That's only possible when you translate exceptional ideas into practicality.
Stats suggest
In spite of social media promotions and the SEO bandwagon, trade show booths haven't lost their quintessential charm. Exciting, innovative, and out-of-the-box 10X30 Trade Show Display Ideas have played a vital role in this context.
Trade shows and professional booths create shockwaves across sectors and potential clients get attracted to new businesses quite easily.
It is imperative to brainstorm and conceptualize a medium that ensures successful face-to-face interactions. Booth staffs get the perfect opportunity to market their company's products and spread the word about their services too.
If market stats and reports are to be believed, an impressive percentage (approximately 49%) of attendees in a trade show plan to purchase one or even more products displayed in a trade show.
That reveals the significance of these booths to a great extent. All you need to do is identify the right ways to design them.
20×20 or 10x30Trade Show Displays?
When it comes to deciding on the size, extent, and design of trade show booths, you come across two popular options. Booth owners across the world prefer to build either the 20×20 show booth or invest in 10X30 Trade Show Displays.
These booths add to their business marketing objectives thus popularizing their ventures across markets.
However, designing a trade show booth isn't that easy. You have to emphasize the crucial aspects and highlight the strengths. It's the responsibility of the booth designer to come up with ideas that increase visibility and helps the stand out from the crowd.
Ingenuity, innovative thinking, and creative design approach are some of the prime requisites in this context. If you wish to design your 10X30 Trade Show exhibit Rental, targeted tips will surely take you a long way.
Designing Tips Worth Considering
If you have already opted for custom trade show exhibits, you are on the right track. Those looking for the perfect marketing booth within a specified budget will find these booths quite interesting. These booths leave ample opportunities and space for creative integrations and will allow the addition of numerous elements.
Here are some designing tips and 10X30 trade show booth ideas that can just prove to be the game changers:
1. Create a Remarkable First Impression
'The first impression is the last impression'- if this particular axiom can be true for human personas, why can't it be relevant for business booths as well?
For establishing your business, it's vital to build a strong and effective impression on the consumers' mind. If your target audience fails to remember you, it won't be possible for them to rely on your brand and develop further business associations.
A whopping 94% of impressions about a booth are related to its design. That's enough to understand the significance of creating innovative designs that help you leave indelible impressions on the clients' mind.
2. Distribute Merchandise with Brand Signage
It's important to reach out to a wide group of consumers. Your brand has to beat the competition to emerge on top in terms of capturing visitor attention and improving engagement.
Distributing exciting merchandizes with your brand logo printed on it will be a great thing to do. Potential businesses and clients will relate to the services and come to know about business credibility too.
While creating designs for your 10X30 Trade Show Booth, make sure you link exciting contests with these spectacular merchandises. It's indeed a great way to emerge as the frontrunner.
3. Embrace Interactive Design Ideas
The power of interaction is great for a brand and can act as its driving force. You have to interact with clients and prospective businesses thus helping them know why you are different. Integrating interactive elements in booth designs comes up as a crucial differentiator.
Create and develop interesting games that generate huge interest in the crowd. Visual elements have a strong appeal and can play the perfect part in bridging the gap between your venture and potential clients.
Invest in getting touch-screens and make sure visitors get an interactive experience. Stunning visuals always leave indelible impressions in the minds of your audience, and that's exactly where you race ahead of competitors.
4. Effective Space Utilization
Although 10X30 trade show displays don't take up much space, it's highly imperative to ensure effective and successful space utilization.
You have to use the available area judiciously and wisely, as it is an integral part of booth designing. Make sure you integrate stunning elements and innovative designs that make the most of the space available.
As a result, you will get the resources and opportunities to add quite a few components to the designs. Apart from building a booth, you can also put up a contest booth at the side where business-specific merchandises would be distributed amongst potential clients.
5. Conceptualizing Learning Opportunities
Your target visitors should get to learn something from your organization. The aim and prime objective of designing a trade show booth isn't just achieving sales targets. It's the first step towards expanding your client-base that happens to be the most valuable resource for your business.
Conceptualizing and creating learning opportunities would be the best thing to do in this regard. Other than taking a huge interest in your products, your target visitors will know you as a remarkable entity in the professional landscape.
6. Opt for Vibrant Colors
One of the major factors in creating designs for 10X30 Trade Show Displays is the color scheme. You have to choose vibrant colors that attract audiences easily and help them relate to your brand.
Color palettes and shades have a strong connection with the human psyche. Opting for subtle shades isn't a bad thing to do.
However, it is also imperative to keep in mind that your target visitors will only visit the booth if the colors captivate their attention. Embracing vibrancy is the right thing to do but one shouldn't overdo it.
7. Generate Positivity
While brainstorming ideas and creating designs for your 10X30 Trade Show Booth, make sure you rely on positive approaches. The design should reflect your thought process and emphasize positive thinking.
Interaction is the key in this context. Always generate positivity and try creating a fun-filled ambiance. These approaches are quite different and helps a brand increase its follower-base to a great extent.
Connect with a client at the psychological and emotional level. It's more important to appeal to their senses than to adopt in-your-face sales strategies.
8. Rely on Innovation
Traditional 10X30 trade show booth ideas will fetch you a limited number of visitors. Why settle for less when you can have innumerable clients gathering up to your booths.
Adopt innovative approaches and try to devise exceptional strategies. It's highly imperative to create approaches and work on ideas that reflect the true spirit of the brand.
Trade shows and business are the best places to promote your brand. You have to think in the long run and not just concentrate on increasing sales. If you can build leads and start converting them successfully, having a strong customer-base will just be a matter of time.
Implementing the Right Ideas
These are some of the booth design approaches that can help you create a distinctive place in the professional arena. You have to implement them in the right way and make sure they are put into practice.
Working it Out
Brainstorming concepts and working on the designs are two of the most crucial parts of the project. You have to work on both these factors and come up with designs that exude uniqueness and innovation.
Since your 10X30 trade show booth can prove to be the biggest medium in marketing your products, services, and business, make sure you have the right strategies in place.
Once the structure is designed and the construction work starts, invest time and efforts into training your booth staff. Since interactions and intuitive approaches are essential, you should employ representatives who have the power to strike meaningful conversations.
Conversationalists know the art of developing positive communications with your audience. It goes without saying that interested visitors and enthusiastic business owners will want to develop connections with your brand.
Captivating, compelling, and creatively designed 10X30 custom trade show displays can do a lot for your business and professional venture. You have to tap into the right resource that gives you ample opportunities to think, ideate, and create.
The design should be so unique that it can attract numerous visitors at the first go. That will create room for meaningful interactions, effective brand communications, and eventually increased sales for your venture.
In a nutshell, revenue maximization and profit optimization would be the direct outcome of focusing on designing a great 10×30 trade show booth exhibit.