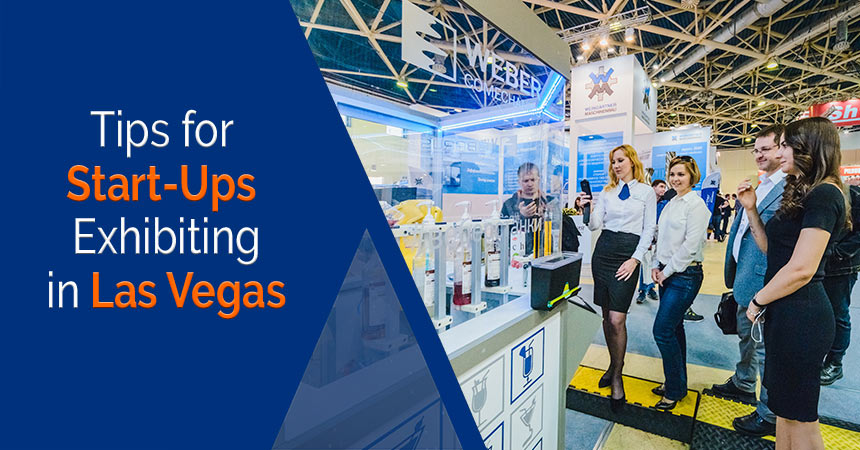 Tips for Start-Ups Exhibiting in Las Vegas
Tips for Start-Ups Exhibiting in Las Vegas
When it comes to trade show destinations, Las Vegas tops the list. The city offers exhibitors a chance to participate in a world-class show, while also providing amazing accommodation, pocket-friendly travel options, sunny weather, and a host of fabulous dining opportunities.
Plus, Las Vegas is always buzzing with people, thanks to its grand casinos, mesmerizing cityscape, superb entertainment attractions, and great hotels. So, if you're ready to take your business to the next level, you definitely need to book yourself a spot at a Las Vegas trade show.
As the owner of a start-up, you simply cannot discount the value of a trade show in putting your company firmly on the map. Of course, we understand that funds can be a bit low for new businesses, but with a Las Vegas booth rental, you can easily enjoy an affordable trade show experience.
So, now that you're ready to take the leap, here are a few tips that you should keep in mind while planning your Las Vegas show:
Location, location, location
It's crucial that you think of the trade show floor as a real estate market. The placement of your booth at an event is of utmost importance. Ideally, you should look for a space that is quite close to the entrance or is next to a well-established booth since there is likely to be heavy traffic in these areas.
If the event organizers allow you to choose your own location, try and book early enough so that you can secure a corner spot. These booths are ideal since they have access to traffic flow from two sides. If you have the means to purchase a larger space, you can opt for that since most big booths are island booths and they're generally located in the middle of the floor or near the entrance.
Create a Visual Masterpiece
If you've ever attended a trade show, you might have gotten bored walking down rows of booths that look almost identical to each other. To capitalize on your trade show experience, you need to do something that will help you stand out from the crowd.
No, you don't need to pull a bank job to purchase a water fountain for the corner of your booth. Instead, think of small gestures that could make an impression. Using back-lit displays or live walls will go a long way in creating a visually-pleasing booth that people will stop to admire.
Ask for Help
Let's face it, budgeting, designing a booth and organizing a trade show isn't everybody's cup of tea. If you need a little advice or help while you're gearing up for the show, don't hesitate to ask. If you've decided to opt for a Las Vegas booth rental, the company you've partnered with should have a team of experts at your disposal.
Prepare Your Budget
While most start-ups opt to take each day as it comes with regards to their trade show budget, it's vital that you prepare a detailed budget in advance. When you draw up a financial plan before the show, you will have a better hold over the kind of money being spent on the event.
When you're preparing your budget, there are a few important things that you need to consider, including the cost of renting the space for the booth, the cost of designing and building the actual display, the cost of shipping the booth to the show and installing it, and the cost of hiring staff, which will include their travel, accommodation and sundry expenses.
Select Your Staff Wisely
When selecting your staff for the event, make sure you choose individuals who are bold and willing to walk up to potential customers to strike up a conversation. Ensure that the staff in and around your booth have a wealth of knowledge about your products and services.
This way, they'll be able to approach people and tell them exactly how and why your company is the solution to all their problems. We'd also strongly recommend having your CEO present on the trade show floor. This will show others that you're serious about getting your name out in the market.
Inculcate a Start-Up Mindset
When you're at a trade show, you shouldn't worry about following the status quo. Typically, a start-up disrupts the market it is hoping to enter, and this is precisely the quality that you need to bring to the floor. Engage your audience with creative visuals and presentations.
Something seemingly insignificant, like unique uniforms for your booth staff can help you get noticed at crowded events.
Plan Your Logistics
One of the biggest mistakes that start-ups make at a trade show is underestimating the quantum of work involved in setting up the display. Putting up an exhibit isn't quite as simple as plugging in equipment or putting together a tent.
It takes months of planning to ensure that your booth is ready in time to be shipped to the venue and installed. You will also need to think about the kind of power connections you need and see how you can make the best use of the outlets allocated to you and your booth.
Be Realistic
When you're on the floor, seeing hundreds of people walking into your booth may be incredibly exciting, but traffic doesn't necessarily equal success. Understand that people who visit your booth may not follow up or take their business relationship with you any further.
Remember, this event is an opportunity for you to build up your customer base. And, even when your business card bowl is looking full, don't feel like you can take it easy or scale back on your effort to impress visitors who come to your booth.
While these are the main things you need to keep in mind while planning for the trade show, we've got a few bonus tips that will help you enjoy a successful event.
Before the Show
Consider a Sponsorship – Depending on your cash flow, you may want to consider partnering with a sponsor who can help take care of some of the trade show costs for you. Typically, tying up with the event organizer is a good idea.
Your Elevator Statement – An elevator statement is a short description of an idea, product or service that you offer. It should be a clear, succinct and distinct message that your staff members should be able to deliver to visitors.
Treat Potential Customers – If you have already got an idea of the potential customers you're targeting at the event, why not invite them out to a quiet dinner in the days leading up to the show? It will give you the chance to pitch your products and services in a relaxed environment.
Think About Giveaways – We understand that start-ups are strapped for cash, but you absolutely cannot pass up the opportunity to provide visitors with some fun giveaways. Pens, mugs and USBs may be the most obvious options, but think a little outside the box. A unique giveaway, like a t-shirt or water bottle could leave more of an impact on your audience.
Get the Word Out – In the weeks leading up to the event, spend some time sending out e-mail blasts to your current client base. You could also send personalized invites to potential customers to impress them. Use social media to your advantage and publish intriguing pictures and videos about what you have in store for the show. Whenever you post, don't forget to use the event's hashtag.
During the Show
Walk Around – Take a tour of the conference hall when you can. This will allow you to see what competitors are doing, what works for them, and what you may be able to incorporate in your own display next time.
Spread Out – Don't let all your staff sit around in the booth and engage with people as and when they happen to show up. Ask them to go out into the walkways around your booth and strike up conversations with people about your brand.
Talk Quick – You have roughly three seconds to capture an attendee's attention and get them interested in your offerings. Make sure that you have a strong opening and follow through with a properly thought out argument. You need to convince the client that your offerings are better than all the others on the floor.
After the Show
Follow Up Quickly – You'll have a short window of roughly 48-72 hours in which you can follow up with people who expressed interest in your business during the show. The quicker you follow up, the more likely the client is to remember who you are and why they wanted to forge a relationship with you.
Finally, keep in mind that it is completely alright to start small by using a rental and portable exhibit. These booths are extremely versatile, easy to ship and assemble, and don't require a large investment.
Additionally, with rentals, you can use the same display at a number of shows and easily adjust and adapt it to the new venue. Remember, there's no single recipe for success, but with a solid plan and a creative booth, you'll definitely have a good advantage.