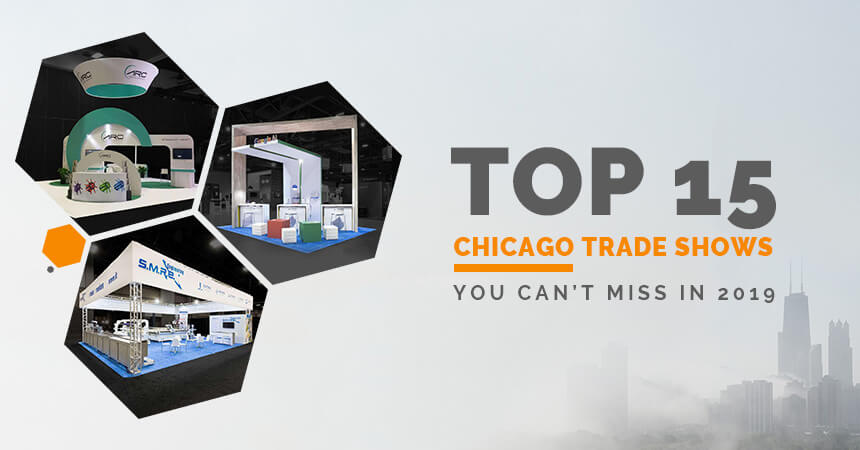 Top 15 Chicago Trade Shows You Can't Miss in 2019
For Americans and professionals from every corner of the world, Chicago is not just a great place to live. It is also the place where they can take their business to the next level through the medium of some of the biggest trade shows in the country. So, if you are looking for the ideal place to exhibit your offerings in Windy City, here are 15 events that will help you reach your professional goals in 2019:
Jump to Section
1.  International Home + Housewares Show
2.  ProFood Tech
3.  ProMat 2019
4.  National Restaurant Association Show
5.  Sweets & Snacks Expo
6.  NeoCon
7.  United Fresh
8.  KeHe Holiday Show
9.  GlobalShop 2019
10.  ASI Show
11.  Process Expo
12.  WEFTEC – Water Environment Federation
13.  IACP Conference 2019
14.  GSX – Global Security Exchange
15.  RSNA 2019
The International Home + Housewares Show is organized by the International Housewares Association, which uncompromisingly works towards maximizing the success of the home and housewares products industry. At the show, you will be able to connect with other sellers and buyers, enjoy global commerce opportunities, gather essential market intelligence, increase your brand awareness in the market, and gain information on running a profitable business.
The marketplace receives an annual footfall of more than 2,000 exhibitors. Its audience consists of industry professionals who attend to partake in activities such as keynote speeches, smart talks, cooking theaters, and so on. The expo is scheduled for 2nd to 5th March 2019.

2.  ProFood Tech
ProFood Tech offers solutions, education, and networking opportunities to all food and beverage segments of the market. The biennial event, presented by the International Dairy Foods Association (IDFA), brings some of the foremost industry suppliers and manufacturers together in a 50,000-square foot venue and enables them to find new technologies, meet existing customers, and get in touch with new buyers.
With over 7,000 attendees and 400 exhibitors, the show gives companies the perfect platform to expand their reach and build their brand. It will be held at McCormick Place in Chicago between 26th and 28th March 2019.

3.  ProMat 2019
This one's for all the manufacturing and supply chain professionals across the globe. ProMat is a show dedicated to helping you discover creative solutions for all your business-related issues.
It is where leading innovators unite to find answers to the most pressing supply chain challenges and forge partnerships with fellow experts. The itinerary involves educational conferences, keynotes, networking events, and on-floor seminars from the best and brightest minds.
The event will be underway between 8th and 11th April 2019 at McCormick Place.

If you are in the restaurant business and are looking for a way to connect with the entire foodservice industry, then this show is your answer. It brings together more than 43,000 foodservice buyers from around the world, who come here to explore everything that is going on – from improvement in technologies to upgradation of food and beverage supplies.
Exhibitors can expect to generate lucrative leads, increase brand awareness, and establish long-lasting connections with other industry professionals. The show also gives you the chance to gain an insight into key trends offered by a panel of experts and sneak a peek at the most innovative kitchen equipment. Registrations for the show have begun, and it will take place from 18th to 21st May at McCormick Place.

5.  Sweets & Snacks Expo
Looking for a place to indulge your sweet tooth? There's no way you can miss out on the sweetest tradeshow of the year. This trade show has what it takes to give Willy Wonka a run for his money. With 323 candy exhibitors and 385 snack exhibits, this expo is guaranteed to be one of the highpoints of 2019.
When you come here, you will bear witness to the greatest industry advances, gain deeper insights into consumers, and build partnerships that last longer than a monster pack of jawbreakers.
Everyone on the global candy value chain from store owners and merchandisers to executives and buyers is a part of the audience, along with over 15,000 industry professionals. So start preparing, because the expo is coming to Chicago from 21st to 23rd May 2019.

NeoCon is the most important event of the year for the commercial design industry. Since its launch in 1969, it has played the role of an annual meeting place for manufacturers, dealers, architects, and end-users of the commercial design world. With non-stop networking, activities and celebrations, it is expected to be the hottest show of the circuit in 2019.
Brands and exhibiting companies can use this space to put forth their ideas to shape the future of the industry and connect with over 500 contemporaries as well as 50,000 design professionals representing the healthcare, education, retail, hospitality, public space, and government sectors. It will be held from 10th to 12th June 2019 at The Mart.

7.  United Fresh
Leading a healthy life has taken priority for most Americans over the past few years, which explains the growing popularity of shows like United Fresh, where fresh produce is in the spotlight.
The country's top produces retailers and suppliers come together for three days to experience an environment of education, networking, and problem-solving. The common goal? To improve the selection of nutritious produce in the market.
The event will be underway from 10th to 12th June 2019 at McCormick Place.

Organized by KeHe Distributors, this annual Holiday Show serves as a meeting place for thousands of specialty retailers, suppliers, and representatives from the natural and organic foods industry.
It is a unique chance for professionals of the community to come together and have their products sampled, create long-lasting associations with other retailers, and take advantage of exclusive show deals. Exhibiting at the event is reserved for current KeHe suppliers.
If you want to participate, the organizers are open to booth applications. Preparations are already underway for the show, which is currently slotted for 12th and 13th June at McCormick Place.

GlobalShop is the biggest design and merchandising trade show of the retail industry. It presents retailers with lucrative opportunities to branch out their business and thrive in a competitive environment through planning, engaging, and face-to-face networking.
The highlights of the event include the prospect of meeting with more than 20,000 industry leaders, attending scholastic and insightful sessions headed by the hottest names in retail, and getting up-close with cutting-edge technologies.
The show is slated to take place from 25th to 27th June 2019 at McCormick Place.

10.  ASI Show
ASI Show is one of the most anticipated events of the Midwest. It provides a day of education to suppliers and distributors while offering them the chance to establish connections with peers and pioneers in the industry. The biggest benefit of attending the show is that it enables you to garner more excitement about your products and services, which in turn leads to accelerated sales as well as increased revenue.
Attendees come to the show to learn about new products, expand their sales and marketing skills, and share ideas, while also trying to have some fun along the way. The Chicago edition of ASI will be in progress on 10th and 11th July at McCormick Place, the largest convention center in North America.

Organized by the Food Processing Suppliers Association (FPSA), Process Expo is America's largest trade show dedicated to integrating the latest technology and solutions to the food and beverage processing and packaging industry.
The show audience includes professionals from SMEs and multinational firms around the world, right from the CEO and owners to corporate management, contract manufacturers, maintenance, and sanitation.
More than 500 brands take to the floor to every year to showcase machinery and equipment, launch new products or services, explore advancements in technology, interact with existing clients, initiate new partnerships, and receive training on food safety, market trends.
Process Expo is all set to take place from 8th to 11th October 2019 at Chicago's McCormick Place.

The Water Environment Federation (WEF) is proud to host WEFTEC, North America's largest water quality education and training expo. The annual event invites water quality professionals from across the globe to learn about the latest developments in the industry and enhance their skill set. The show floor also serves as the perfect place for both domestic and international businesses to forge new bonds and network with others who work in the same space.
This year, the 92nd annual WEFTEC exhibition is scheduled from 23rd to 25th September. Should you choose to attend, you'll be able to gain a wealth of knowledge about your industry. This will enable you to stay relevant and at the top of your game. Additionally, you will have the unique opportunity to interact and forge business partnerships with international companies. So, if you haven't registered just yet, don't forget to do so quickly.

The IACP Annual Conference is the biggest law enforcement event of the year, where over 16,000 professionals from the field of public safety congregate to acquaint themselves with innovative strategies, resources, and techniques to better navigate the fast-changing police environment.
Exhibitors and attendees alike can leverage this opportunity by spending four days with the leaders and pioneers of law enforcement from across the globe and engage with them as they address the most pressing challenges faced by the community. The conference will be held from 26th to 29th October 2019 at McCormick Place West in downtown Chicago.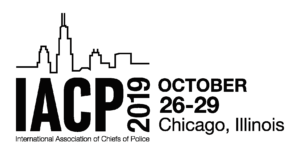 14.  GSX – Global Security Exchange
Gain access to the full spectrum of security solutions at GSX 2019. This year, the event will take place at McCormick Place from the 8th to the 12th of September. The annual event is known for bringing together leading operational and cybersecurity professionals and initiating conversations about current challenges that the industry is facing.
At the event, businesses will have the unique opportunity to learn not only from their peers but also from subject matter experts. You can also attend informative talks that explore innovative solutions to current issues and find out more about how to effectively manage enterprise risk. All this and more waits at the 65th edition of GSX. Registrations for presenters are still open, so if you want to share your knowledge with the rest of the industry, sign up today.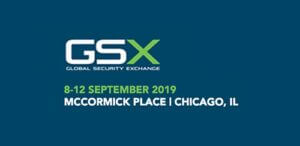 The Radiological Society of North America is a non-profit organization that provides a wealth of education to radiologists around the world. They hold an annual meeting for the promotion of best practices in the industry so that veterans and beginners alike can gain access to scientific presentations and resources that help them serve the community to the best of their ability.
Join your fellow radiologists to be informed, engaged and inspired from 1st to 6th December at McCormick Place.

Though not exhaustive, this list encompasses the most sought-after trade shows that grace the city of Chicago. If you found what you were looking for, it's definitely time to start planning your exhibit, and the first step involves choosing the perfect display. The experts at Exponents can help you out not only with that but also with a broad category of services that will make the process of exhibiting completely hassle-free for you.