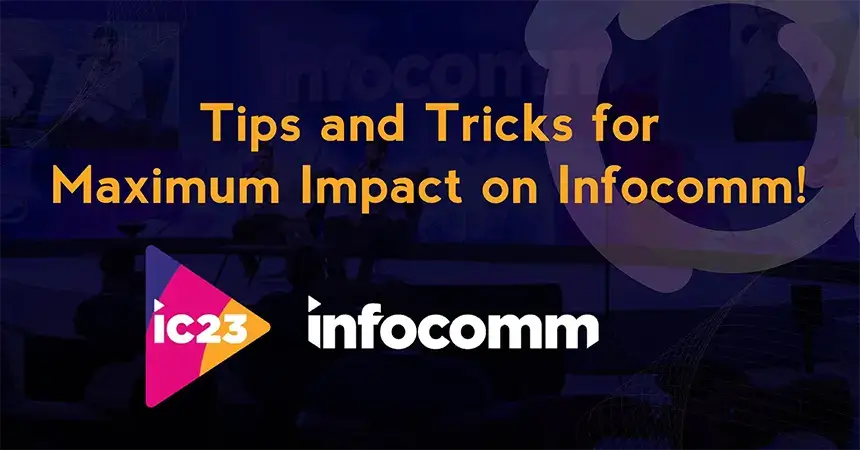 Tips and Tricks for Maximum impact on Infocomm!
Unlocking the Full Potential of Infocomm: Tips and Tricks for Maximum Impact!
It's time to mark your calendars for Infocomm 2023, the most prestigious professional audiovisual trade show in North America. This event takes place in the vibrant city of Orlando, Florida, renowned for its sunny weather, theme parks like Walt Disney World and Universal Studios, and a diverse culinary scene.
At Infocomm, several exhibitors will display the latest AV technology, including industry stalwarts like Dell, Cisco, and LG. Here are some insights and tips to help both exhibitors and attendees extract maximum value from this event.
If You're Exhibiting:
Your booth is your stage – Your exhibit booth for Infocomm is the physical embodiment of your brand, so make it as engaging and memorable as possible. Create an immersive experience that catches the eye of passers-by and invites them to come and explore your offerings. Consider using interactive rental displays, unique lighting, or even experiential elements to captivate attendees. An engaging booth can create a buzz around your brand and ensure you stand out from the crowd.
Networking is your superpower – Don't underestimate the power of building strong relationships. And no, networking isn't about stockpiling a mountain of business cards. It's about engaging in meaningful conversations and making lasting connections. Remember, people do business with people they like.
Build up the pre-event excitement –  Strike while the iron is hot and build up the excitement around your brand before the event. Use social media to tease new product launches, email your client base with exclusive previews, and don't forget to leverage the promotional tools Infocomm offers. The more buzz you create, the more people will be lining up to see your trade show booth.
Become a beacon of knowledge – Attendees at Infocomm aren't there just to look at fancy tech; they're there to learn. Make your trade show booth at Infocomm a hub of knowledge. Live demos, Q&A sessions, insightful presentations – these are things people will remember you for.
Want a creative booth solution for InfoComm? Get in touch with us!
If You're Attending:
Build your strategy – Infocomm is an enormous event with a multitude of exhibitors and sessions, so a clear game plan is crucial. Before you step foot in the venue, do your homework. Identify the exhibitors who align most closely with your business needs or interests and make them a priority. Look at the schedule of seminars and mark those that are most relevant to you. By creating a personalized agenda, you will be able to navigate the event more efficiently and maximize your time.
Work on your network – Engage in conversations with individuals from different AV fields. Ask insightful questions, share your own experiences, and listen actively. This will not only enhance your understanding of the industry but could also lead to future collaborations. Remember, the person you strike up a conversation with today might be your next business partner or the key to a breakthrough idea.
Make it a learning hub – Infocomm is a treasure trove of knowledge, with opportunities to learn at every turn. Adopt a proactive attitude to make the most of it. When visiting exhibitors' booths, don't be afraid to ask questions about their latest solutions. During seminars, take notes and don't shy away from participating in discussions. Engage with industry experts and peers alike to broaden your perspectives. Each interaction is an opportunity to enhance your knowledge and skills in the AV field.
Have a blast – Infocomm is not just a professional event – it's also designed to be a fun and engaging experience. Try to strike a balance between professionalism and enjoyment. Participate in interactive experiences, join in the games, and take part in competitions. These activities are not only enjoyable but can also provide additional networking opportunities. The memories of these fun moments can often turn a good event into a great one and make your overall experience at Infocomm 2023 more rewarding.
After Infocomm:
The buzz of Infocomm doesn't have to end when the show does. Follow up with the people you've met, reflect on the sessions you've attended, and evaluate how you can implement your new knowledge. The true value of Infocomm lies not just in those three event-filled days, but how you use the experience to fuel your growth.
Conclusion
Infocomm 2023 presents a wellspring of opportunities for both exhibitors and attendees. The balance of learning, networking, and enjoying the unique charm of Orlando can make for an unforgettable experience. Prepare well, engage proactively, and here's to a successful Infocomm 2023. See you there!