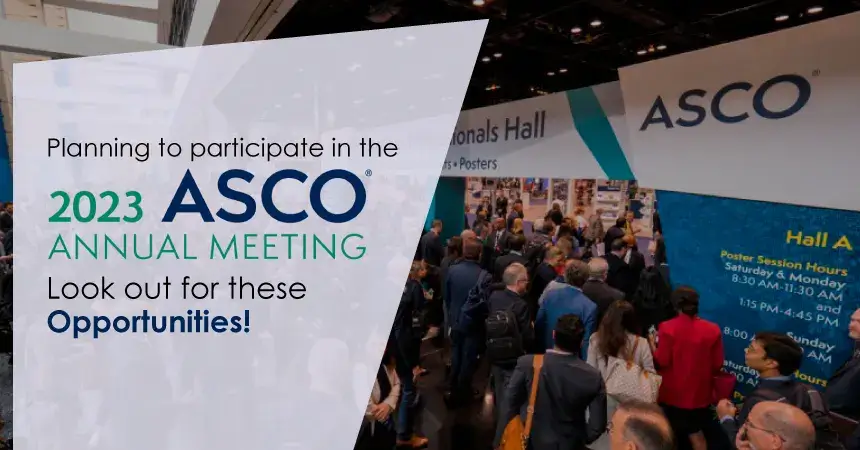 Planning to be at ASCO? Look out for these opportunities!
Planning to be at ASCO? Look out for these opportunities
In recent years, a shadow has been creeping across our world, steadily growing and touching countless lives: the rise of cancer. The disease seems to tighten its grip with each passing day, leaving families grappling for answers and oncologists seeking new methods to combat this relentless foe. The stage is set for a crucial gathering at ASCO23, where top oncologists will unite in their pursuit of hope and healing.
What is ASCO?
The American Society of Clinical Oncology (ASCO) is a leading professional organization dedicated to the advancement of cancer care, research, and education. Established in 1964, ASCO represents a diverse network of oncology professionals, including physicians, nurses, researchers, and healthcare administrators, all united in their mission to conquer cancer. With over 45,000 visitors from across the globe, ASCO actively supports its members by providing access to cutting-edge research, fostering collaboration, and promoting continuous learning through conferences, publications, and professional development opportunities. ASCO's Annual Meeting is a flagship event where oncology professionals gather to share the latest advancements in cancer research, treatment, and patient care. This year this mega-annual event is taking place from June 2 to 6, 2023, at McCormick Place in Chicago.
Why should you be at ASCO 2023?
If you're seeking to make a lasting impact in the world of oncology and share your innovations with a global audience, or want to be there when it happens, ASCO23 is the place to be. By participating in this prestigious event, you'll not only elevate your brand but also gain invaluable insights, demonstrate your expertise, and establish meaningful connections with industry leaders, all working towards the shared goal of revolutionizing cancer care. Let's delve into the reasons why every professional in this industry should attend this event, and why organizations active in this sphere should secure their trade show booth rentals to exhibit at ASCO23 in depth.
Latest Research and Innovations
ASCO23 is the epicenter of groundbreaking cancer research, offering oncologists a unique opportunity to stay informed about the latest discoveries and advancements. Exhibitors in their stunning trade show booth rentals and other industry experts will be present.
1. Pioneering Research Presentations: Hear from renowned researchers and oncologists as they unveil their latest findings and discuss the implications for cancer treatment and patient care. These presentations cover a wide range of topics, from novel therapies to advances in precision medicine.
2. Keynote Speakers: The 2023 ASCO Annual Meeting presents you with an unrivaled opportunity to connect with leading minds in global cancer research and to delve into the latest breakthroughs in the field. This year's comprehensive program, rich with over 200 engaging sessions, seamlessly aligns with Dr. Eric Winer's Presidential theme – Partnering With Patients: The Cornerstone of Cancer Care and Research.
3. Innovative Approaches: Explore how new approaches and methodologies are shaping cancer research. Learn about advancements in areas such as immunotherapy, targeted treatments, and genomics and how these developments are revolutionizing the way we understand and treat cancer.
4. Poster Sessions: Delve into the details of cutting-edge studies and research projects presented during poster sessions and abstract presentations. Engage in stimulating conversations with the researchers, gaining firsthand knowledge and understanding of their work.
Looking for a creative Trade Show Booth Stand? Get in touch with us!
Networking Opportunities
ASCO23 offers you an unparalleled platform to engage with a global community of oncology professionals. Your presence, as an exhibitor or an attendee can unlock a world of networking possibilities:
1.Forge Strategic Partnerships: Connect with potential partners, clients, and investors interested in your innovations. Establish fruitful relationships that can help drive your business forward and expand your reach in the oncology market.
2. Knowledge-Sharing and Collaboration: Participate in thought-provoking discussions and workshops where you can exchange ideas, insights, and experiences with other exhibitors and attendees. Learn from the successes and challenges others face in the industry and explore potential collaborations to advance your goals.
3. Build Brand Awareness and Credibility: If you are an exhibitor, ASCO23 offers opportunities you should not miss. Leverage this high-profile platform to increase your visibility, enhance your reputation, and demonstrate your commitment to improving the lives of cancer patients. Ensure that your exhibit rental for the ASCO 2023 is ready and up to the mark.
4. Attend Exclusive Events: Benefit from exclusive networking events, such as receptions and social gatherings, where you can forge connections with industry leaders and influencers in a relaxed and informal setting.
Post event follow up
ASCO23 doesn't end when the conference does. Here are some follow-up strategies to ensure you leverage your newly built connections:
1. Personalize Your Outreach: Send a personalized email or message to the individuals you've connected with. Referencing specific aspects of your conversation shows genuine engagement.
2. Offer Value: Provide a resource that would be of interest to your new contact. This can help demonstrate your value and initiate an ongoing relationship.
3. Stay Connected on Social Media: Connect with your new contacts on LinkedIn or other professional social media platforms to keep up-to-date with their work.
4. Organize and Track Your Contacts: Use a system to track your conversations and follow-ups. Remember to take notes on your conversations, potential areas of collaboration, and any follow-up actions.
5. Don't Delay: Follow up within a few days of the event while the interaction is still fresh in both your minds.
6. Maintain Regular Contact: Keep your new contacts informed about relevant developments and reach out occasionally to share interesting information.
Conclusion
ASCO23 presents a remarkable opportunity for companies and individuals to position themselves as leaders in the oncology field. The event not only grants access to the latest research and innovations but also provides an excellent platform for networking with industry professionals and potential partners.
If you are an exhibitor, truly distinguishing your brand from competitors and making a lasting impact, investing in an eye-catching exhibit rental is the key to showcasing your dedication to advancing cancer care and leaving a memorable impression on the global oncology community.