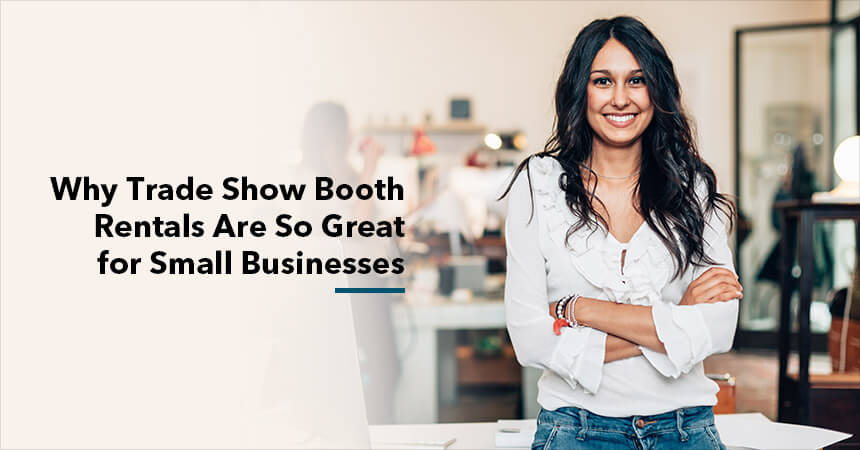 Why Trade Show Booth Rentals Are So Great for Small Businesses
Why Trade Show Booth Rentals Are So Great for Small Businesses
Custom trade show exhibits allow event marketers to make a bold statement, but purchasing them isn't the only option. Display rentals offer several advantages that make it easier to boost a company's marketing efforts and its bottom line.
Here, you'll learn the benefits of rented trade show displays, which makes them convenient, and why you should rent a display instead of buying one.
The Benefits of Trade Show Booth Rentals
 Flexibility
Rented exhibits come with a significant level of flexibility. With a rental, it's possible to remove, adjust, and add elements to suit the company's unique needs without the high cost of ownership. By renting an exhibit, marketers can try new concepts and evaluate their results more easily.
 More Options
When marketers rent trade show booths, they get all the benefits of a great-looking exhibit without the high initial outlay. The best designers offer custom, modular, and portable rental designs that grab attendees' attention and help companies conserve their marketing resources.
 Turn-key Operation
When a display is owned, an exhibitor must consider various factors when preparing for a trade show. For instance, a purchased display must be stored when it's not in use, and repairs, refurbishment, and disposal may be costly. However, rented exhibits are returned at the end of the show.
 Cost-Efficiency
Having a customized exhibit allows companies to promote their brands and draw prospective clients from throughout the hall. Trade show booth rentals are a cost-effective way to get measurable marketing results. They're good for the bottom line, and they allow exhibitors to stay within budget without sacrificing brand awareness.
 Convenience
It's a very important feature, especially where trade show displays are concerned. Portable exhibits pack up easily, are simple to carry, and quick to install. Some are installed in just a few minutes, which give a potential exhibitor more time to find potential customers.
 Help At Every Step In the Process
Working with a local exhibit rental company means that you'll have guidance at every stage in the process, from concept visualization to storing the exhibit once the show is over. When purchasing a booth, companies have to do it all, including printing display materials, shipping the exhibit, installing it, manning it, returning it to the storage, and more.
Reasons to Rent an Exhibit Rather Than Owning One
The ability to customize displays based on market trends, location, and demographics
Attending shows in multiple areas without the need to purchase several displays
Trying out a marketing idea before committing to it
Categorization as a business expense, not an investment of capital
No storage or shipping charges in between shows
If you're a new exhibitor or you're looking to rebuild the company's marketing strategy, a rented trade show booth will help you deliver a personalized, memorable brand experience.
Making the Rent vs. Ownership Decision? Answer These Questions
Trade show attendance requires a significant outlay of money and time, and an exhibit should embody an organization. How can you maximize the investment and make a great first impression?
Part of the decision-making process is to determine whether you should purchase or rent a display.
With numerous available options and their unique pros and cons, deciding which way to go may be confusing. By setting a budget, understanding your goals, and asking important questions, you'll find a solution that fits your brand. Answer these questions to maximize your trade show investment.
How Many Trade Shows Does The Company Attend Each Year?
Trade show exhibiting is a by-the-numbers game. When there are only a couple of shows each year, when new products are launched, or when show dates overlap, rental booths are a great choice. With its reusable framework and flexible materials, hybrid rentals allow users to customize configurations and graphics.
Does the Company Currently Have Exhibit Materials Or Inventory?
If you have a trade show exhibitor its structural components, you're already halfway there. However, you'll still have to evaluate the inventory's condition and the company's objectives. If the booth is old or it needs updates, consider a rental for a fresh start.
Could A Rental Booth Supplement The Company's Current Exhibit?
First, assess the current display and determine if repairs are necessary. Then, decide if the exhibit needs minor update or a full refresh. Many rental booths allow users to extend their marketing efforts without the hassle and expense of custom purchase.
When making the rent vs. buy decision, consider the weight and size of the booth and the show's location. If the booth is too bulky or heavy to ship to a location, especially an overseas one, a rented display may be a viable option.
Now That You've Made the Decision

There are numerous guides on the advantages of trade show exhibit rental, including the one you're reading. However, this guide is unique in that you'll also pick up some helpful tips on what to do after renting a booth.
Plan for future trade show appearances: Once you've decided to rent an exhibit, take things a bit further by planning the company's next two or three years' trade show appearances.
By forming a long-range plan, the company may be able to save money in the form of a multi-show rental agreement. Most vendors offer substantial discounts for multiple rentals, even for different exhibit designs and sizes.
Exhibit Customization
Rental booths have come a long, long way, and that's why it's crucial to work with a provider who customizes exhibits to meet marketers' specific goals. There are few ways to achieve a customized look, such as applied graphics and infill panels.
Sometimes all that's needed is an accent piece that incorporates the company's logo and colors into the overall design. Just because the booth is rented doesn't mean it shouldn't receive a few personal touches. When rented booths are assembled properly, they should be indistinguishable from custom-built and purchased exhibits.
 Graphics
When renting a booth, be sure to gather the specifications for its graphics. There are numerous graphics applications, and working with exhibit experts will help you choose the right method for the rental exhibit.
And, if you agree to a multi-show deal, it'll be possible to design those graphics with future designs and appearances in mind.
 Monitor Mounting
If there are plans to include monitors, be sure their mounts are included in the final design. Don't spend money on monitor stands or kiosks if the existing structure is used. The best trade show booth rental companies offer a range of solutions for monitor installation and security.
 Consider Wire Management
Monitors, computers, and kiosks come with yards of cords and wiring, and it's important to review management plans for these items. Quite often, exhibitors overlook this step until they're in a booth full of tangled wiring (and they have no way to conceal it). Before arriving at the venue, have a plan for wiring and cord management.
 Keep An Inventory
When renting trade show exhibits, it's important to remember what you already have. Keep files (with dimensions and photos) of all graphics, as it may be possible to reuse them in the future. Some exhibit rental companies offer no-cost storage for graphics used with multiple rentals. Additionally, take note of other items included with shipments so everything is returned.
 Go Green
The decision to rent a trade show booth might not be based on environmental concerns, but it's a green one nonetheless. Many rented exhibits use recyclable fabrics, packaging, and components, and the act of renting itself conserves resources.
Focus On Shipping
Many companies rent trade show booths because of a desire to reduce management-related stress. Talk to the exhibiting company about coordinating shipping across multiple shows. One of the biggest benefits, other than having a shorter to-do list, is the fact that the exhibiting company handles all shipping claims.
Furthermore, they typically work with one carrier for all shipments, so rates are competitive. When working with a rental company, be sure to get a tracking number once your exhibit has been shipped.
 Ask For Setup Instructions
It's crucial to ensure that setup diagrams and instructions are included in the package. Whether the company is supervising the installation or contracting it out to a third party, asking for instructions (including photos) will save money, time, and aggravation.
It's a good idea to choose a company that offers staging services and photos. These serve a dual purpose: they're helpful during setup, and they show that the exhibit has been installed correctly.
Make the process even easier by choosing a company that offers exhibit construction services.
In Closing
By renting a trade show exhibit from a dedicated turnkey provider, you can be more confident that your challenges, needs, and expectations are being addressed. Let the vendor take on the logistics, headaches, and stress associated with convention and trade show exhibit management by providing solutions and support that turn your company into a real standout on the show floor.