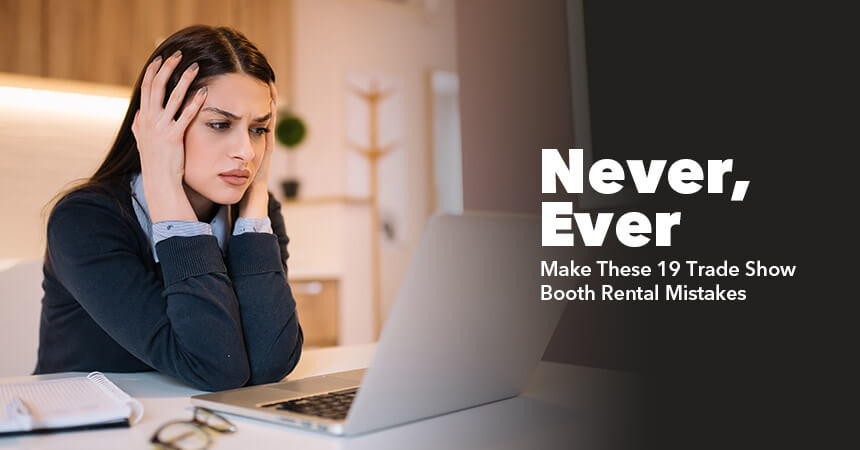 Never, Ever Make These 19 Trade Show Booth Rental Mistakes
Never, Ever Make These 19 Trade Show Booth Rental Mistakes
Every trade show requires an investment of both time and money. That means exhibitors should expect to see a real return on that investment.
However, far too many business owners plunge into exhibiting without a carefully crafted plan. Here are 19 mistakes no one should make when taking part in a trade show.
1.

Not Setting Specific Objectives
Every exhibitor expects to increase their company's sales and make new contacts during an event, and that's certainly important.
However, those overly broad goals need to be broken down into manageable concepts everyone involved can understand. Not having a carefully defined set of goals also makes it difficult to create the ideal trade show booth.
2.

Scheduling the Wrong Shows
According to industry data, there are over 10,000 trade shows scheduled every year in the United States. Of course, many of those will be industry specific, but there are still countless shows exhibitors could attend every year.
Very few companies can honestly afford to attend more than a handful of shows. It's just not practical. That means it's vitally important to select shows that will have the greatest positive impact on your company's bottom line.
3.

No Marketing
While it's nice to hope trade show visitors will see and visit your company's booth, you can't count on it without doing extensive advertising prior to the show.
Take advantage of current clients, press releases, and marketing emails leading up to the show so likely visitors will be looking for your booth.
4. Changing Plans at the Last Minute
Most trade shows are scheduled well in advance to give exhibitors plenty of time to make plans, rent booths, and design their displays. At least that's the plan.
However, there are times when exhibitors change plans at the last minute. Even if there are legitimate reasons for doing so, making last-minute changes is costly in several respects.
Avoid making any last-minute changes, as those modifications can quickly create problems with printing, staff training, and other elements of the display.
5.

Having Displays that are Too Big or Too Small
A minimum space at a trade show is generally 10'x10', but spaces up to 20'x20' are common, and booths as large as 50'x50' are seen at most trade shows.
Obviously, larger spaces and prime corner locations cost more, and many companies try to keep their costs to a minimum by renting the smallest spaces.
That's not always a good idea, as cramped spaces make it more difficult to display new products properly or conduct hands-on activities. When exploring your display options, consider renting a larger space and booth when possible.
6.

Failing to Design Your Display Layout Properly
Not all exhibits can effectively use the same designs as products will differ as will the exhibitors' overall objectives.
That means every display must be carefully designed to provide visibility and traffic flow. Determine the best way to move people through an exhibit and rent booths and accessories that can make that plan a reality.
7.

Having the Wrong People Representing Your Brand
How many times have you visited a trade show display and been greeted by a smiling and gracious person who had absolutely no product knowledge?
That happens far too often. Industry experts encourage exhibitors to avoid using temporary staffing agencies for personnel. It's important that exhibitors staff their displays with knowledgeable personnel who also understand the reason for being at a trade show.

8.

Leaving Unpacking Until the Last Minute
It's also common to see staff members scrambling to put a booth together on opening morning. That's never a good idea. The booth should be completely set up before the scheduled opening of the trade show.
That gives staff members plenty of time to deal with unanticipated problems and also makes it possible for the staff members to be well rested and ready to greet visitors to the booth.
9.

Not Properly Preparing the Booth Every Day
The first day of a show is exciting, and staff members normally hand out a lot of materials during those first few hours. At the end of the day, everyone is tired and ready to grab dinner and head to their rooms for the night.
However, it's important that booths are properly restocked and ready for the next day's crowd. Whether restocking supplies and neatening up the display is done at the end of the day or bright and early in the morning, those chores must be taken care of.
Booth visitors notice when handouts are gone or the booth looks messy, and that affects their impression of the company negatively.
10.

Neglecting to Review the Other Booths at the Show
It's always important to know your competition. Booth personnel should walk the floor of the trade show to get a good idea of what competitors are offering.
Doing so makes it much easier to respond to questions and revise sales procedures if needed. Moving around the show also makes it possible to meet potential partners.
Remember, attending trade shows is all about enhancing a company's bottom line, so exhibit personnel should always familiarize themselves with the other exhibits to remain competitive.
11.

Putting the Budget Before the Objectives
Yes, budgets are important, but if an exhibit is unsuccessful because too many corners are cut, your overall return on investment will suffer.
While there is no reason to overspend on a trade show booth rental, it's important to make sure you include the features needed to succeed.
12.

Using Inappropriate Giveaways
Using promotional giveaways is proven to generate business, but only if those items are carefully selected. Cheap pens and plastic bags are quickly forgotten after the show, and many of those items never make out of the show's venue. Choose unique items attendees will value.
13.

Cluttering the Space
A trade show booth should never look cluttered. Companies renting trade show booths show clients how to better manage their space to avoid a cluttered look.
This is another area where careful planning and working closely with a trade show booth expert will always be important.
14.

Ignoring the Current Trends
Trade show trends are always evolving, and a booth that looked great last year may not be as impressive this year. That's why a growing number of companies are now opting to rent trade show booths rather than owning them.
15.

Failing to Interact with Attendees
It's easy for booth personnel to get tired and look for a way to escape the crowd for a while. They'll find a space where they can talk among themselves, ignoring the majority of attendees.
It's important everyone is attentive throughout the event to avoid missing sales opportunities. Schedule breaks, but make sure there are plenty of people on hand to greet visitors and answer their questions.
16.

Running Out of Important Handouts
Here again, planning is important. It's generally easy to determine how many people will attend a specific trade show, as most have a history that can be reviewed.
Remember that it's always better to have too many handouts than to run out. Plan for a maximum need rather than barely scraping by.
17.

Failing to Promote Your Brand
Since the goal of a trade show is to generate business, why do so many exhibitors fail to promote their brands effectively?
Well before the show, work with the company providing the trade show booth to evaluate the best ways to promote your brand.
18.

Ignoring Social Media
When advertising a trade show, don't forget to use social media. Most businesses today realize they need to promote their products or services on social media, and that type of advertising should be included before the show.
However, there are also ways to promote your company and increase visitor counts to your display by using social media during the show. Make sure you explore all the options with a media expert before the show starts.
19.

Neglecting to Follow Up After the Show
Industry experts state that approximately 80 percent of the leads from trade shows are never followed up. Yes, many of those leads won't result in sales, but many could.
This is one area where it's important to be a rebel and buck the trend. Make sure leads are properly followed up quickly after a show.
Start Planning Now
If you're planning on attending trade shows in the near future, now is the time to start planning. To generate the best return on investment, work closely with experts to ensure the booth is ready for those shows.
It's also important to make sure all the accessories you need to make your booth stand out from the others. When everything is planned in advance, exhibitors can be sure they'll have everything needed to increase traffic and increase your brand recognition.
At Exponents, clients will get the help they need to make sure their marketing objectives are met. The company will also handle the delivery and setup details so your staff can focus on what's important—selling your products or services.