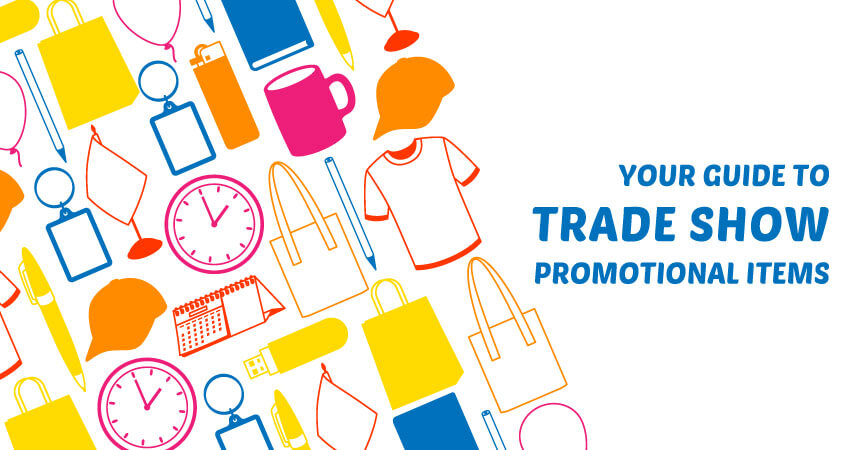 Your Guide to Trade Show Promotional Items
Your Guide to Trade Show Promotional Items
The Promotional Item Industry
There is a whole industry around the production and selling of promotional items. The industry peaked in 2007 with almost $20 million in sales. The industry remains strong, with over 800,000 promotional products on the market!
The same six items remain the most popular and account for about 2/3 of all sales: wearables, writing instruments, bags, drinkware, calendars, and office items. Currently, trade shows account for about 10% of all promotional product sales.
Are promotional items necessary to be successful at trade shows? If so, what is the best strategy to utilize them? Which items should you purchase to give away at trade shows? This guide aims to answer these questions for you.
How to Use Promotional Items at Trade Shows
Let's start with talking strategy behind the use of promotional items. If you are reading this, you've likely been to a trade show or organized one for your brand. You've seen how desperate brands are to get people into their trade show booth so they can sell to them.
They use their promotional items to lure people in. But let's be realistic, most people want the free item and will likely never buy from you. Instead of using your promotional items as bait, the better strategy is to use them to solidify your position in the minds of your target prospects/ideal customers.
Use promotional items to:
Disengage:
You have limited time at your trade show to generate as many quality leads as you can, right? Have a few qualifying questions for each person that approaches.
If you determine someone is not a good prospect, you can use a promotional item to disengage from the conversation and move onto the next. If you find that they are a good prospect, perhaps you give them a higher quality item.
Specially Recognize:
Your trade show is not only about finding new leads. You will likely be meeting face to face with current or long-standing customers. Have different types of promotional items for these customers as a way of thanking them and strengthening the relationship. Studies show there is a correlation with promotional item quality and brand favorability.
Pro Tip: reach out to customers ahead of the show and plug special promotional items to be given out at the show.
Increase Name Recognition and Brand Awareness:
Lower end promotional items can have a lasting impact. Items that have a single-use like food or candy should not be considered. Consider items that can wind up on someone's desk and be used many times over like pens, notepads, and flashlights.
Pro Tip: consider the size and weight of the items. Most attendees are traveling and might not have space in their luggage for larger items. They also might not want to carry around heavy items during the show.
How to Choose Promotional Items for Trade Shows
From the previous section, you have an idea of how promotional items should be utilized at trade shows. Now let's dive into choosing the right promotional items for your trade shows.
There are three keys to focus on:
Relevance:
This one is rather simple. Consider what type of promotional items would be valuable to your audience. Say you are exhibiting at a technology trade show. A USB flash drive would likely be more valuable to your audience than lip balms or koozies.
If you know who will be coming to your booth, and you can pair a relevant promotional item to the interaction, you are much more likely to have your brand seen many times over.
Quality:
At some point, you will be comparing the prices of different items. Try not to give in to the temptation of going with the cheaper option. Cheap items might break easily or become defective, leading the person to throw them away quickly.
This effectively eliminates the potential for continued brand awareness. It also might leave the impression that your brand lacks quality.
Cost Per Impression (CPI):
This is a technical term, but it makes a lot of sense. The idea behind CPI is that the greater the exposure, the lower the cost per impression. In other words, the more times an attendee interacts with your promotional item, the less it costs you.
For example, a cup of coffee or a piece of candy that will be used once and thrown away has a high cost per impression. A quality tumbler or hat will be used many times, thus having a low cost per impression.
Final Word
Can your trade show be successful without promotional items? Of course. But you will likely have to deploy other strategies to drive traffic to your booth. If you decide to have promotional item giveaways, make sure you consider your audience and what they will like.
Your goal is to get your item used often to increase brand awareness. Saving money by going with cheap items may backfire. We recommend trying to strike a balance between item quality and keeping within your budget. For more tips on promotional items, see our article on the trending trade show giveaways.