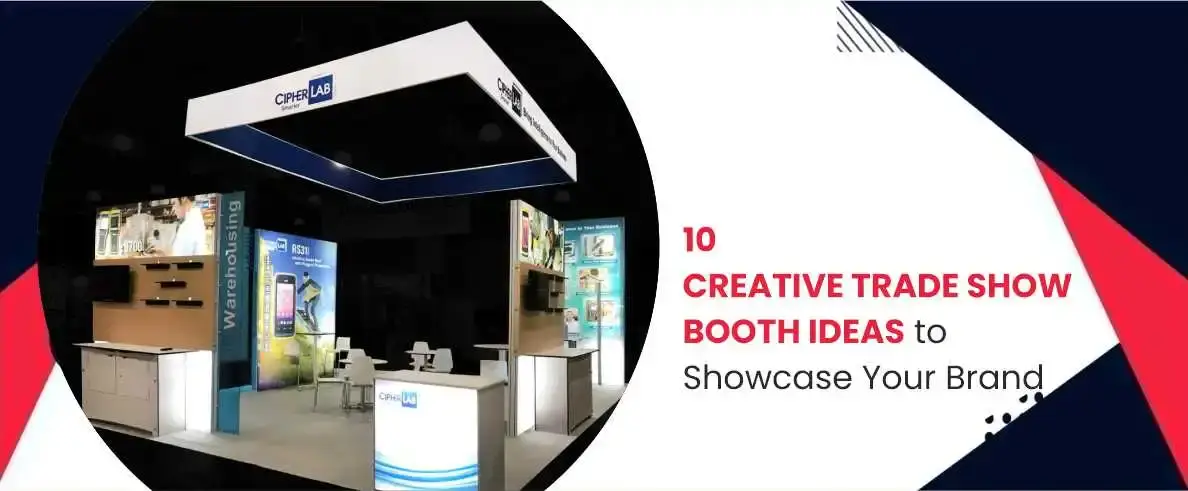 10 Creative Trade Show Booth Ideas to Showcase Your Brand
If encountering the words "trade show booth design" makes you want to rush off to the nearest hiding place, trust us when we say that you are not alone. In today's cut-throat world of trade show events and conferences, making your brand stand out is perhaps the most formidable challenge faced by new and experienced entrepreneurs.
When attendees walk past row after row of insipid, uninspired trade show creations, it is natural for them to lose any sense of excitement they might have felt at the start of the day.
Your product needs the kind of display that blends the brand's story with your empire-building journey and sprinkles it with a dash of creativity that visitors can't help but admire.
If you're aiming for that or something to that effect, here are a few trinkets of advice that might speed things along. But before we get started, there's one thing you absolutely must keep in mind:
Your goals drive your designs
Everyone is eager to get to the drawing board, but don't you first need to know what to draw? A firm set of goals that clearly defines why you're participating in the show and what you hope to accomplish is a must-have before initiating any design discussions.
Is the event a launch pad for your latest products? Are you looking to generate fresh leads at an event your target market is planning to attend? Maybe you are a hot new startup hoping to create awareness around your brand.
Or, maybe you went through a recent rebranding exercise you want everyone to hear about. Whatever the case, state your goals in the most precise terms possible and let all of your design decisions flow from there.
What are some creative trade show booth size ideas that can help get you noticed? Read on to find out.

1. Interactive Spaces
This one goes back to the basics. Your space must fulfill two essential criteria before trying anything radical – it must be welcoming, and it must encourage interaction.
This seemingly simple approach is where we see many well-intentioned displays go wrong. The desperation to immediately grab eyeballs is so high that there's no thought spared to overwhelming customers with too much information.
Think about the following:
How would customers move around my space? Is the setup intuitive for them to navigate? Ensure that they have enough space and opportunities to explore your products independently even if your staff is busy.
Consider setting up a kiosk or counter right at the entrance of your booth. Here, they can get the help required to start navigating through what you have to offer.
Assign designated seating areas where guests can take a break from the hectic trade show floors and constant noise. Ensure that all your aisles are entirely clutter-free to allow easy access.

2. Themed Exhibits
This hot trend is not going away anytime soon. Themed exhibits, when done right, create a memorable and unique experience that visitors are likely to remember for a while. And once you get the word going around, your exhibit booth will be the talk of the town.
Themed exhibits have the additional advantage of pervading every aspect of your marketing blitz, right from pre-show buzz and giveaways to staff uniforms, merchandising, and post-show promotions. Can you think of a better way to improve brand recall?
Sadly, there's a common misconception that themes only work if your business supports it – like a pop-up restaurant for the food industry or an outdoor-themed exhibit for a camping startup. But in reality, all it takes is some creative thinking. Let's look at a couple of examples:
An art gallery: Your trade show booth ideas could involve a gallery setting where your products are displayed as pieces of art with inspired lighting. Has professional staff presenting guided "tours" around your "art work", and you can create a fascinating and unforgettable aura.
A walk back in time: This is especially fun if the venue of your event has a historical past that can be captured. Your staff can don the attire of famous characters and the setting could evoke nostalgic memories of a bygone era, with authentic giveaways and merchandise to support the look.
3. Creative Photo Booths
This idea is a slam dunk in today's "lemme take a selfie" era. All you need to do is set up a branded backdrop that is instantly recognizable, along with unique props that are either humorous or drool-worthy.
Not only will visitors stop by to take photos with their friends and colleagues, but you'll also get the added advantage of free online advertising because of pictures being uploaded to various social media sites. Just have your hashtags loaded and ready to go.
4. Experience-Based Exhibits
While themed exhibits are beloved by one and all, another trend that is catching on fast is "experience-based" exhibits. This involves giving your visitors a genuine feel of your place of business so as to make their visit that much more interesting.
You go beyond simply talking to them about your product or service, and instead connect them directly with your on-ground solutions.
This can involve a showroom or retail-themed exhibit, where attendees get a feel of your customer service, product knowledge, and ability to relate to their pain areas in day-to-day life directly.
You could also consider a shop floor exhibit where customers can see your product being brought to life and understand your commitment to quality while also getting a whiff of what goes on behind-the-scenes.
5. Ultra-Stylish Exteriors
First impressions are usually the last on crowded event floors. You probably have a precious few seconds as a visitor passes by to grab their attention and make them feel the urge to walk into your space. This means that the area around your booth must invoke an immediate sense of curiosity.
Elaborate structures with ultra-light and modern fabrics can become an instant hit here. Consider the use of oversized sculptures or objects at the entrance.
Unique lighting and beautifully-decorated overhead structures are visible from afar and can make visitors gravitate toward your booth.
6. Living Walls or Product Walls
Living walls can provide your booth with a stunning backdrop that enhances your overall appearance while creating that additional 'wow' factor that can entice customers. The art here is in understanding exactly how far you can go without the wall overwhelming your product displays or your presentations.
Product walls are another favorite among exhibitors, especially for those in retail. Multiple walls around your booth can exhibit a variety of your products, thus encouraging customers to make buying decisions or at the very least learn about the wide range of alternatives at their disposal.
7. Virtual Reality
Sounds expensive, doesn't it? However, recent technological advances have brought VR and AR well within arm's reach. Displays with VR stations can easily double customer participation. After all, who doesn't love donning VR goggles and entering a whole new world?
Use Virtual Reality to give customers a firsthand feel of your product. You can also consider taking them on a virtual tour of your business premises and letting them meet some of your employees. VR allows you to engage attendees with your brand's journey creatively.

8. Focus on Brand Identification
Even the best trade show booth ideas can prove to be completely futile if your customers don't walk away with your brand and its story etched into their memory. And the fact that brand recall is a must-have for any business to truly achieve long-term success is a no-brainer.
So, as you dazzle your visitors with your latest product range, don't forget these invaluable tips:
Reserve a portion of your booth to tell the story of your brand's journey. This could be through video walls at the back of your booth or touch screens and iPads at demo stations.
Give customers a tour of your place of business and let them meet some of your employees. Keep it simple and relatable.
Everything from merchandising, giveaways, staff attire, and your booth design must celebrate your brand colors to allow them to seep into public consciousness. Pithy signage (6 words or less) that calls out to attendees across the floor is also a must.
9. Engage clients with Unique Product Demos
Attendees are covering the length and breadth of the conference venue in search of inspirational ideas that instantly seize their attention. One reason trade shows are so popular is that visitors can get a personal feel of your product, a factor that is missing in even the most creative of online demonstrations.
Ensure that you design your product demos around this need. Give attendees the chance to try out your products for themselves. This could be via workstations in your booth or through creative use of technology like VR/AR. If your product has been recently upgraded, design your demo to show your loyal user base how it improves on the older version.
10. Games, Contests, and Giveaways
Who doesn't like to having some fun in the middle of a long day filled with endless sales pitches and ongoing demonstrations? In-booth contests also have the advantage of tapping into our inherent competitiveness. Grab the attention of passersby with fun games that are easy to manage and keep visitors engaged. Audience participation must be tied to lead creation.
Don't forget to plan for exciting giveaways or prizes for winners of the contests, or your brilliant idea might backfire. Also, remember to never to overlook your ultimate goal of selling your brand. Every contest or game must link back to your brand's story or the product or service on offer.
To Conclude:
When you want your booth to be seen, heard, and chosen in the ocean of exhibitors, you must invest in a quality and attractive booth. However, planning an engaging trade show booth that aligns with your marketing motto is challenging. To ensure a hassle-free experience, you must choose a professional booth-building partner who will take care of your booth process from start to end. All trade show booth ideas, no matter how clever or creative on their own, demand the perfect execution to create an impact.
Get in touch with Exponents today and allow us to show you how our turnkey trade show booth service will help to deliver powerful results.