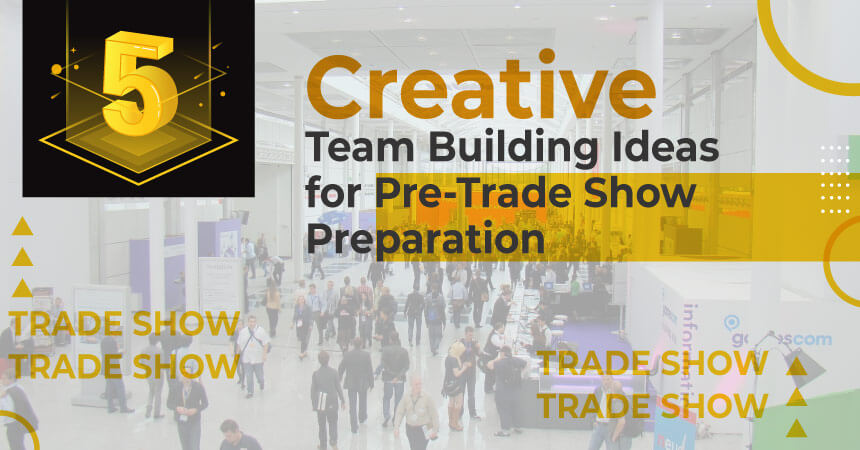 5 Creative Team Building Ideas for Pre-Trade Show Preparation
Trade shows often have long days that are filled with high energy for trade show booths host and representatives. Putting efforts to encourage team building while preparing for your trade show will help your team make the most of the opportunity.
This will enable them to show up on the event day with the good rapport that they can work upon in the course of the event. Working on team building would develop trust and build a connection between the fellow team members that can help deal with the exhaustion during long hours of the event.
For building a successful brand presence at the event, you need a team that works well together. Your team should not only know each other but they also should be comfortable around one another that will ensure open lines of communication. To make it happen, you need to come up with ready-made ice-breakers and team building ideas for your booth staff before sending them to represent your trade show rental booths at events.
And that is why we have jotted down a list of team building ideas that can be executed before your trade show. The motive behind these ideas is to let your team get a proper brief about your products and services while having some fun, getting to know each other better, and are prepared to pitch your client at the event by working together.
Make the training process fun
Instead of having a traditional slide show presentation to brief your team about the company's products and services, you could make your team prepare a presentation of their own to help gauge their understanding of the product and services. Based on that, you could provide your insights about the presentation and help them get trained better.
This will not only boost their knowledge about your company but also their confidence during the event. It will help you understand the areas that your team needs to brush up their skills on and work progressively towards it. This kind of training session would enable them to build a good rapport not only with the company but also among themselves by helping each other learn better.
Host a Treasure Hunt
This is a fun game to organize during or after work. You can split the team into two groups or let them work out as a whole group together. You can set a time limit and provide the cues. This is a super fun activity that your team would enjoy while working on it.
It will encourage teamwork and will be good preparation for people working together in coordination with each other at your trade show booth design. This activity will help them bond with each other while solving the puzzle to find the treasure.
Planning Team Lunch
Another team bonding activity that would work for your event is organizing a small lunch party for your team to help them connect with each other. Usually, lunch groups are done at corporate events or conferences where attendees meet like-minded peers but you could use this idea with your team to get them working together.
It can be a small get-together where people share their professional experiences over lunch which would help them get to know one another better. Such activity helps in boosting team bonds and results in creating a healthy work environment for your team at the event.
Play Blindfold Maze
The blindfold maze is a pretty fun activity to host for our team as it will help in building trust and includes a lot of laughter to lighten the mood. You can divide your team into groups and one person in every group will be without the blindfold who will guide the rest of the members to overcome the obstacles in the way.
The team that reaches faster will win or if you just have one team then you can rack the clock. The leader will direct the team without touching them thus promoting leadership quality in the team. It will also help them work in coordination at your trade show rental booths in events while encouraging teamwork among them.
Quiz Exercises
To make your team building activity training oriented you can host quizzes that will make the learning experience fun. You can divide the team into groups and ask them to create a quiz around the product or service that they're going to promote at the trade show booth design.
This will encourage the team members to discuss sessions and other learnings and mutually decide on the important key points for the quiz. Not only will this facilitate social learning but also expand the knowledge of your team. They can either compete with each other or participate together thus enabling a healthy competition and team bonding among them.
Hopefully, some of the team building ideas mentioned above will work for your team to help in pre-trade show preparation. It can seem difficult to incorporate these motivating ideas into the schedule but remember that including them will certainly help boost your teamwork and turn your event into a seamless experience.
Apart from looking for a booth for rent to handling all the paperwork for the event, an exhibitor also needs to invest wisely in the team that will present their brand at the event. It is important that your team connects with your brand because they will be the face of your brand at the event. Facilitating an environment that appreciates open lines of communication is essential for business growth. Taking these small steps would definitely bring a major change to your next event.