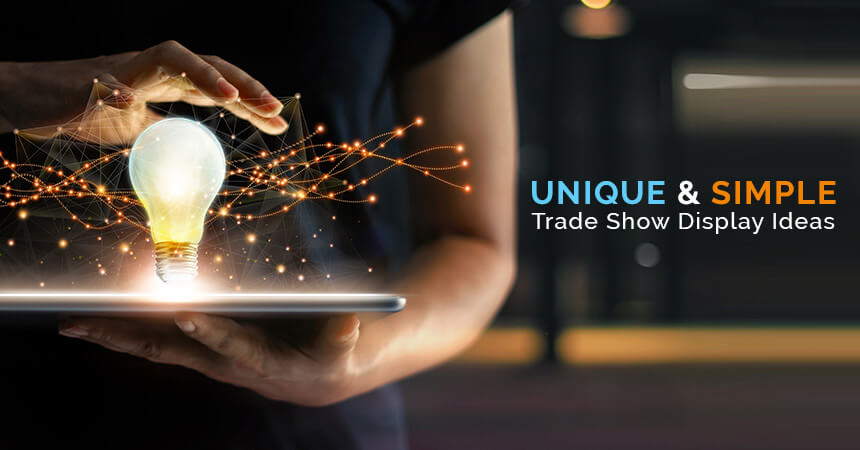 5 Simple Ways to Find Unique And Simple Trade Show Display Ideas
If you've attended a trade show, we're sure you've found yourself bored after walking past row after row of similar-looking booths that almost blend into each other. It's often hard to tell where one display ends and the next one starts.
Of course, if you're exhibiting at a show, it becomes important that you don't fall into the category of boring booths. Instead, you should create something that instantly announces your presence on the show floor and forces visitors to enter your booth and have a look around.
Creating a stellar booth requires some careful planning and research, but if you manage to get a few things right, you will be well on your way to coming up with unique trade show display ideas that are sure to attract all the right attention.
What's important to remember is that you will have barely three-seconds to grab a customer's attention at a crowded event. With this in mind, let's take a look at 5 simple and unique trade show booth ideas that will definitely make you the talk of the trade show floor:
Choose the Right Space
This is true on various levels. First, it means that you need to find the perfect trade show for your brand. There are a number of industry-specific shows that are held through the year and you might not be able to exhibit at every single one of them.
Instead, look back on which shows have enjoyed the largest crowds and which shows attract the most industry-leaders. These will give you some indication as to which trade show is the best one for you to exhibit at.
Once you've found the ideal trade show for your brand, you will need to choose the right booth size and location on the show floor. While 10×10 in-line booths are often the most economical choice, it's not always easy to leave a lasting impact with a small booth that could get lost in the crowd.
Instead, try and secure yourself a corner booth or an island booth. Island booths are typically situated near the front of the hall, making them the most visible booths at the trade show. After you've finalized your booth's size and location on the show floor, you can start working on ideas for your design.
Do Something Different
Sometimes, a little creativity and out-of-the-box thinking are all you need to create spectacular trade show displays. Ensuring your booth has at least one unique feature is sure to make it stand out at a crowded event and garner all the right attention.
You could start with something small – like converting one of your display's walls into a living wall. Living walls, made of plants, flowers and fresh fruit, add a burst of color and life to your booth. If you have a small space, this is definitely an idea worth considering.
On the other hand, if you have a bigger booth, you could consider using a large or over-sized prop as the main attraction. This works especially well if you've come to the event to launch a new product or shine the spotlight on your signature offering.
Apart from highlighting what you have to offer, these props serve as great photo opportunities. You can encourage visitors to stop and click a picture with the prop. You could even have a staff member stationed at the prop, ready to click a picture with a Polaroid camera. This picture will act as a personalized souvenir for every visitor, and will also gently remind them about you and your brand every time they see it.
Create an Experience
As an exhibitor, it's your responsibility to show clients that you understand their challenges and that you have the unique solutions they need. The only way to do this is by giving them the opportunity to experience what you have to offer. Converting your trade show appearance into an elaborate experience for your visitors isn't always easy, but with the technology available today, it is definitely possible.
You can start with something small. Let's assume you're a player in the automobile industry about to launch a new vehicle. You can have a model of the car installed in your booth or just outside. Ask people passing by to sit in the car to understand how much legroom they have, or give them the opportunity to open the boot to see how spacious it is. If people are given the chance to actually experience what you're offering, they're more likely to buy what you're selling.
Of course, bringing a sample of what you're selling to the trade show isn't always possible. Brands in the real estate space, for example, can hardly bring their latest project to the show. What you can do, however, is transport the audience to one of their homes with the help of a Virtual Reality (VR) headset. This will allow customers to enjoy a complete walkthrough of the model house or apartment without actually having to leave your booth at all.
If you think VR isn't quite your style, you could simply convert your booth into something completely different. Businesses in the aeronautical industry could convert their booths into airplane cockpits, while those in the furniture space could turn their booth into a living room or bedroom. Similarly, if you're in the food industry, you can build a booth that resembles a restaurant, or, if you're in the fashion industry, perhaps you can convert your booth into a fancy clothing store.
Keep Your Message Clear and Concise
Every decision that you make regarding the design of your display should serve one of two purposes. Firstly, it should make your brand's offering and message abundantly clear to the attendees. Secondly, it should take you one step closer to accomplishing your overall trade show goals.
An attendee who did not intend to visit your booth at the event is likely to give your display only a passing glance as they walk by. Most likely, this will be your only chance to grab their attention and convince them that you can offer them exactly what they need.
The best way to do this is with a well-thought-out headline and a powerful image. Your headline should be short and snappy – ideally 6 words or less. Longer lines will put off busy attendees and encourage them to keep walking. On the other hand, a short line that is humorous or thoughtful could strike a chord with the visitor and cause them to stop for a moment.
The positioning of your copy and the font you use to display it will also have a bearing on whether or not people will be impressed by it or not. Copy that is printed in a clear, easy-to-read typeface will work better than a cursive font where an 'r' might resemble an 'n', leading to confusion.
But a headline alone is hardly enough to keep somebody interested. You also need a powerful image or graphic that will help you tell your brand's story. Tempting though it may be to use complicated imagery to tell your brand's complex story, it's wise to remember that simple images work best.
Use Social Media to Your Advantage
Whether you're looking for new trade show display ideas or want to ask your followers what they want to see at an upcoming event, social media can help you while you gear up for your trade shows. While you're still doing your research, look up the event's main page and check what kind of booths have enjoyed the most success in the past.
See if they have an element or a design that you can repurpose to fit your trade show goals. Social media can also help you keep tabs on your competitors. Look for clues about what they're bringing to the trade show and find a way to get an edge over them.
You can also reach out to your loyal followers and ask what they'd like to see. By catering to your target audience and taking their opinions into consideration, you're likely to endear yourself to them, giving your booth a boost on the trade show floor.
Additionally, you can use social media to invite your customers and potential clients to the event and ask them to visit your booth. You can post sneak previews of your booth on your pages and create a sense of curiosity and excitement amongst attendees.
Creating a unique trade show booth isn't always easy, but it's definitely crucial to your success. By being mindful of these 5 tips, you will be well on your way to creating stellar booths that are sure to stand out at every event.