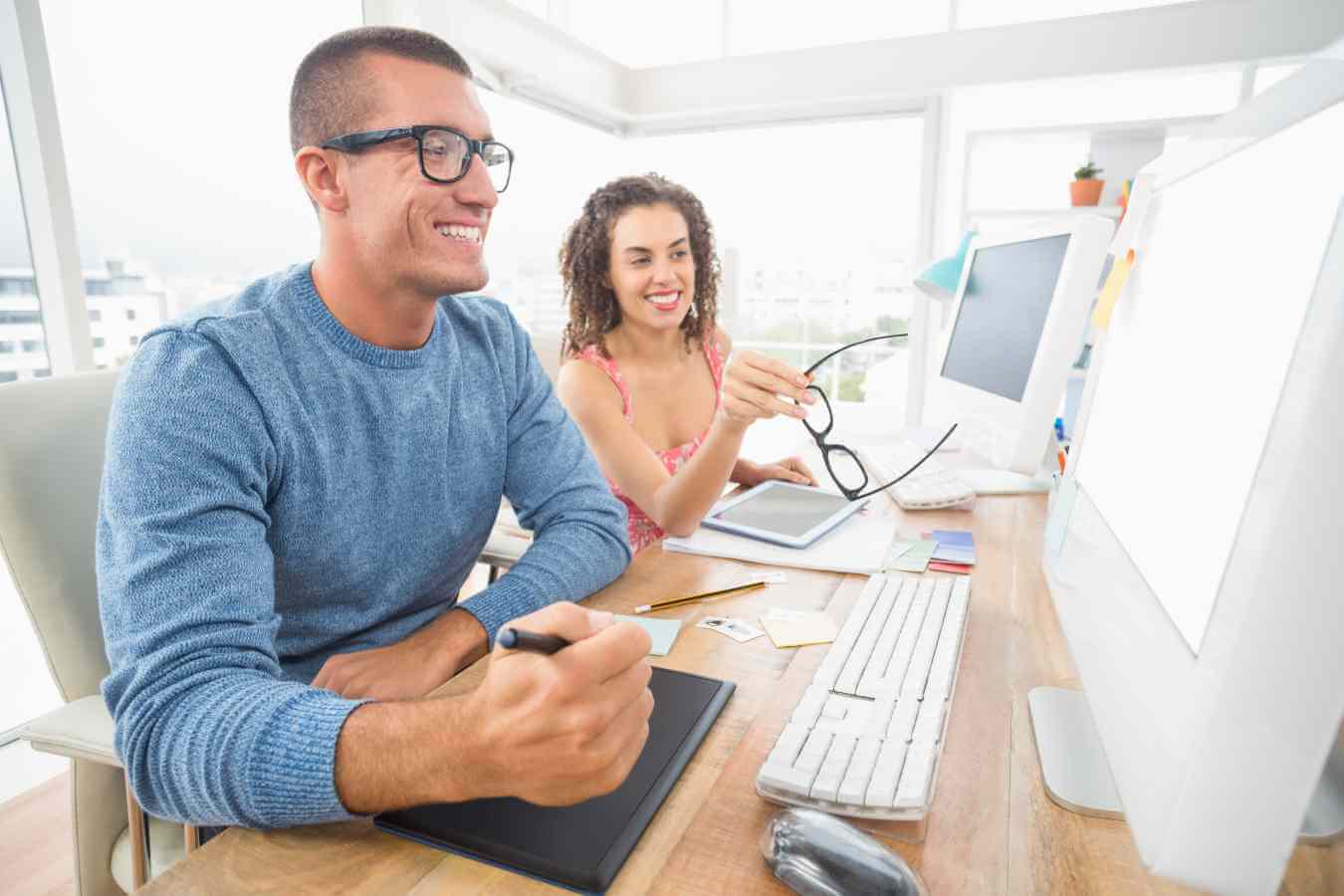 5 Ways to Draw More Attendees to Your Trade Show Booth
5 Ways to Draw More Attendees to Your Trade Show Booth
Tradeshows are notorious for keeping people distracted. All those attendees are walking around, the line of exhibits with their different shapes and designs, and the gamut of representatives trying to market their business; it's overwhelming, to say the least.
Amid countless distractions, it is almost impossible to draw attention to any one thing, unless it possesses all the qualities that have the power to engage visitors. For instance, trade show exhibits that strike the right balance between technology and nature tend to captivate people through all the senses and be more memorable.
Similarly, displays that fully embrace their line of work and turn themselves into real-life manifestations of what they do, such as a coffee brewery setting up a café on the trade show floor or a furniture manufacturer showcasing their newest loungers and allowing people to test them out, will never fail to intrigue attendees.
However, just because these ideas work doesn't necessarily mean they make sense for you. As an exhibitor, your goal is to get the maximum number of people to stop by your booth as possible while keeping your display relevant to their interests.
To help you achieve that feat, here are five elementary yet practical ideas that can help you generate more traffic to your exhibits.
1. Reach Out Before the Event
Most trade show attendees choose the exhibits they will visit days before the event. They do this because they are busy and can't spend hours wandering aimlessly around the venue.
Attendees know what they want and will spend their time doing exactly that. If you drive traffic to your trade show booth, you have to capture the attendees' interest on day of the event. Fail to do so, and you can expect a lackluster response.
The most cost-effective way to reach out is via email. You can send emails to regular customers and contacts who will attend the trade show reliably.
If the organizers have a list of attendee registrations and are willing to provide their email addresses, send them one, too. To generate maximum positive responses, you must personalize each email, or else you will tick off the recipients for not making any efforts and give your exhibit a miss.
A more expensive yet effective route is direct mail. Yes, make time to sit, pick attendees you want at your exhibit, and send them a letter. It shows you care, because it takes the effort to reach out via paper in today's age of instant communication.
And similar to emails, personalize these as well. Do this and you can expect most of your recipients to at least stop by your exhibit.
2. Make Social Media Your Ally
Social media is an excellent tool for connecting with customers, businesses, and leaders. Use it to drive the audience towards your exhibit on the day of the trade show.
Hashtags are an excellent tool for social media users to know more about you. If your exhibit number is A425, then use #A425 (or something more creative) as the hashtag. Use it on all your social media handles to make it easier for trade show attendees to find you.
You can tweet to companies and people you wish to meet and invite them to the show. Tell them about your product and ask them to retweet using your hashtag. During the show, tweet about your business and exhibit, what you are offering that day, and where they can find you.
Tweet fun images and videos that are bound to catch the interest of attendees and convince them to come looking for you. Instagram is another platform you can use to popularize your business and drive audiences to your trade show exhibits.
You can upload videos about your product launches or fun activities and use multiple hashtags to reach users. If they like what they see, you can expect them to follow you and even visit your exhibit on the day of the event.
Facebook is a wonderful resource to drive traffic to your exhibit. You can set up an event date and invite people to come. Just remember to keep your official business page clean and reflective of your core philosophy, so that you attract the right audience.
3. Give Attendees What They Need
When you sit and think about what you can do to make trade show attendees' experience a more comfortable one, you are on your way to gaining more fans, well-wishers, and most important, visitors to your booth.
Trade shows are big-ticket events. With hundreds of exhibits and a lot of information to take in, it is natural to see attendees feeling overwhelmed. They walk a lot, smile at all the exhibit representatives marketing their goods, and mingle with other attendees – a very tiring experience.
When you explore exhibit design ideas, make sure to include space for seating. Yes, comfortable cushion seats and sofas that will attract weary attendees.
Make them feel at home, let them sit for as long as they like, offer them a drink or two, and then subtly try to build a relationship without pushing too hard or making them feel like they have to oblige just because they are sitting on your furniture. They are more likely to respond in a positive manner and will tell other attendees to visit your exhibit as well.
Another idea that is common but oft-overlooked is charging stations. It's surprising to see the lack of such stations at trade shows where the need is so high. Attendees walk all day, snapping images and shooting videos of eye-catching and exciting displays.
They call people, surf online, email; they cannot leave their smartphones idle. All these activities drain the battery life, and that is when charging booths work in your favor.
You can install multi-charger points for attendees. Do attach a screen near the charging booth to catch people's eye from afar. While they are at it, you can go ahead and ask them about their business requirements or pitch how your product or offerings solve a particular need or want. Again, without pushing too hard.
4. Incentivize the Ones You Need
Complimentary gifts are the most common technique used to attract audiences, develop leads, and improve brand recall. From posters, keychains, and mugs to iPads, camcorders, and power banks, giveaways are the norm at most shows, and brands are becoming increasingly more creative in their offerings.
However, you should not gift items to every attendee as a business. One, it was expensive. Two, it's blind marketing. Three, it's not as effective as you might expect.
When an attendee comes to your exhibit, you must aim to build long-lasting relationships, not fickle ones that vaporize the moment the trade show is over. Give them thoughtful items once you find the ones whose leads will convert.
How about a private demo session if you are a technology company showcasing your newest smartphone with never-seen-before specs? That's a beautiful way to make a possible customer feel special. They will try to engage with your brand and tell others about it.
So, scout for genuine leads and then use your giveaways to build fruitful relationships with them.
5. First Impression Matters
Trade show exhibits have raised the bar for innovation and personalization in the past few years. And while these do work in garnering attention and traffic, many exhibits have tried to be cool but have ended up looking cringe-worthy.
Whether you use technology or simple cardboard, your exhibits will only attract people if they are able to give people a reason to stop. You could use the advantage of height to make sure your exhibit is visible across the trade show floor. You can use screens to showcase live demos your product's work – visual aids always make people stop and look.
If your business belongs to an industry where formality reigns supreme, make sure the exhibit representatives dress to reflect that philosophy. Nobody wants to stop at an exhibit promoting affordable lawyers where the representatives are dressed in ripped jeans and a t-shirt.
Get it into your head – first impression matters.
For many companies, trade shows are one of the most effective ways to market their product, generate leads, and meet future business partners. However, the first step is getting people to stop at your trade show exhibits.
These five ways are tried and tested over many trade shows. While they may appear simple on the surface, they deliver returns on investment in ways that surprise you. Make it a habit to apply these five ways, and you won't have to worry about dragging people to your booth.
If you are looking for a trade show booth design that draws attendees to your booth, Exponents is here to help! We have provided our turnkey trade show booth service to the majority of the prominent brand in any industry. With a beautiful, full-color computer rendering, we can even show you what your new booth design will look like before you buy. So what are you waiting for? Call us now and rock at your next trade show.
Fill out the form below to speak with someone from our team.