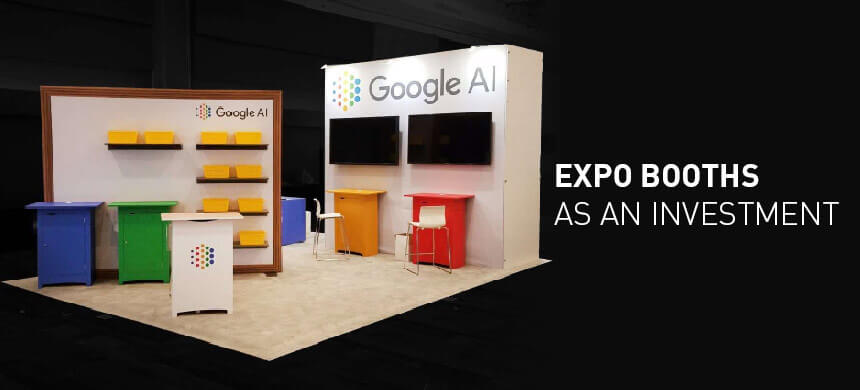 Expo Booths As An Investment
Expo Booths As An Investment
Many people wonder what the purpose of an exhibit booth is. That's a fairly valid question, considering that many people don't really see how important trade shows are for generating business leads. The need for a booth rises for a very few select groups of organizations that work in a very specific segment of the industry catering to overall organizational processes.
B2B markets are constituted by service providers/goods producers who produce durable goods that last for long periods of time. That being said, B2B market products are hardly ever those that you could buy off the shelf.
These are durable, high-cost products that many users consider to be an investment that would last them for years. For this reason, although sales aren't as frequent as those for let's say FMCG but the revenues generated are huge.
For these reasons, it becomes important that vendors capitalize on any and all possible sales potential that they recognize. In this sense, if you're a B2B producer, thinking of going to a trade show; you should think of your booths as an investment rather than an expense.
The potential that booths offer are immense. They may not pay off immediately but can set the ground for continued commercial success in terms of their marketing efficacy.
 Some Statistics
To understand the importance of trade show marketing, it'll help to place these within the context of the workings of the larger B2B market. To make the picture clearer, here are some statistics that'll drive the point home:
67% of all attendees are potential clients who will serve as a sales lead.
46% of all attendees are high-level corporate executives.
In 2018, the most popular reason for visiting trade shows was to view new products.
80% of all attendees are likely to remember meeting company representatives.
29% of all visitors to booths become regular customers.
From these statistics, it should become apparent how important a trade show booth can be to help you achieve your marketing goals. If your marketing strategies begin to take effect, then we know it's a short way from there to building a successful business.
Expo Booths Are A Great Way To Improve Business Recall
A majority of marketers agree that trade shows one of the best ways to reinforce and improve brand recall.  Assuming that you can create a well-designed booth, it'll be created keeping in mind your overarching brand strategies.
Strategies that you're already running across your other marketing channels, if you're working in the same industry then your target markets don't change.
As a result, when that same client base comes to expos, they'll remember what your company is.
Trade Shows Have Immense Marketing Potential
Trade shows are probably the only place where you'll find the perfect target audience for your marketing. Since the event is literally designed to bring together individuals operating in the market, what better place to show off your wares to make that next sale?
With that concept in mind, it's fairly obvious that if you can create a booth that can impress your clients, you have created the nudge that'll generate a new lead.
From that point onward, according to the above-mentioned statistics you have a new long term client that will be the source of much business in the future.
Trade Shows Are Perfect For Market Research
Since the entire industry is concentrated in the same place. All producers, sellers and middle-men, these expos are a ripe place for you to conduct a little market analysis of your own.
Observing the marketing activities of the competition and the behaviors of all those closing sales deal, you can set the grounds for a solid marketing strategy for yourself.
This information is hardly ever found in ordinary places. It's only at the hub of conversations in the industry where you can arrive at this knowledge.
Having this information at your disposal could help gauge industry conditions and create long term strategies for your own organization.
Exponents Insta USA Inc. are producers of high-quality booths. We have vast experience, having worked in collaboration with major organizations to produce their trade show booths. We offer multiple services such as Booth Installation, Graphics Production and On-site supervision among many others. Call our representatives for more information on our services or to get a quote on booth today!