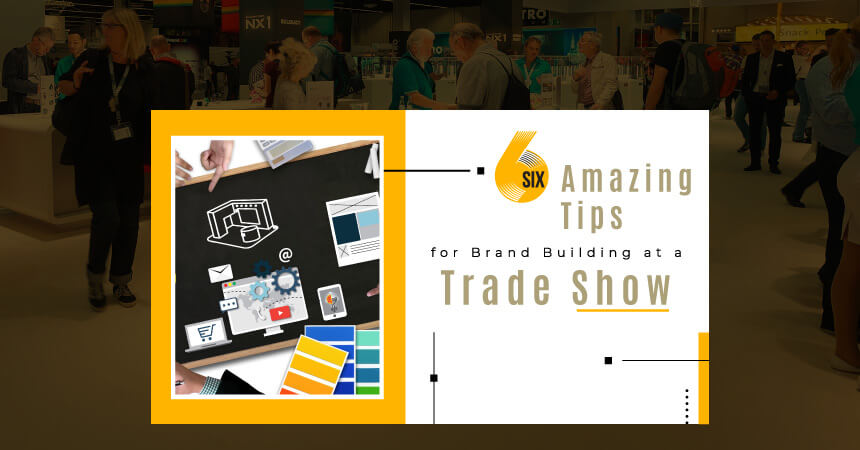 6 Amazing Tips for Brand Building at a Trade Show
6 Amazing Tips for Brand Building at a Trade Show
Executing a trade show efficiently is one of the major aspects of the marketer's to-list. For this, a trade show booth design is needed which is a lucrative investment for your brand to present your company at the event. Every business is depended on its consumers, and if your business is unknown to your customers, it cannot become successful. To avoid this, you need to amp up your trade show plan to ensure your brand success. Get out there, be visible, familiar, readily available, and make your business known to the public.
Trade shows are wonderful opportunities to market businesses, interact and engage face-to-face with your prospects. It is essential to use these opportunities to gain valuable sales leads by effectively marketing your brand at trade shows. So, how to make the best of your investment and shine-out among competitors to promote your brand at the event?
Here are some of the best tips for efficiently building your brand at a trade show and get the bang for your buck.
Grab the Attention
Attract attendees to your trade show rental booths with the help of eye-catching banners, hosting giveaways, organizing contests or games, or including interactive elements such as touch screens to collect customer information.
You can also have a personalized product demonstration at your booth rental to spike interest in your products or services, which will, as a result, put your brand in the spotlight. You could also have a unique theme around your brand ideologies for your exhibit design, which will make it more interesting, fun, and engaging.
Thorough Research
Though it's vital to plan your trade show booth carefully, it is also important to conduct a detailed research session before the actual event takes place. This will help you determine which trade shows will work the best for your business sale and objectives.
So, then you can evaluate the different trade shows based on the number of attendees or your potential customers, your competitors, and so on. Choosing the right show will help you gauge your brand's promotion in the right direction and help you yield a high return on investment.
Set Clear Objectives
Every business trade show is only successful if it has clear and realistic objectives to meet. So, make sure you plan your business objectives for the event and make it clear to your trade show booth staff. You could start by creating a list of objectives as per their significance.
Make sure your booth staff is on the same page. You could plan out your goals based on the data you collect over the number of leads qualification surveys or gather research on your competitors. Once you have your objectives clear, it's easy to plan for your brand's success.
Immersive Brand Experience
Your trade show booth is a live symbol of your brand and what your business stands for. This includes the brand values and vision as well. So, make sure your booth for rent is capable enough to tell your brand story across your audience.
It could happen with inspiring exhibit design and sensory elements that enhance your customer experience and convey your brand message to your prospects. Right from your booth structure to the marketing materials, every touchpoint should tell a compelling brand story. Irrespective of the size of the booth, the customers should feel connected after engaging with your brand.
Tune in Tech
In today's tech-savvy world, our audience expects trade shows to be more digital-friendly or at least have some digital aspects in the event. So, more and more exhibitors lookout tech solutions for their brand and product or services they offer.
Incorporating technology in your trade show booth design is a great way to engage your audience around your brand, which would eventually help you build your brand presence at the event. So, fit in the digital integrations such as 3D mapping or virtual reality, whichever makes the most sense for your objectives and work best for your brand. Also, it is advisable to have a dry run before the event to avoid any nasty surprises.
Lead with Speakers
Out of several other reasons, one of the prime reasons why attendees participate in trade shows and conferences is because it is a learning experience for them. Your brand can be a contributor to this experience by choosing representatives to offer your brand perspective to a panel as a featured presenter.
You can discuss with your team and come up with a list of potential speakers and then provide them some engaging topics to talk about at the event. This will help you set apart from your competition and boost traffic to your trade show booth bringing more brand exposure at the event.
Making a powerful brand impact at a trade show is crucial to gain trade show success for your business. Using the above tips will not only help in building your brand into an industry powerhouse, but it will help make the most of your investment in trade shows.