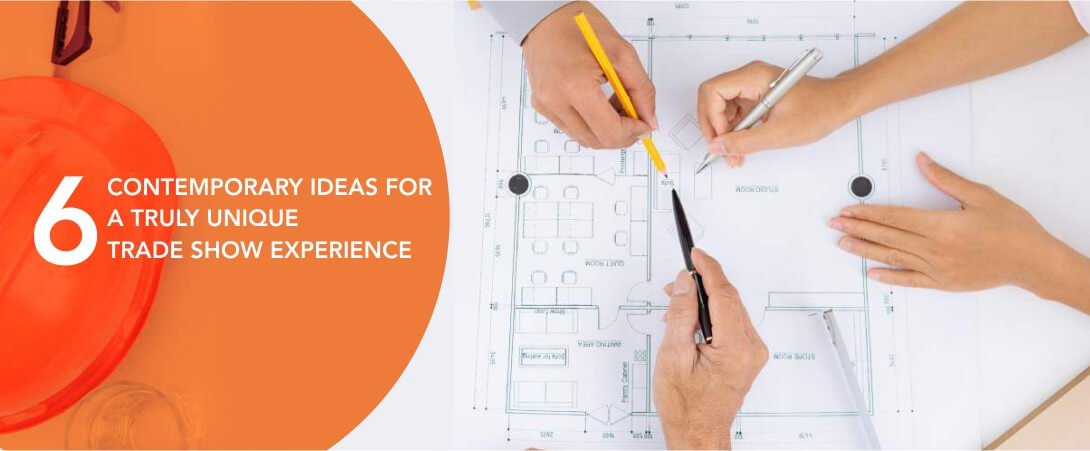 6 Contemporary Ideas For a Truly Unique Trade Show Experience
6 Contemporary Ideas For a Truly Unique Trade Show Experience
More often than not, people will forget what you told them about your business and your products. In fact, people can barely recall their own mobile numbers anymore, leave alone the number that you have provided to them or the website that you've asked them to look up.
On top of all this, hardly two or three people will remember the name of the person at the trade show booth who gave them an in-depth account of the company's history. This is the harsh reality that most businesses face when they decide to participate in a trade show.
However, the one thing that people will never forget is how your booth made them feel. They will remember exactly what they felt when they first laid eyes on your trade show booth design.
For some, it may be awe at the way the colors of your booth stand out, for others, it may be astonishment at the way you've used technology to create an immersive experience. If you are able to tap into the magic of creating experiences, your booth will not get lost in the crowd and it could help you gain invaluable leads that will convert into customers and sales.
So, how does one create remarkable trade show exhibit experiences? Well, the answer for sure does not lie in throwing thousands of dollars on random booth ideas and expecting one of them to stick.
No, the answer lies in thinking of trade show booth design ideas that are simple, smart, and answer or solve the problems that customers are facing. When you are able to do these three things, your exhibit will generate a healthy dose of recall in attendees' minds.
To help you with this, here are six modern ideas you can use to create a remarkable trade show exhibit experience.
1. Create Unimaginable Experiences With Virtual Reality (VR)
When you tap into the unimaginable, you create new possibilities and experiences. The latter is what you aim to offer attendees who stop at your booth. A VR headset is your tool to accomplish this offering.
If you provide a service or product that you cannot have at the trade show, these headsets are the best tool to demonstrate your offering to the attendees.
You can achieve this either with a simple headset or if you have space, with a complete VR room. Either way, visitors at your booth will be able to witness your value add first hand.
Businesses that deal in real estate, travel and automobiles stand to gain the most with VR. Imagine someone wearing a VR headset and seeing how your hotels in Spain give the most majestic views from a trade show floor in America.
The joy and excitement on attendees' faces when they are enjoying the beauty of Spain with only a headset is priceless. That is the power of technology.
2. Let the Power of Big Screens Dazzle Visitors
People are so used to their small, touchscreen smartphones that being able to do the same swipe and tap motions on a giant screen will definitely make them stop in their tracks. You can use that moment of awe to create an enriching experience for attendees.
Companies can demonstrate their apps and websites on a large-scale monitor, which is a more pleasing and enjoyable experience for visitors than using little models. The jumbo screens have a charm of their own.
Of course, you could also use these large screens to disperse information. You could showcase videos of your company's journey, or even provide more information about the trade show itself.
By using an interactive screen, you can create a wholly immersive trade show booth design that will leave attendees aching for more.
3. Include Visitors in Your Journey
If you can find a way to include attendees in your trade show journey, you should definitely do it. This works especially well for companies that deal in construction and hospitality. If you have a hardware store or sell building materials, you can invite people in and ask them to help you fortify your booth while using your products.
Another example is the use of augmented reality. A tool-manufacturing company can get an attendee to come and fix an F1 car within ten seconds along with the pit crew using the company tools. The reality is augmented, but the experience of fixing an F1 car is unforgettable.
On the other hand, if you own a restaurant or café, you can create a kitchen space and have a masterclass or ask people to come in and impress your chefs with their signature dishes.
The feeling of having built something from scratch or contributed to its making is an unforgettable thrill. People will remember and cherish that feeling for a long time.
4. Comfort is an Experience, Too
Sometimes, all your trade show booth design needs is a comfortable place for attendees to lounge around in and rest their weary legs. The best way to do this is to offer them places to sit. A good mix of comfortable chairs, sofas, and stools that are as inviting as hot chocolate on a cold night is a potent advantage.
After walking around the floor for such a long time, they will appreciate your thoughtfulness. You can provide a few hors-d'oeuvres for them to munch on, too.
While individuals are relaxing in your booth, you can spend a little time with them, talk about your products and services, and even hand out some marketing literature to have a look at.
They're far more likely to listen to you and pay attention while they're relaxed. This could lead to the generation of leads and can even convert into lucrative business relationships.
5. Keep a Few Things on the Down-Low
Instead of letting your trade show booth design tell people your entire story, you can cordon off a section of your booth and label it a mystery. More often than not, people will venture in, wondering what it is that you're keeping a secret and why.
This is especially useful when you're trying to launch a new service or product, or even when you want people to enjoy a fun new experience.
Imagine a completely closed enclosure. In front are red velvet ropes like you see outside nightclubs and there are bouncers guarding the door, checking if people are on their list before granting them access.
This creates intrigue among trade show attendees as to what's happening inside. This is an interesting psychological trick that will have visitors flocking to your booth. Of course, remember to have a worthwhile surprise waiting for them inside.
6. Don't Forget the Human Touch
When attendees come to your booth, they do so on the basis of your trade show booth design. Some spot your booth from afar, some might hear about it from other attendees, while others may read something about it on social media.
While most companies spend a pretty penny on their booth's design, many forget about keeping aside a good budget for the staff who will work the booth.
While the individuals working in your booth may not necessarily be a part of the design, they're an integral part of the entire experience that you are offering.
It's a good idea to spend a little time and money on training the staff in advance and ensuring that their uniforms and attire complement your booth's overall look.
This philosophy of welcoming your guests into your booth is an invisible yet integral part of your trade show booth design. It can help elevate the attendees' experience.
Now that you know what you can do to ensure that attendees enjoy visiting your display, it's important to get down to the nitty-gritty and find yourself a good trade show company to partner with. While most individuals prefer to purchase a trade show booth outright, it's a good idea to rent a booth when you're starting out on the trade show circuit.
Not only are rentals more affordable, but they also allow you the opportunity to upgrade your design at every subsequent show. Of course, there are a number of trade show companies that can help you with this, but few as experienced as Exponents. We have been working in the industry for over three decades and are known for our unique booth designs.
All Exponents trade show exhibits are pre-built before the show, so you have the opportunity to walk through your entire booth and experience it weeks before the show. This gives you all the time you need to make any final changes and tweaks to ensure that the booth is absolutely perfect in time for the show.