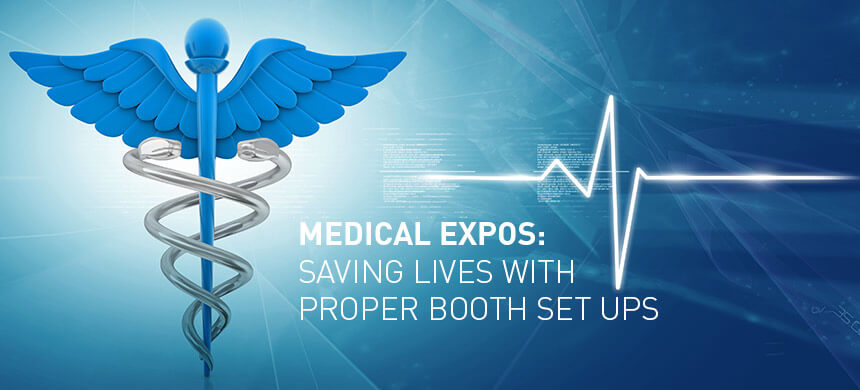 Medical Expos: Saving Lives with Proper Booth Set ups
Medical Expos: Saving Lives with Proper Booth Set ups
Medical expos are no joke. The ideas exchanged and the services up for offer are all designed to help improve the facilitation of healthcare to as many people as possible. Working as a supplier in the healthcare industry requires that you comply with strict procedure and stringent regulations so that only the best can enter this industry. It's understandable considering what's at stake; the lives of potentially millions of Americans.
When it comes to conferences that require a highly technical and detailed approach to the presentation of your services, it's imperative that you emphasize your abilities as a high quality service provider. Since there's no room for frivolity in these situations, your booth and your knowledge base need to airtight. The reasoning you provide to your clients needs to be clear, concise and profoundly convincing.
From an organizational perspective, it also becomes necessary to generate sales revenues considering the costs of producing sensitive detection machinery. Your commercial success depends on the amount of interest you can generate in your products. To this end, it's essential that you make an impact in your sales pitches at medical expos.
To achieve these goals requires a very specific booth design, there's no specific classification for a booth that can only be used at medical expos, however, there are some set rules that you must follow:
Visual Representations are a Must
Visual stimuli are relatively well-received by your audience compared to complicated and dense text.  Your services and products need to be displayed with well thought out infographics and diagrams that are easy to understand in the context of healthcare organizational procedures. Of course if your products and services serve a medical purpose, it's essential that you present clear visuals that can help medical professionals understand your process.
Including visual aids like screens and projectors is a particularly effective method of presenting yourself to a prospective client. Incorporating these elements into your booth serves the purpose of helping your customers see the value in your products in terms of improving healthcare processes as they exist.
Using Sober Color Schemes
When working under the ambit of the healthcare system, it's important to ensure that you're taken seriously.  Consider the minute room for error in these situations; these events are rather sensitive affairs. One small misstep can have your prospective client base losing faith in your services. Eliminate the room for error by increasing the functionality your booth has to offer. There's no need to create vibrant and colorful designs that do not add any informational value to your presentations.
The designs you ought to use must simply help you get your message across.  There should be no room for distraction when you're making sales pitches and trying to offer crucial technical information to healthcare professionals.
Emphasize Visibility and Clear Lines of Sight
This is a maxim of effective marketing at trade shows across the board, although this is far more applicable in the healthcare industry than any other technical field. Considering the nature of services and products being put on display, it's very unlikely that you'll be able to go beyond simple presentations to make a sale.
For this reason, you would do well to choose a booth design that gives you a clear view as many people as possible. This maximizes the exposure you get to your potential clientele and improves the chances of you making a sale.
Installing Screens For Advertisements
Having a running sequence of product displays on multiple screens will increase the likelihood of attracting more visitors to your booths. These displays can help introduce your products, organization and services to your potential market to arouse their curiosity. Having seen your services in action, as presented on the screens you've put up, you'll begin to attract more clients to your booth.
The next time you go to a medical expo with your products, perhaps implementing a strategy such as this, will help you generate more sales than ever before.
Exponents Insta USA Inc. is a premium custom design exhibition booths manufacturer. With years of experience in helping major corporations design booths across a spectrum of industries, we are widely considered as one of the best booth designers in the US. Call us today for more information on our services or to get a price quote on a custom designed exhibition booth.