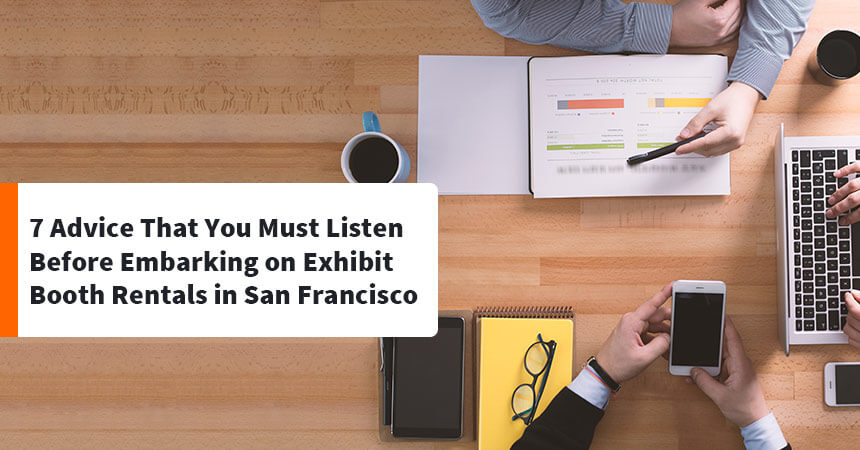 7 Advice That You Must Listen Before Embarking on Exhibit Booth Rentals in San Francisco
7 Advice That You Must Listen Before Embarking on Exhibit Booth Rentals in San Francisco
Ever since the Gold Rush of 1848, San Francisco has been an important commercial center. Also known as the City by the Bay, San Francisco continues to thrive on trade and shipping.
But these aren't the only reasons why businesses in the city progress at an alarming rate. America's famed Silicon Valley is also a part of this beautiful city, making it the ideal location to participate in a trade show.
Trade shows serve as an excellent location for brands to meet with potential customers face-to-face. Even with all the advances made by technology, trade shows continue to remain the most important marketing tool that a company can use.
At these events, industry-leaders can be seen exchanging ideas and growing their networks to boost their careers. In order to make the most of your investment and earn high returns, it's vital that you pick the right city and show for you and your business.
Whether you're a novice exhibitor or a seasoned trade show expert, an event in San Francisco is bound to be the right match for you. When it comes to setting up a booth, a sizeable investment of both time and money is required. But the financial returns can be excellent.
And while preparing for an event may seem overwhelming, it's a good idea to think of trade shows as a game of chess. A few smart moves and you'll be able to conquer the board, or in this case, the show floor.
In San Francisco, trade shows are incredibly well-attended and exhibitors at events here can easily accomplish the goals they set themselves. In fact, the shows here are so competitive that most brands take a whole year to prepare for the event properly.
If you're looking forward to wowing potential customers with stellar exhibit booth rentals in San Francisco, you will have to acquaint yourself with the city, its businesses and the people you are likely to interact with.
Whenever you decide to exhibit at a trade show in the city, it's important that you nail every single aspect of your booth. Start with outlining your goals and defining your budget.
Once you have both those aspects in place, you can start thinking about the design, graphics, staff and more. The decisions you make will directly impact your overall success at the end of the event.
In order to give your best at any trade show, you need to be well prepared beforehand. Here's a look at a few planning tips that will help you enjoy high returns on your investment.
1. Find the Right Show
The trade show you choose to participate in will have a direct bearing on the kind of success you could enjoy. Picking the right show for your needs will involve some amount of research. Start by making a list of all the industry-specific trade shows that are hosted in San Francisco.
Focus on two to three that are popular and then dig into their statistics over the years. Have the number of attendees increased or decreased? Have the biggest names in the industry been attending?
Look for a show that has seen an increase in the number of attendees over the years – it's likely to be a well-attended show, which could give your brand a lot of exposure.
2. Set Your Goals
Different brands choose to participate in trade shows for multiple reasons. Your goals for the event will depend largely on your brand's current position in the market as well as your overall marketing strategy. You may opt to participate to launch a new product or connect with a whole new audience.
Whatever your goals, ensure that you make them clear and communicate the same to your entire team. If everybody knows what they're working towards, they could help you meet your goals efficiently.
3. Be Patient with Your Design
The most crucial aspect of your trade show participation is your booth and its design. Building a booth isn't something that happens overnight. It requires months of careful planning.
You need to start by understanding how you can create a booth that will help you achieve your goals. If you're participating in the show to launch a new product, then you need to have a display that puts your products front and center.
On the other hand, if you're at the trade show to gather leads, you need to ensure that your booth intrigues customers and gives them a glimpse of what you can offer them. If you've opted for exhibit booth rentals in San Francisco, your rental partner could help you come up with interesting ideas for your booth's design.
4. Keep Your Graphics Clear
At crowded trade shows, you will have just a few seconds in which your booth needs to create an impact on an attendee and compel them to engage with your brand. The only way to do this is by ensuring that your booth's graphics are on point.
Clear imagery and short lines of copy work best. You could also use the space above your booth to your advantage. You can display your brand's name and logo at a great height, making it visible even from a distance.
Use lighting creatively to draw attention to your most important graphics and keep prying eyes away from certain problem areas in your booth. Remember, your booth's graphics need to instigate a sense of curiosity in the minds of the people passing by.
5. Build the Right Team
Once you have your display taken care of, it's time to ensure that your exhibit booth rentals in San Francisco are staffed by the most articulate, polite, and well-mannered individuals.
Your team should be easy to approach and capable enough to deal with whatever questions attendees may throw your way. Disinterested members who sulk, stand in corners or spend time playing on their phones could end up costing you a few lucrative deals.
One way to ensure that you only have the best people in your booth is by asking your team members to volunteer for the event. You could also offer a small commission for those members of staff who gather the most leads or sell the most products.
You will also have to spend a little time in training your staff and ensuring that they're well-versed with your brand and its offerings.
Give them guidelines on how they can ask leading questions to help them qualify good leads and teach them how to deal with corporate spies and other middle-management individuals who are simply looking to gather information at the event.
6. Engage with the Masses

In order to draw people towards your booth, you need to find a hook to engage with the crowds. One of the easiest ways to do this is by providing the best giveaways on the floor.
While USBs, pens and branded T-shirts were the norms a few years ago, you can enjoy better success if you provide giveaways that are a little out of the box. Free product samples and exclusive discount vouchers will definitely help increase traffic to your booth.
You could also provide cool giveaways like canvas tote bags and branded wristbands. These will be very visible as visitors walk around with them, increasing your brand's presence and popularity on the show floor.
Finally, if you're expecting to sign a few important deals at the venue itself, you could provide your new business partners with high-end giveaways like Bluetooth headphones or customized reusable coffee mugs.
Of course, you can also complement your giveaway game by hosting games, quizzes and live demonstrations in your exhibit booth rentals in San Francisco. All of these events draw large crowds and will help you enjoy greater success at the end of the show.
7. Use Social Media Wisely
While it's important to keep your focus on the upcoming trade show, it's equally crucial to keep your social media pages updated. In the run-up to the show, you can post content about what you're bringing to your booth or even ask your loyal customers to give their suggestions about what you should do at the event.
You can take their inputs into consideration and keep them updated on what you have decided. When you do this, you're including your customers in your planning process and making the trade show even more interesting for them.
You can then go ahead and create an event page. Use the platform to invite customers to the show and keep track of who is attending and who isn't. Once the event is underway, you could ask a member of staff to take live videos and post-behind-the-scenes content to show people what they have missed out on.
Every single time you post, make sure you use the event's official hashtag as this will increase your online reach. After the event, you can share your learnings and thank people for coming to the show and interacting with you.
Now that you have all the information you need, you can make the most of your exhibit booth rentals in San Francisco and easily achieve all your trade show goals.