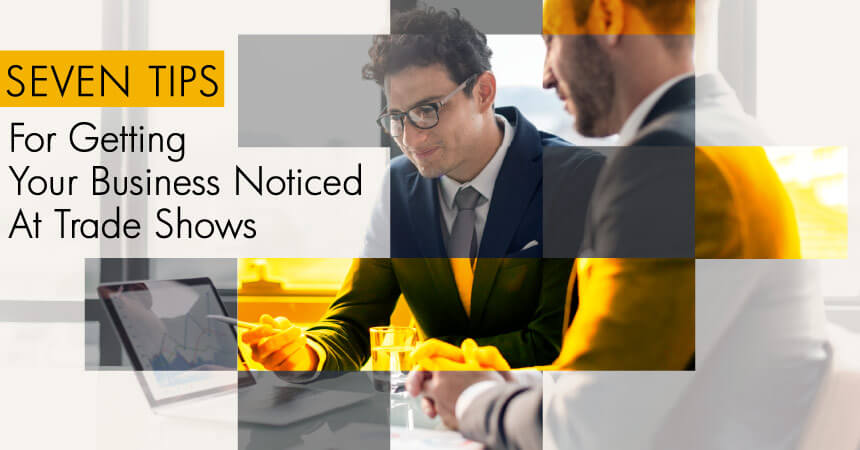 7 Tips for Getting your Business Noticed at Trade Shows
7 Tips for Getting your Business Noticed at Trade Shows
Are you anxious about your trade show appearance?
You'll spend weeks or months to get ready for a trade show, so naturally your expectations are high. After all, you've invested your time, money and energy to get your trade show booth design right.
You can't possibly account for everything and achieve your ideal trade show appearance, there will always be some uncertainty. That is the nature of organic networking. But, you can capitalize on every opportunity available at a trade show, and get your business noticed. Here are seven tips to help you accomplish that.
1. Engage with the trade show
At trade shows, your booth is just one medium of communicating with your target audience. But there are several more you can employ at the trade show. Trade shows often organize speaking panels for the benefit of its audience, you should participate in these panels.
If you have expertise in a specific niche, then you can participate as a speaker, some trade shows let speakers conduct speaking engagements at the booth itself, they handle the promotion of these speaking sessions and its timings.
Speaking engagements such as seminars, workshops and other discussion panels offer you the opportunity to position yourself as an expert and offer solutions to common problems that plague your industry.
2. Plan events at your trade show booth
Visitors want to be actively entertained, they are not interested in observing your booth like a museum piece. So hold presentations, contests, games, and product demonstrations at your trade show booth. With the help of social media, you can invite dozens of visitors with a few clicks.
You can also use these invites to draw the attention of your existing customer base, giving them an incentive to come to your booth, helping you strengthen your brand relationship with them.
3. Choose a good location
As they say in real estate, it's all about the location. This can also be applied to trade shows. Being able to put your booth next to exits, entrances or connecting corridors gives you an immediate advantage.
You get more exposure and more visitors. So, plan ahead and book your space at a trade show, well in advance. Even if you plan to have a 10×10 booth for rent, you can get a significant leg up by having the freedom to choose your own location.
4. Set up multiple avenues for brand engagement
Every visitor has their own preferred way to learn about your brand. Some like one on one explanations, while others prefer a pamphlet. So, don't leave out any opportunity to engage with visitors in the medium they like:
Tech-savvy visitors would prefer to be able to visit your website, so include QR scanners at your reception desk for them
Visual readers prefer to watch a presentation on an LCD screen or use a touch screen they can scroll through at their own pace
Visitors motivated by rewards, are more likely to remember and advocate for your brand if they get a giveaway
Storytellers are more interested in experiences, so contests, games, or being able to play with new technology like AR or VR gets them invested in your brand
5. Hire staff that has presentation skills
To have an engaging conversation and put people at ease, is a skill. Not everyone is a people person. So, look towards event management agencies to hire people who can present your brand. We recommend you eventually set up training programs for your own staff members.
Since they are more familiar with your brand and your products, than contractors hired by an agency. It also lends authenticity to your company, if visitors know that they are talking to people who work at the company.
6. Build up your trade show appearance
Support your booth. Advertise it on your social media channels, regularly post content regarding your trade show appearance. This will keep your customers and prospects aware of your booth appearance. You should use hashtags provided by trade show organizers, so your posts become part of their marketing campaign.
You can also create a page on your website about the show and your appearance at the show. This will make more people aware of your business when they look up the show on Google.
7. Collaborate
Doing your homework on your competitors and on other exhibitors can open more opportunities to promote your business. Your business will get more attention if you are able to collaborate with exhibitors who have complementary products or services.
This will also increase your lead pool since both of you can choose to pool resources and promote each other at the trade show. You can even save costs by sharing booth space with a complimentary brand, which lets you opt from larger trade show rental booths without breaking your budget.