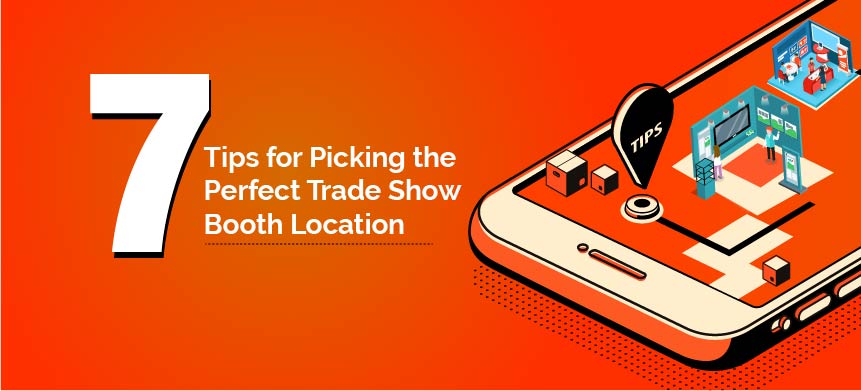 7 Tips for Picking the Perfect Trade Show Booth Location
7 Tips for Picking the Perfect Trade Show Booth Location
Trade shows are all about visibility. You may have the biggest, flashiest booth in your arsenal waiting to be unleashed upon interested audiences, but it is of no use unless people can actually see it without trying too hard.
And with the increasing amount of clutter in terms of the sheer number of exhibitors, this is no cakewalk to accomplish. While there is no one perfect location on the trade show floor that will guarantee an endless ebb and flow of traffic to your exhibit, there are certain areas superior to the others.
Of course, this also largely depends on who you are, what you are offering, to whom you are selling, and what your marketing strategy is. But ultimately, your goal should be to make it easy for target customers to find you amidst all the chaos of the event.
Here are a few tips and tricks you can keep in mind when booking a booth location at your upcoming trade show:
Establish a Rapport with the Organizer
Often and shockingly overlooked by rookies and seasoned practitioners alike, this is one of the first moves you should make after you decide to exhibit at a tradeshow.
Event organizers tend to allow people they share a personal bond with to book the most coveted spots on the venue at a far lower rate. In fact, they might even use their knowledge and experience to recommend the best location that particular year.
You can leverage this by fostering a relationship with them early on, at least a few months before sponsorship opportunities start presenting themselves. It will not only give you the chance to set up your booth under the spotlight but also save your company a significant amount of money in the long run.
However, it is important for you to make sure that you maintain your rapport with the organizer throughout the year and not just when the show is around the corner.
Study the History of the Venue
Speaking of getting an early headstart on things, another great idea to secure a favorable location is to delve into the floor layouts from previous years of the exhibition center.
Typically, they tend to be similar each time, which rules because the predictability will allow you to fashion a near-accurate picture of what the floor plan will look like this time around.
You can ask the management team of the show to provide you with copies of these layouts. Once you get your hands on them, start comparing the spaces allotted to specific brands to the kind of traffic they generated.
It is likely that you will find a pattern or a common link between booth space allocation and the amount of attention garnered. You can then use this valuable information to decide where you want to be set up.
Let Your Budget Do the Talking
If you have reached the stage of booth space reservation on your trade show journey, chances are you've already drafted a budget for each task.
Realizing the potential of revenue generation at the event can go a long way in helping you determine that perfect spot that will be your brand's temporary home.
Take a look at the funds you have set aside for the booth space. They may be high enough to plant your flag on the most sought-after real estate, ensuring increased attention, or they might be just enough to score you a spot close to that of the biggest brand at the event.
Make sure you don't go overboard and spend more money on this than necessary because you still need to factor in other expenses like travel, accommodation for the whole staff, manpower for setup and disassembly of the booth, giveaways, and so on. Depending on your capacity, it will be easier for you to understand the spaces that are well within your grasp.
Know Thy Neighbor
This tip is especially for those who are a wee bit late to the party and running behind on the preparations. At this point, most of the good spots are already taken, which leaves you with a select few to choose from.
Since most factors from this list are irrelevant now, it is best to base your decision around who is next to and around the area you've got your eye on.
If there is a brand with a similar target demographic as you, book a space in proximity immediately! Assuming that your neighbor did their research before booking their location, you can leverage their findings and attract your target buyers to your display.
However, this doesn't necessarily entail establishing yourself right next to the most ostentatious booth at the event – chances are you might fade into the background in their presence.
Choose your fellow exhibitors carefully and do make sure this spot checks at least a few important boxes on your list before putting down that deposit.
Differentiate Between Traffic and Congestion
Sure, reserving a space in a high-traffic zone is the smartest thing to do, but it is crucial that you understand the difference between traffic and bottlenecks.
This distinction can be a fine line, but if you do your research, you will be able to draw it. High-traffic areas are those that audiences cannot help but gather around due to the natural flow of the exhibition layout.
On the other hand, full-blown congestion is caused by the sheer number of people cluttering up an area at the same time, resulting in chaos and greater difficulty in initiating meaningful conversations. Whereas traffic can positively impact your ROI, congestions can successfully dampen it.
That's why, before booking the spot, you need to ensure that you are in a high-traffic zone that isn't under the risk of turning into a full-throttle cram fest.
Know that Bigger Isn't Always Better
Contrary to what you have been led to believe, the biggest booth at the show is not always the best. There are a million elements that go into determining the right size of your booth, which in itself is a factor that defines the kind of space you should be booking.
Realistically speaking, high-tech booths that are all flash are generally viewed as lacking substance, and audiences tend to walk past these displays because they feel overwhelmed. When planning your trade show booth space as well as design, step into your target buyer's shoes and think about what they may want to see and experience.
If you are in the business of selling electronics, it is entirely possible that your ideal consumer prefers one-on-one interactions over group pitches and mingling with large crowds – something even a small booth can help you accomplish.
It is important for you to cater to the specific requirements and interests of your demographic if your intention is to turn prospects into customers. Depending on whom you are selling to, you will be able to select a space that works for you and them.
Find a Worthy Partner
Yes, trade shows are essentially a competition among hundreds of brands for the attention of a specific group of people – but that doesn't mean you can't form an alliance with other exhibitors and mutually benefit from it.
Partnering with a brand that complements your image and offerings can help with everything from cutting costs to doubling your resources, giving visitors a valuable experience, and most importantly, securing prime real estate.
But before you decide to take this association to the trade show floor, remember to ensure that it makes sense. You should be getting as much out of it as your partner will, and vice versa. Additionally, you want to collaborate with someone who has the booth space to accommodate your ideas and staff.
A company with a peninsula exhibit is a fine choice for this purpose, as it will allow you to set up your displays back to back, offering both brands equal exposure.
Booth space selection is not a matter of chance but that of choice. It may not be the be-all and end-all factor that defines your success at the show, but it is definitely one that will help you in the process of achieving your goals by impacting how much foot traffic comes your way and ultimately affecting your ROI.
Whether you opt for an enormous, front-and-center booth that instantly attracts the eye or several smaller booths spanning across the trade show floor, having a detailed plan to secure a suitable spot early on is the first and most important step in gaining leverage over your competitors. So, choose wisely.