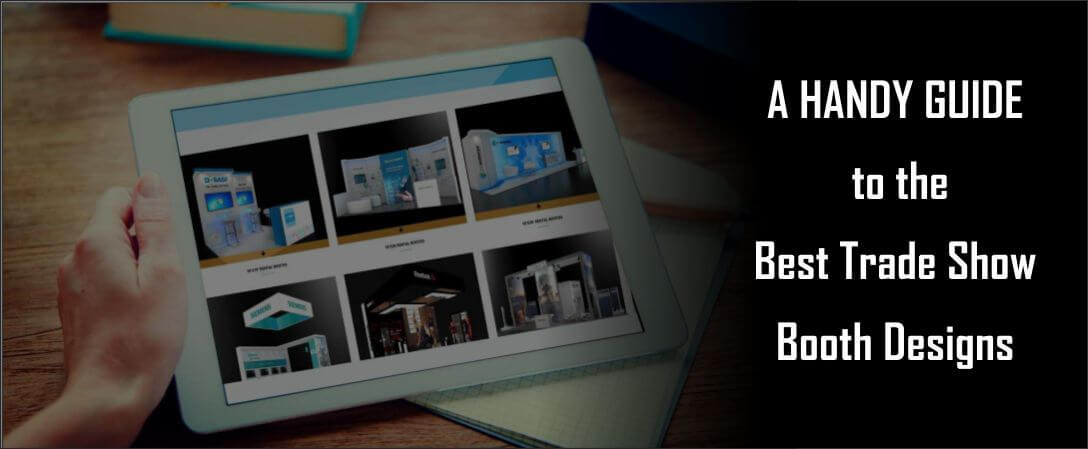 A Handy Guide to the Best Trade Show Booth Designs
A Handy Guide to the Best Trade Show Booth Designs
Trade show booth designs play a serious role in defining your company's success and establishing your image in the market.
Understanding their importance as well as the amount of effort and strategy that goes into creating them, many of these events conduct award ceremonies to recognize and reward the best trade show booth designs.
The biggest perk of an eye-catching stand, however, is that it enhances your visibility both online and offline while attracting potential customers, supporting your goals, and reflecting the identity of your brand.
Top 10 Trade Show Booth Design Ideas
Participating in a trade show is a great way of showcasing your brand's products and services to a large group of audience.
However, you have to understand that these shows comprise of a hundred other brands, all competing to grab the same people's attention.
So, if you plan to leave an impression on visitors, you'll have to masterfully combine style with substance. This will not only make your booth stand out but also give your brand the attention it deserves.
In this post, we have listed 10 trade show booth design ideas that will help differentiate your company from your competitors at the show.
1. Brand Consistency:
It is important for a brand to be consistent in its approach. Whether it is your brand's logo or the services you offer, make sure to follow a discipline.
This makes your brand easily recognizable and establishes strong brand consistency, which will definitely help you in the long run.
2. Stand Out:
It's easy to get lost in a crowded trade fair if your exhibit booths do not have any unique qualities. Therefore, use bold trade show booth design ideas that attract the attention of your visitors and help you stand out.
For instance, try giving your exhibit booth a store-inspired look or add features that connect well with your brand.
3. Be Creative:
Not just in setting up your booth, but be creative in your approach, too. Sometimes, trade fairs can turn out to be quite monotonous and boring; seize this opportunity and conduct fun activities at your booth that allows you to engage with potential customers and simultaneously promote your brand.
4. Broadcast Your Brand:
Go big, or go home! Follow this quote and you will come out of the trade show a winner. However, in order to make your presence felt, don't go overboard with colors, props, and other equipment.
Use the right hues, fabric, and graphics to make an impact on the attendees. You can also print your brand's logo in bold lettering to ensure it doesn't go unnoticed.
5. Add Giveaways:
Implementing the best trade show booth designs will definitely get you noticed in a trade fair, but something that'll add recall value to your brand is the giveaways.
Giving attendees something they want will earn your brand extra bonus points. For instance, you can give away pen drives with your logo imprinted on it, toys, or other novelty items.
6. Build Relationships:
Great trade show booth ideas are successful only if they assist you in building relationships with your clients. This can be quite difficult in a trade fair since it's often teeming with attendees and other brands.
But, if you build multiple private consultation rooms, you'll be able to engage in a productive conversation.
7. Make the Most of Your Space:
Make sure to use every inch of your space productively. This does not mean you stuff products and props everywhere.
Instead, display your products and all the other elements in an organized manner so that there is enough space for visitors to move around.
8. Talk About your Brand:
Choose a creative method to communicate your brand's message. This will showcase your brand's capabilities and also enable you to market your product in a unique way.
9. Keep it Uncluttered:
Unlike crowded booths, open spaces invite visitors to walk around and spend a few minutes away from the busy stalls. Therefore, while it is essential to make use of every square foot to your advantage, it is also important to keep it clutter-free.
10. Branded Environment:
Want to bolster the image of your brand? Build your convention booths that mimic your brand's true identity. This will leave an impact on your visitors and definitely create a buzz about your brand.
In Conclusion
Trade fairs allow each brand to tell a story and showcase their vision in a thematic and unique form to potential customers.
From welcoming attendees to view the elaborate displays to surprising them with daring designs, every strategy implemented at these exhibits can be impressive and admirable.
So, for your next trade show, plan accordingly. Or just give us a call and we'll utilize all our resources to ensure your brand outshines others!