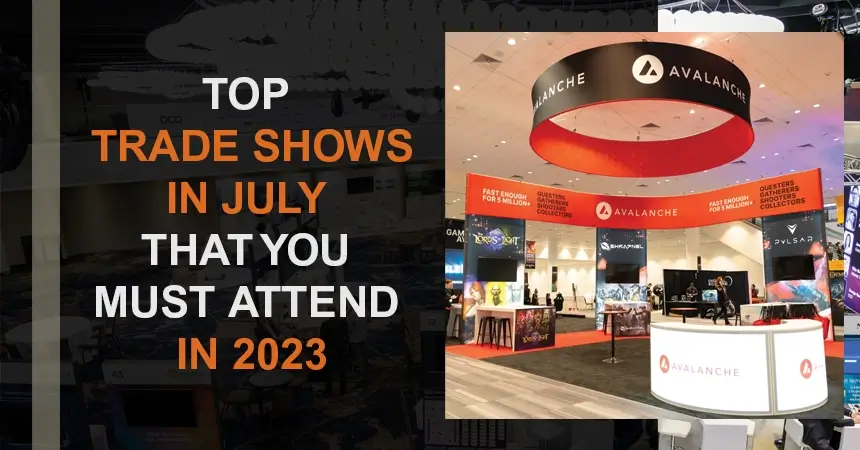 Upcoming Trade Shows in July 2023
Top Trade shows in July that you must attend in 2023

Ready to skyrocket your business this July? Well, it's time to stop just dreaming big and start making those dreams a reality! In 2023, there's no shortage of amazing trade shows that will give your brand the exposure it deserves. So, now is the time to seize the opportunity and make it happen. After all, as they say, the early bird catches the worm – or in this case, the attention of your target audience. So let's make 2023 the year your business shines!
 To help you out, we've rounded up the top trade shows happening this July. From conferences focused on cutting-edge tech and science breakthroughs to glamorous fashion events – we've got all your industry needs covered. So buckle up and get ready for an amazing journey as we guide you through some of the best trade shows around!
Jump to Section
When: July 11-13, 2023
Where: Moscone Center, San Francisco, California
About The Trade Show:
Semicon West is the go-to global platform for companies in the microelectronics industry, offering an unrivalled chance to get your products and services noticed. This event will allow you to connect with key decision makers, potential customers, and collaborators.  This event gives you  a chance to create new business partnerships that could be pivotal in navigating a rapidly changing landscape of supply chain disruptions, climate change, talent shortages (and more). Exhibiting at this show will give you a unique opportunity to host your trade show booth rental and showcase your offerings and build meaningful connections with potential customers.
When: July 10-14, 2023
Where: Las Vegas Convention Center
About The Trade Show:
Cosmoprof is the leading B2B trade show in America. It offers beauty and cosmetics industry exhibitors like yourself a singular stage to increase your visibility, expand your reach, and build key connections with buyers across multiple sectors — retail, spa, professional – as well as establish vital relationships with an array of brands. Exhibiting at this show not only offers a chance to introduce existing products but launch new ones that could take your company's success even further!
Cosmoprof is the ultimate platform to meet industry giants and uncover lucrative business opportunities. With numerous trade publications from around the world, you can seize the chance for your products to gain global recognition as a market leader. Don't miss this opportunity to reach the top beauty industry decision-makers ever gathered under one roof.
Secure your booth for upcoming trade shows in July before it's too late!
3. HydroVision 2023
When: July 11-13, 2023
Where: Charlotte Convention Center

About The Trade Show:
HydroVision is the largest platform for hydropower and dam industry professionals from around the globe. Over 2,500 attendees representing 40+ countries are expected to attend this event. Dedicated to power generation and environmental management in this sector, exhibitors like you have a unique chance to showcase their products or services and connect with thousands of qualified buyers and decision-makers across exhibiting companies. It truly provides an unparalleled opportunity for business expansion on a global scale!
At Hydro Vision, attendees have the chance to not only forge lasting connections with other hydropower professionals but also stay ahead of industry trends. Hosting your trade show booth display at this event presents a powerful opportunity for companies looking to further their presence in the hydroelectric sector and showcase ground-breaking solutions that will take our community into the future. When you invest in being an exhibitor here, you gain increased brand awareness along with access to like-minded visionaries.
4. IFT First Annual Event & Expo
When: July 16- 19, 2023
Where: McCormick Place – South Hall, Chicago, Illinois
About The Trade Show:
Companies in the food industry have a unique opportunity to be part of IFT FIRST, the largest B2B food innovation event dedicated to driving innovation through research and technology. Taking place from July 16-19 at McCormick Place in Chicago under this year's theme "Innovation in a Time of Crisis: Can We Future-Proof the Food System?"Exhibitors like yourself can showcase your products and services alongside experts, researchers, thought leaders and more who are pushing for innovative solutions that will benefit global communities.
It provides an invaluable platform for you to generate qualified leads and increase your brand awareness. This is your chance to meet top industry decision-makers and shorten your selling cycle.  Don't miss out – secure your trade show booth rental today so you too can make your mark on shaping the future of food.
5. Champs 2023 
When: July 19- 22,2023
Where: Las Vegas Convention Center
About The Trade Show:
Champs 2023 is a go-to event for smoke shop owners and industry professionals to come together and network, learn about new products, and build businesses. Participating in Champs Trade Shows offers companies like yours that are operating within the counter-culture sector a unique opportunity to take your business to new heights. This premier international event allows you to showcase an array of products related to glass art, smoking accessories, clothing and more to your target audience.
Champs 2023 serves as a perfect platform to establish valuable connections with verified buyers from around the world and gain access into exciting markets across Canada and beyond. From discovering tech insights that will shape future trends in this ever-evolving industry while fostering potential long term partnerships – exhibiting at Champs is nothing short of strategic investment!
6. AACC 2023  
When: July 23-27, 2023
Where: Anaheim Convention Center
About The Trade Show:
Join the top innovators, thought leaders, and game-changers in laboratory medicine at the 2023 AACC Annual Scientific Meeting & Clinical Lab Expo. This globally renowned event presents a fantastic opportunity for you to exhibit your products and services while fostering relationships with prominent players in the clinical laboratory industry. The AACC Annual Scientific Meeting & Clinical Lab Expo will give attendees access to over 800 exhibitors featuring more than 200 new innovations as well as educational sessions tailored for staying ahead of vital changes in clinical testing methods and lab management strategies. Exhibiting at this event will help you showcase your diagnostic breakthroughs and important lab medicine developments to your target audience. This is an invaluable chance to build lasting connections that can potentially lead businesses down unexpected paths full of successful collaboration opportunities with versatile exhibit booth designs!
7. Agile Alliance's Annual Conference  
When: July 24-28, 2023
Where: Gaylord Palms Resort & Convention Center
About The Trade Show:
Agile Alliance's Annual Conference is a premier event that brings together key players and change agents who are determined to stay informed of advancements within cutting edge products, tools, services, methodologies and more. Taking place in Orlando from July 24-28, the event will also have educational sessions on a diverse range of topics, including Agile leadership, team collaboration, scaling Agile, and Agile metrics. As an exhibitor you will have access to a powerful platform for marketing exposure as well as networking opportunities with fellow professionals that could lead to future collaborations or business growth – all while learning about innovative strategies being developed right now! Don't miss out on building valuable connections and giving your company a presence in the evolving landscape of agile software development & project management sectors.
Trade shows can be an invaluable way to boost the visibility of your business, make contacts and gain exposure to new markets. With these trade show opportunities that are available, you can find a unique platform that allows your business to shine in 2023. Each show will open up new possibilities and bring fresh ideas. So don't wait any longer and contact Exponents — an experienced trade show booth rental service provider to make a mark at these events. We take the hassle out of exhibiting at trade shows. Our dedicated team is here to make sure that you have an enjoyable journey from start to finish, creating a unique exhibit booth that will capture the attention of any audience. Escape stress and headaches – let us handle the logistics of your trade show booth rental so you can focus on making an impact at your next event! Get ready for a stunning exhibit guaranteed to stand out from all others.
Book trade show booth with Exponents now before it's too late!
Disclaimer: The reader be informed the serial number given on this page is not a ranking order for the shows and the content herein is put in an order that makes it easier for the reader to search details of a specific show and quickly navigate through the page.