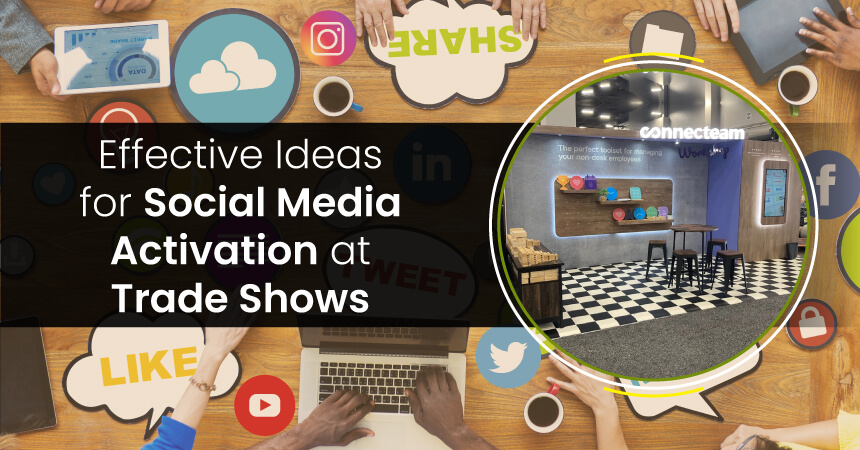 Effective Ideas for Social Media Activation at Trade Show
There's nothing like the feeling of walking into a trade show and seeing your trade show booth designs on display. You'll be able to interact with potential customers, generate leads for free (or at low cost), as well promote yourself in front of many people all while getting major exposure – what could be better? If you are looking for a way to market your business and promote it at the same time, then participating in trade shows could be just what's needed.
When you're looking for a booth rental at the next trade show, it's important that your investment pays off. One way of making sure this happens is by promoting yourself through different social media platforms before and after participation in any given event. Here are some ideas on how to do so:
Pre-Show
1. Tease Your Presence 
Teasing your presence at an upcoming trade show is a great way to pique customers' interest. You can also give them a sneak peek into an upcoming product launch or other exciting things planned for the show. Remember: always include links so they're easily able to attend the registration page for the event too – it will help you do the promotions better!
Propello Pre-Build Booth Picture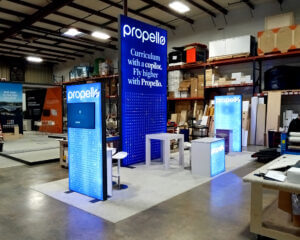 2. Use the Hashtag 
Most trade shows and conferences use their official hashtag for sharing posts on different social media platforms. Find out the official hashtag of your trade show and use it in every post applicable to it. You can also use this hashtag to search for prospects, like their posts, and invite them to your booth. Including this hashtag in your content will be vital to your success on social media.
3. Email Blast to Your Subscribers
You can also send emails to your subscribers, encouraging them to visit the show and your trade show rental booth. Remember to include essential details such as the trade show's name, the dates, time, location, and your booth number.
During the Show
1. Go live
If you're at a trade show, share your experience with the world by using Facebook Live or Instagram. You can take viewers behind-the scenes and have conversations about what's happening at your trade show booth in real time! These platforms allow viewers to interact as well – ask questions while watching live broadcasts from booths like yours too!.
2.  Share Photos and Videos
Take plenty of photos and videos during the trade show so you can post them throughout the show and even after the show to boost engagement. Try to capture candid moments between your sales representatives and visitors. Remember to use the event hashtag when you share pictures and videos so that everyone searching for or following that hashtag can see your content, too.
Ignion Trade Show Booth Picture
(During the Show)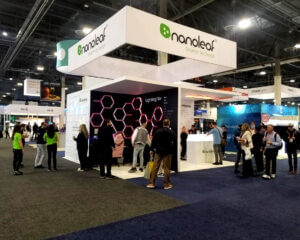 3. Give Show-Specific Offers
Another excellent use of social media while at your trade show is to promote time-specific discounts or special offers to encourage visits to your rental booth. You can decide if you want any deals or offers available to only show attendees or if anyone can use them.
4. Gamification
Gamification is one of the finest ways to ensure your trade show rental booth stands out from the competition, resulting in additional foot traffic, leads, and brand awareness. While many businesses give away branded t-shirts, totes, and keychains at their booths, gamification draws visitors and gets them to hang around the booth for longer. People always remember how they felt at the show more than they remember what was said or done. Gamifying your rental booth will give visitors a feeling they cannot forget.
After the Show
1. Share Trade Show Content
Post recaps of your favorite moments after the trade show. You can also write a blog post recapping the event and compile your visitors' questions during the show, along with answers to those questions. You can remind your followers why they visited your booth rental by recapping demonstrations or new product debuts.
2. Connect with New Leads
After your trade show has ended, social media can still be a significant tool to work toward turning your new leads into customers. Try connecting with your new leads on social media when the show is over. You can send them a short message and direct them toward a post that will provide them with useful information to show there is worth in connecting with you.
3. A Post-Show Debrief For Your Team
A post-show debrief with your team can help you understand what worked and did not during the trade show. Study the increased engagement you got on your social media pages to see which hashtags and posts performed well. Assess every aspect of the campaign to improve the performance of future trade shows and events.
Browse through our portfolio to check out some of our recent work!