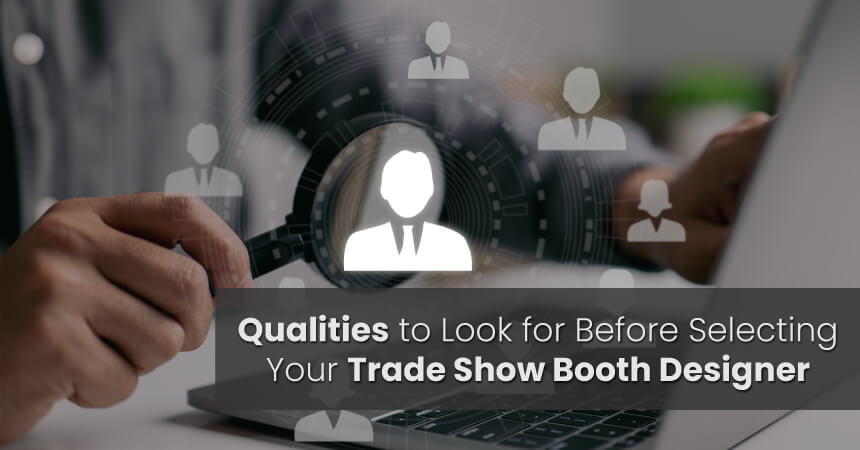 5 Must Have Qualities To Look For Before Selecting Your Trade Show Booth Designer
Trade shows are a great way to get in front of your target market and make an impression. With the average ROI at 500%, it's no surprise why most companies exhibit multiple times a year. It's important to find the right partner who will build your trade show display & exhibits with care and attention because it could make or break what visitors see inside when they walk up to your booth.
The question is, how should one decide which companies deserve their trust? There are hundreds of booth-building companies, and the question is how to choose the right partner to build your booth rental. It's not that important, but it is crucial to take care of.
Most exhibitors face problems like delays in booth delivery, mishandling of assets, overcharging after the trade show, unprofessional staff behavior, dissatisfying booth service, and much other negligence from the trade show booth design and building company. The solution to this common problem is easy – more research! In this blog post, we're going over 5 must-have qualities that you should look for in a trade show booth designer.
Ask the following questions to have some clarity about the company:         
How many years of experience does the company possess in rental booth building and designing?
Do they have any local presence?
What type of industries does the company serve?
Do they have an in-house manufacturing facility?
How is the quality of the material used in booth rental?
Do they have a printing facility?
Do they provide warehouse facilities within prominent cities?
What is the opinion of their clients about them?
Is customization available for the booth?
Ask for the reference of their previous work.
1. Ask fellow exhibitors 
If you want to be sure that a company is reliable and has good reviews, ask around. You might find someone who knows them well or can give an honest opinion about their workmanship from years of experience! Before moving ahead with the booth company, ask the following questions with your peers:
How was the service of the rental booth company?
Do they serve locally?
 How long have they been working with this display building company?
What services do they provide?
How good is their customer care team?
Did they face any challenges during their collaboration?
2. Just Google it!
Need an assured way to ensure your trade show rental booth company is reputable and reliable? Check them out on Google. Simply enter "their name" in the search bar, then go straight over their My Business Page or Website, where you can see all sorts of info about what they offer, including customer reviews from previous clients impressed by their work!
Browse through our portfolio to find your perfect booth!
3. What services do they provide?
In the market, you'll find several exhibit rental companies that either customize the existing design or build an entire booth from scratch. Before you hire a booth rental company, you should understand exactly what services are provided.
Have a Q & A session with them where you can ask the following questions:
Does your service include booth shipping on the trade show floor?
Do you offer

booth management service

as well?
Are you going to store your exhibit display for a long period? Will you help us change the booth design to give it a new style in the future?
Do you have a warehouse available near the trade show location?
Do you offer

booth assembly and dismantling services

?
Do you charge extra for the booth logistics and storage?
4. How long will it take to complete the booth-building process?
The design and production team for your booth rental should be a top priority. If you wait until the last minute, there may not be enough time to ensure everything will work out smoothly (e.g., getting power outlets installed in all corners). 60-90 days before showtime works well since this gives them more than adequate lead times on materials needed, such as booth frames or lighting fixtures, but don't forget about our other key piece: insurance coverage – make certain everyone understands their policies beforehand.
5. What is the cost of your booth?
Several expenses contribute to the cost of your booth ranging from exhibit materials to transportation and storage. Once you've selected your ideal booth-building company, seek proposals from other companies to determine how well their predicted expenses fit into your budget.
Cutting savings with low-cost materials, poorly designed graphics, or lousy wiring might result in heavy maintenance costs later. A low-quality display that does not appeal to your visit will be an expensive error.
Conclusion:
Selecting a trade show rental booth company is crucial, but our tips will simplify your process. Before concluding, ensure you have all the necessary information about the booth-building company for a stress-free trade show experience.
About Exponents:
We are a trusted trade show booth building and designing company. Our expertise has helped several companies to build unique booths for the last 40 years. We have facilities in prominent cities in Las Vegas, Orlando, and San Diego. Our local presence helps us to deliver our commitment effortlessly.
Are you looking for a trade show booth idea for your next trade show? Please fill out the form below!
Fill out the form below to speak with someone from our team.