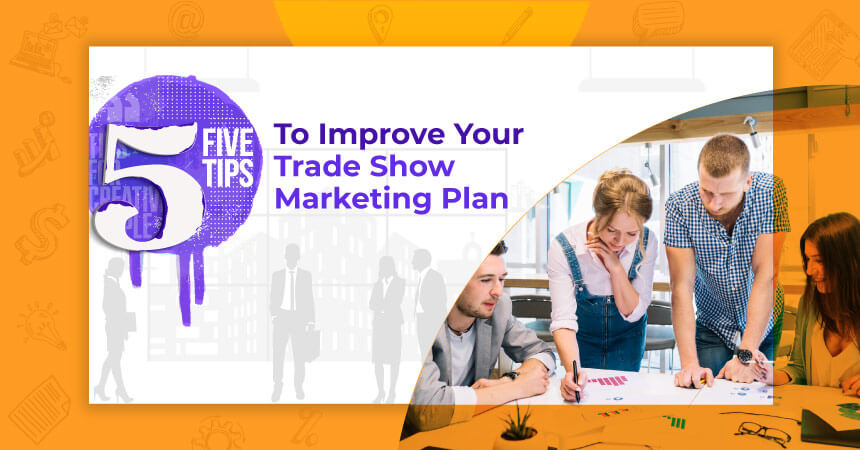 Five tips to improve your trade show marketing plan
Five Tips to Improve your Trade Show Marketing Plan
Despite the circumstances of 2020, the global market value of B2B trade shows remains at 34 billion dollars as per the website statista.com. This figure tells us that companies still consider trade shows a viable avenue for marketing their business. Companies still consider participating in trade shows with a trade show booth a viable marketing strategy.
But there is no denying that the pandemic has changed the way trade shows will be conducted in 2021. So here are our tips to improve your trade show marketing plan for the time when your business is able to participate in a trade show.
1. Define your metrics of success
How would you know whether it is the right moment to participate at the same trade show? Choose a different one? Spend more money on a better trade show booth rental? Or promote your current booth design more? You need to have S.M.A.R.T goals and milestones to know that. These work to help you measure how close or far you are from success and help you to adjust your strategy to suit the results you desire. Some examples of setting goals and milestones at the trade show are:
Your database of contacts, prospects and customers rise up by a certain number
An increase in organic and direct visitors on your website
More inquires about your business through emails, chats and calls
Rise in followers across your social media network
More subscribers to your e-mail newsletter and blog
Having set goals and following up on their progress is necessary. Your spending will need to be directed towards producing specific results, otherwise, you will end up hurting your company's future.
2. Your digital content must be mobile-friendly
Smartphones are used everywhere, no matter the industry. Their usage has exploded even more due to the pandemic. People are afraid to touch surfaces or get close to people, which has led to communication and marketing through mobile to skyrocket. Visitors now use their smartphones to look up information about the company, who's booth they are about to visit.
They are actively looking at an exhibitor's website, in order to decide if they want to go to that exhibitor's booth.  So here are some rules to follow:
Ensure that your website and digital downloads were tested to fit mobile screens
Your website should load quickly, since everyone at the trade show will have different data plans
Don't use web technologies such as Flash for your home page, these are slow to load and outdated
If your website has videos, ensure that your website is able to play them
Documents should be readable on mobile devices without the user needing to zoom in
Make your digital content easy to access through QR codes.
A website that isn't optimized for the web, will frustrate users. Your company will lose a prospect even before they have a chance to get attracted by your unique booth. Wasting the time you spend on planning your trade show booth ideas.
3. Participate in speaking events
By speaking at these events, you put yourself and your company in the spotlight. You need to do it the right way though. Long drab lectures cluttered with PowerPoint sliders will make your audience tune you out. Design your presentation with the intention to help and educate audiences. That's how you will build trust and come across as an expert. Other tips we suggest are:
Don't use lists and lines of text, use images with a single line of text to illustrate your point. The most viral ideas that stick come in the form of internet memes, because they are simple to grasp and memorable
Don't have detailed notes during speaking, this will break the flow of your speech, rather use flashcards to remind yourself of the gist. If the trade show offers a teleprompter than you can get away with a more verbose presentation.
Incentivize people by offering a digital freebie at the end of your presentation. This will increase your chance to get more contact details
Upload your presentation and speech on the web, this can be good marketing material for your platform and website.
4. Build your social media presence
Look for companies and associations online and follow them. Then, actively engage with these communities to build your presence. The mindset when engaging online should be to provide useful information and advice to everyone. If you manage to provide value through quality content, you will be able to get dozens of prospects to visit your booth at the trade show. Remember that this process needs to planned and timed correctly.
5. Use targeted adverting
Around the time of the trade show, there will be a rise in search terms related to the trade show you are attending. Using Google's Keyword Planner you can participate in a bid to advertise your brand on these keywords, so when visitors search the keywords your company is likely to pop up on the first page. Facebook ads are also another avenue you can consider. Facebook lets you target people who are at a specific location or have been at that location. This lets you target people who are at the fairgrounds.
So there you have it five tips to help improve your trade show marketing plan.