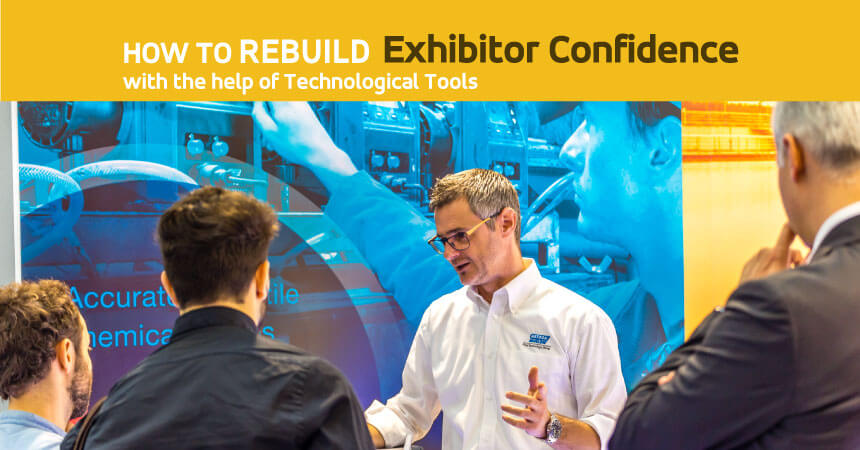 How to Rebuild Exhibitor Confidence with the help of technological tools
How to Rebuild Exhibitor Confidence with the help of Technological Tools
The pandemic situation worldwide is quite overwhelming especially to the trade show exhibitors who are willing to expand their business horizon. A ray of hope appears as we witness certain improvements in major locations which might have a return of trade shows or conferences on the horizon to display their trade show exhibit.
These coming months are crucial for professionals around the world as we work towards global recovery. But as we try out to balance things, it might also lead us to an issue which is being reported across industry media outlets and that is an exhibitor's confidence.
Though it has been heart-breaking to see so many events and trade shows being canceled due to their issue with feasibility, there are still several business events out there that got a green signal through the government. It is completely logical from the exhibitor's point of view as there are travel restrictions at places and the lawful status of business owners with respect to COVID-19 danger to their employees.
But, we also need to understand that it might be distressing as several exhibiting companies are in dual minds to return back to events that have the potential to further impact our industry.
There are so many companies who have experienced a great low in their 2020 revenue and to get back to normal, they are doing the best they can this year. We need some inspiration to help these exhibitors gain back their confidence to get back inside the convention centers across the globe.
Nevertheless, it will require time to naturally get back to business, with the development of vaccines can certainly boost up the confidence, but that is not in our control. What's in our hand is that we use the available technology to its best limit. Over the years, technology has transformed the trade show industry, it's now time to make use of it to aid the recovery of the industry and support exhibitors worldwide.
Digitalize buying Booth Space
The initial step to participating in an event starts with booking an ideal space for your exhibit booth design for the event. This process generally involves a lot of email and phone conversations along with some price negotiation. For years, this has been the constant scenario during events but in a situation like COVID-19, the exhibitors might not have the resource or time for the same.
To make it simpler, organizers can have a web-based platform that will enable the exhibitors to buy their stand space online without much hassle. This self-service platform with transparent prices will let exhibitors find, compare, and choose the right booth space conveniently and make the whole process stress-free. It will encourage more exhibitors to return to trade shows and events in a short time.
Find your trade show exhibit supplier Online
When your booth space is finally booked, the next big thing you need to work on is finding a reliable, and experienced trade show booth builders for the event. Generally, the exhibitors would look for companies online before contacting them personally and getting the quotes as per their requirements. But again, this process might not be as efficient in the digital era as gone are the days of requesting individual pricing from every company.
Instead, most companies match and compare marketplaces, revolutionizing the way buyers and sellers interact for business. To make it easier, you can upload or publish your requirements on an online portal and they share it across your network of suppliers so you will receive various no-obligation proposals at a time.
Using Online tool for arrival management
Let's admit it that no one likes to be a long queue and especially during this global pandemic situation which can be a serious health concern for exhibitors who might be hesitant to send their employees to the exhibit location to present their trade show exhibit. This may be due to the health risk which as a matter of fact also affects the exhibitor's confidence.
Therefore, it is essential to have a clear arrival arrangement that adheres to all the rules and regulations that we need to follow during this pandemic. Considering all this, it a great idea for tech companies to build software for exhibitors worldwide. This software could stagger and monitor the exhibitor's arrival to make sure not many people are present at one time. Using this tool, the exhibitors might feel safe and secure in the event, thus instilling confidence in them which would have a positive impact on the industry.
In conclusion, technological tools have the potential to break the barriers even in difficult times like COVID-19. As an industry, we should work together to make it easier for exhibitors to exhibit confidently with their trade show exhibit rentals and overall help the world get back to doing business in a more efficient way.