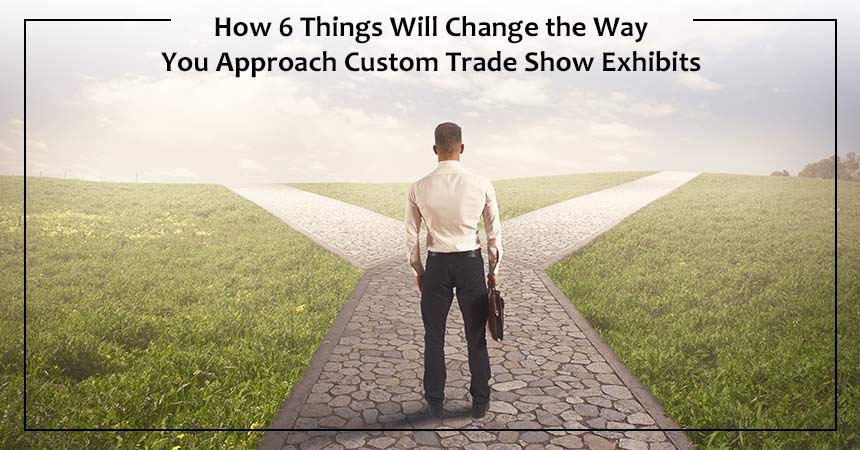 How 6 Things Will Change the Way You Approach Custom Trade Show Exhibits
How 6 Things Will Change the Way You Approach Custom Trade Show Exhibits
The only thing that is guaranteed about trade shows is the ever evolving and fiercely competitive landscape. With the advent of new disruptive technologies, ideas and best practices in trade show booth rentals, it is becoming increasingly evident that brand exhibitors need to constantly reinvent themselves on the floor of the trade show.
Here, we enlist 6 things that promise to change the way brand exhibitors approach the design, build and installation of trade show exhibits in the near future. Take a look.
Artificial Intelligence
First, the fourth industrial revolution is here and it is being driven by the emergence of artificial intelligence across business verticals.
Trade show exhibits and their designing, construction and customization are bound to witness a sea change thanks to the advent of AI. If you are wondering how AI can create an impact on custom trade show exhibits, here are a few ideas that should stretch the imagination of brand exhibitors participating in trade shows.
Virtual Sales Assistants
How do you classify visitors on the floor of a trade show and thereafter during the follow up rounds, into valuable, essential and desirable leads? If your trade show marketing team or even your sales team has a rigorous process to follow to achieve this, you may very well consider leveraging AI to do the job for you.
Virtual sales assistants can add value to your efforts for generating qualified leads by guiding you with fast and precise insights that your sales team can use to follow up.
Networking
It is always great to have traffic at your trade show booth. The question is how do you match the schedule of your trade show marketing team with those of visitors at the trade show? Lean on AI to set a calendar that matches the schedules of both your marketing team and the visitors to invest time in building customer relationships.
Shopping Suggestions
If you are looking to generate onsite sales at the trade show, how do you empower the visitors to make better choices? Your marketing team may consider using robotic concierge carts to enable visitors at your trade show booth make assisted choices of purchases and thus fill your order books in a bigger and better way.
Speech & Image Recognition
Presuming that your marketing team is selling a proprietary knowledge resource with limited access to individuals against a paid subscription, how do you secure it? In all probability, you can lean on speech and image recognition to safeguard any such valuable knowledge intensive resources during demonstrations, presentations and free trials for visitors.
Immersive Technologies
Immersive technologies are powerful levers of change on the competitive landscape of trade shows. Following are the major applications of immersive technologies in the designing of trade show exhibits.
Mixed Reality
Brand exhibitors participating in trade shows can now look to redefine visitor engagements and experiences with the deployment of mixed reality based product demonstrations. For example, your marketing team can use mixed reality to enable visitors for reimagining air travel, commercial and residential properties, automobile designs and more.
Augmented Booth Tours
Your marketing team may very well look forward to augmented booth tours to retain visitors for longer time spans and thus create more opportunities to push the envelope at trade shows. Present headphone and touch screens to your visitors to reinvent the fun element of visiting a trade show.
VR Transport Tours
How can your trade show marketing team bring alive the onsite elements during an event? With virtual reality headsets your marketing team can now recreate the magic of being onsite at your trade show rental booth. VR transport tours can deliver exceptional results for brand exhibitors in the business verticals of tourism, travel, real estate, adventure & sport and entertainment.
Wearable Technologies
Wearable technologies are taking the world of trade shows by a storm and brand exhibitors can look forward to using the following contemporary wearable devices to add value to their custom trade show exhibits.
Microsoft Hololens
First on this illustrious list of futuristic wearable technologies is Microsoft Hololens. Developed by Microsoft, these glasses make use of mixed reality to project 3D images and videos of objects.
By integrating elements of real and virtual reality, these wearable gadgets when facilitated by the design of custom trade show exhibits have the potential to generate unparalleled brand recall after the trade show.
Google Glass
Second on the list of the top wearable technologies is Google Glass. Hailed as one of the most powerful consumer tech products, Google Glass combines a pair of glasses with a microphone for voice recognition commands for communication and a mini lens to get a 3D view of objects.
These features of Google Glass make it a very intuitive and powerful tool for brand exhibitors to leverage. If the design of your custom trade show exhibits facilitate the use of Google Glass, your marketing team can allow visitors to focus on a product demo without having to take their eyes off to say access a price list or a brochure and thus reap the benefits of their attention.
Poken
Third on this list of the most coveted wearable technologies for trade shows is the event management application, Poken.
The cloud installed app can enable your marketing team to have complete control on all aspects of event management including registration, scheduling of meetings, matching relevant visitors to opportunities of lead generation and sales, etc.
Social Media
While social media has been in vogue for some time now, trade show participants are seeking to explore new ways to leverage social media. The latest innovation to the trending use of social media for covering trade shows is the concept of a social media wall.
Tweet Wall
A Tweet Wall shall require your trade show booth designer and builder to add a giant screen with crystal clear visibility to run threads of Twitter feed by visitors mentioning your brand, your trade show booth and your trade show marketing team.
Twitter allows users to post concise and meaningful content and your marketing team can use the Twitter feed of your visitors to pay personal attention to them by displaying it to the audience at the trade show.
Insta Wall
The concept of an Insta Wall works along the same principles of a Tweet Wall with the only difference being the specialized focus on image and video feed. Your marketing team can use an Instagram Wall inside your trade show booth to your advantage by relaying images and videos of visitors at your trade show booth while tagging or mentioning them to extract a greater personal mileage to strengthen customer relationship management efforts at the event.
Interactive Content
Up next on this list of exciting new ideas to reinvent your custom trade show exhibits is interactive content. Your marketing team can look to deploy interactive content in the following forms:
Touch Screen Surfaces
Touch screen surfaces with interactive content like images and video tutorials on product demonstrations can be leveraged to divert the effort and time of your marketing team where it is needed the most, i.e. lead generation and onsite sales.
Touch screen surfaces can be used to good effect to showcase presentations and enable visitors to hand pick the content that they want to access.
Interactive Kiosks
Interactive kiosks are excellent means to collect feedback from visitors. Interactive kiosks can be used to good effect to share answers to frequently asked questions, questionnaires and feedback forms with visitors and to record their responses.
Robotics
Third on the list of interactive content forms to make your custom trade show exhibits more visitor centric and responsive is the deployment of robotics. Visitors may actually find it more rejuvenating and interesting to have conversations with robots than with your trade show marketing personnel.
Platforms of Live Performances
Sixth on the list of things that are destined to reinvent the way custom trade show exhibits are conceptualized are platforms for live performances. Some of the major types of live performances that can add value to your participation in trade shows are as follows:
Addresses
Question & Answer Sessions
Presentations
It makes enormous good sense to ask your trade show rental booth designers and builders to accommodate platforms for hosting these live performances. Not only do such live performances allow your tradeshow marketing team to pull visitors but also allow you to collect high quality data for lead generation depending on visitor activities, initiatives and responses.
In the final diagnosis, the takeaway for trade show marketers and brand exhibitors is that the future of custom trade show exhibits lies in value addition through content, high- end technology and knowledge resources that create more and better reasons for visitors to come to trade shows.